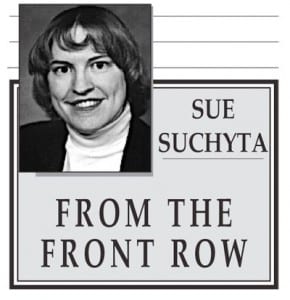 The Players Guild of Dearborn presents the stage play "To Kill a Mockingbird," adapted for the stage by Christopher Sergel, and based on the classic novel by Harper Lee.
The show presents an opportunity to see the first story on stage before Lee's recently announced sequel, "Go Call a Watchman," once thought lost, debuts this summer.
Directed by Guild president Michael Moseley of Allen Park, the show runs 8 p.m. March 6, 7, 13, 14, 20 and 21, and 2:30 p.m. March 8, 15 and 22 at the Players Guild of Dearborn, 21730 Madison.
For tickets and more information, call 313 561-TKTS or go to playersguildofdearborn.org.
Set in Alabama during the Great Depression, a young girl, Scout, and her brother, Jem, watch their father, Atticus Finch defend a black man, Tom Robinson, who is falsely accused of raping a white woman. As the trial progresses, emotions run high, relationships are strained, and mobs arise. The children experience a loss of innocence as they see first-hand the harsh realities of the world.
Moseley said the cast is phenomenal, and the Pulitzer Prize-winning novel, published in 1960, presents a powerful story.
Tom Varitek of Dexter, who plays Atticus Finch, said when he was growing up, he loved the rich characters in the story, especially the integrity and principles of Finch.
"When I was younger I tried to learn from what Atticus said," Varitek said. "Being in this show at this point in my life, I am beginning to appreciate not only what he said, but when, why, where and how he said it.
"Atticus says in his courtroom summation that in 1935, we are beginning to hear more and more reference to Thomas Jefferson's phrase about all men being created equal. (If) 1935 could switch to 1865, 1955, 1968, 1973, 1991, or even 2015, our struggle with that phrase 'all men are created equal' (is) not only relevant to today's audience, (it) can instill passion on all sides of the issue."
Varitek's 11-year-old son, Leo, who plays Finch's son, Jem, recognizes that racism is still a problem in this country, and cites recent events in Missouri, New York, and the treatment of Native Americans.
"People should come see the show because of the story, its relevant themes, and some amazingly talented cast mates who are just as passionate about this iconic tale," Leo Varitek said.
Jamie Paschke, 10, of Dearborn Heights, who plays Scout Finch, said she is a lot like Scout, and feels it is important to learn the truth about other people and to learn who they are.
"It is not just a story about a court," she said. "It has a lot of deeper meaning to it."
Peter Moore, 13, of Dearborn, who plays Scout and Jem's friend, Dill Harris, said it is a great show, and he loves the amazing character that he plays. He said the discrimination in the show is a sobering experience for him.
"It is a really great show, and I am glad I am not a part of that time," he said. "But it really is an eye-opener, to see what some people went through."
Sydnee Rider of Southgate plays Jean Louise Finch, the adult Scout, who serves as the narrator. She said it is challenging to mirror traits of Paschke, who plays young Scout, while still trying to play an adult character. She said it is difficult because she does not interact with the other characters, but the role is fun.
Rider said she fell in love with the story as a 9-year-old, and she has read the book three times.
"This is an American classic," she said. "It is tackling issues that we are dealing with right now in America. Stuff that we thought was done is coming back, and it is still relevant to this day, and we can still learn from it."
Kenyada Davis of Detroit said preparing for and rehearsing the role of Tom Robinson is a very emotionally charged experience.
"I have had to place myself back into that time of hearing slander (and) those racial slurs," Kenyada said. "It has been really emotional, but I am trying to portray it to give justice to that time. I have been trying to think about how I would feel in that particular situation."
He said it is a challenge for him to memorize his lines using a Southern black accent.
He said he tells friends that the stage play transports you back to that time and reveals the mindsets and drama of the era.
"The show is so emotionally charged," Davis said. "It is going to be a great show."
Takesha Walker of Detroit, who plays Calpurnia, the Finch's housekeeper, said she has read the novel several times since first reading it in high school.
"It kind of speaks to where we are in life, even today, all these years later," she said.
She said the role of Calpurnia, and the role she plays in the Finch family, as the housekeeper to two motherless children, attracted her to the show.
She said she spent her childhood summers in Selma, Ala., so using a Southern black accent, or drawl, was easy for her.
She said the injustices portrayed in the story are still prevalent today, and she has experienced them.
"The character in the book and the play demonstrates her struggles through her actions in her role," Walker said.
She said Moseley is fantastic, and he is taking the cast far. She said how well the child actors are mastering their roles also is impressive.
Other cast members include Allen Park residents Tom Sparrow as Judge Taylor, and Loren White as the court clerk; and Dearborn residents Sean Greimel as Horace Gilmer, Julie Ballantyne as Miss Maudie Atkinson, Meg Kisch as Mayella Ewell, Paul Bruce as Walter Cunningham, and David Wood as Nathan Radley.
Also in the cast are Detroit resident Crystal White as Helen Robinson, Ferndale resident Jairen Lott as Rev. Sykes, Garden City residents Mary Davis as Miss Stephanie Crawford and Tom Davis as Heck Tate, Livonia resident Roberta Shortt as Mrs. Dubose, Sterling Heights resident Joseph Munem as Bob Ewell, and Westland resident Jake Dombrowski as Boo Radley.
DAG PRESENTS 'BYE, BYE BIRDIE'
The Downriver Actors Guild presents a teen cast production of "Bye, Bye Birdie" at 7:30 p.m. Feb. 27 and 28, and March 6 and 7, and at 3 p.m. March 1 and 8 at the Catherine A. Daly Theatre on the Avenue, 2656 Biddle in Wyandotte.
For tickets and more information, call 313-303-5269 or go to downriver actorsguild.net.
Elisa Noeske directs, with Debbie Schlehuber as vocal director, Sydnee Rider as choreographer, Jami Krause as producer and Cara Reutz as assistant director.
When rock 'n' roll singer Conrad Birdie is about to be inducted into the army, his public relations team runs a contest to find a "typical American girl" for him to kiss goodbye. They end up in Sweet Apple, Ohio, with Kim MacAfee.
The fun musical has catchy songs and light-hearted numbers.
The cast includes Allen Park residents Emily Braun, 15, as Kim MacAfee; Kayla Chavez, 15, as Alice and a sad girl; Bethany Fink, 15, as Mrs. Doris MacAfee; Jessalyn Sturm, 15, as Margie and a sad girl; Mitchell Sturm, 17, as Ed Sullivan and Maude; and Nathan Vasquez, 20, as Albert Peterson.
Also in the cast: Dearborn residents Madeleine Hermann, 14, as Ursula Merkle; and Laura Moore, 17, as Rose Alvarez; Lincoln Park resident Alex Rosen as Harvey Johnson; Melvindale resident Angelia Waquan, 14, in the ensemble; Southgate resident Tyler Goethe, 16, as Conrad Birdie; Taylor resident Makenna Mariles, 15, as the mayor's wife; Trenton resident Jules Scheffler, 14, in the ensemble; and Wyandotte residents Noah Bias, 17, as Hugo Peabody, and Austin Charlebois, 14, Noreen Pepke, 13, and Hannah Shaffer, 14, in the ensemble.
Also in the cast: Brownstown Township residents Ryan DeLorme, 18, as the mayor and Maude, Joshua Primeau, 12, as Randolph MacAfee, and Brianne Rainey, 14, in the ensemble; Dundee residents Taylor Carpenter, 16, in the ensemble, and Dana Pasiwk, 16, as Gloria Rasputin; Grosse Ile Township residents Claire Schultze, 15, as Mrs. Merkle, and Megan Wozny, 16, as Mrs. Mae Peterson; and New Boston residents Jonathon Darling, 18, as Mr. Harry MacAfee, Kennedy Klauza, 12, in the ensemble, and Riley Klauza, 15, as Deborah Sue.
GUILD PRESENTS 'A SWELL NIGHT FOR ROMANCE'
The Players Guild of Dearborn presents "A Swell Night for Romance" at 8 p.m. Feb. 27 at the group's theater.
Tickets are $20, and are available at the door, by calling 313-561-TKTS, or going to playersguildofdearborn.org.
The show features the talents of Allen Park residents Mike Moseley and Angela Keller Pelc; Dearborn residents Phillip Booth, Julie Malloy, Peter and Richard Moore, Kevin Talanges and Brian Townsend; Kimberly Elliot of Canton Township; Kenyada Davis of Detroit; Kathleen Duffy of Royal Oak; and Kori Bielaniec of Westland.
DYPAC ALUMNI PRESENT 'JUNIE B. JONES, THE MUSICAL'
Downriver Youth Performing Arts Center alumni – and one current member – present "Junie B. Jones, the Musical" at 7 p.m. March 6 and 7, and 2 p.m. March 7 at the Trenton Village Theatre, 2447 W. Jefferson.
Tickets are $10 to $15, and are available by calling 734-771-7945 or going to dypac.com.
The musical is a delightful adaptation of four of the books by Barbara Parks. Brought to the stage by Marcy Heisler and Zina Goldrich, "Junie B. Jones, the Musical" is a comic adventure that brings children's literature to life.
The cast includes: Don Corbin, 32, of Royal Oak, as Daddy, Mr. Scary, Mr. Woo, and Gladys Gutzman; Eric Floetke, 27, of Brownstown Township as Sheldon, Lenny and Camille; Julienne Floetke, 27, of Brownstown Township as Lucille, Jose, and Bobby Jean Piper; Molly Zaleski, 27, of Royal Oak, as Junie B. Jones; Gavin Alvedy, 17, of Trenton as Herb and Camille; and Emily Zaleski, 27, of Ypsilanti as Mom, Mae, and That Grace.