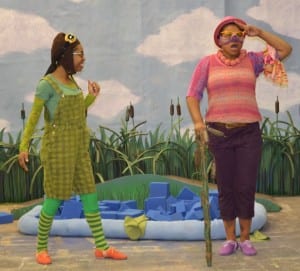 By SUE SUCHYTA
From silly shows for children to Shakespeare in the park, local troupes are preparing tempting summer fare, while others pass on their craft in local day camp programs.
'THADDEUS AND 'TILA' AT THE HILBERRY
A frog who dreams of flying and an injured crane team up with other creatures to save their swamp when a subdivision development threatens it in "Thaddeus and 'Tila" at Wayne State University's Hillberry Theatre.
The production will play to more than 5,000 Detroit school children at 21 schools free-of-charge through June at part of an educational outreach program of the Maggie Allesee Department of Theatre and Dance.
Performances for the public are at 10:30 a.m. June 18 to 20 and 25 to 27, and 2 p.m. June 20 and 27 at the Hilberry Theatre, 4743 Cass in Detroit.
Tickets are $5 for children 12 and under, and $8 for teens and adults. For tickets and more information, call 313-577-2972 or go to wsushows.com.
Director Billicia Hines said her vision of the play is "flying to a world of possibilities."
"You may be surrounded by bad circumstances, but that should not deter you from staying positive and going after your dreams," Hines said.
Tayler Jones of Detroit plays Thaddeus, a frog with dreams of learning to fly, who teams up with Bonnie Holmes of St. Clair Shores as 'Tila, a crash-landing crane.
The cast also includes Maria Simpkins of Alexandria, Va., as Birdie; Jada Johnson of Atlanta, Ga., as Mos; and Michaella Mallet of Byron as Sala.
Anne Suchyta of Dearborn designed the colorful costumes, which suggest the animal personae without disguising their human elements.
Stephanie Baugher of West Bloomfield Township created the colorful, portable set, with Mike Hallberg of Fraser as lighting designer, Derek Graham of Charlotte, N.C., as sound designer, Lyndeee Hallahan of Lake Orion as stage manager, and Brian Dambacher of Yale as the technical director.
SUMMER YOUTH THEATRE WORKSHOPS OFFERED
The Open Book Theatre Company will team up with Southgate Parks and Recreation to offer age specific youth theater workshops this summer at the newly built ampitheater at Market Center Park at Eureka and Toledo roads in Southgate.
High school, middle school, and upper elementary camps run two weeks, July 13 to 17, and July 20 to 24, with a one-week camp July 20 to 24 session for lower elementary students.
A final performance is set for July 23, with a July 24 rain date.
The two-week camp is $150 for Southgate residents, and $175 for non-residents, with the one-week camp $90 for residents, and $115 for non-residents.
For more information, or to register, call Southgate Recreation at 734-258-3035, or go to southgaterec.com.
The high school program, "All the World's a Stage,"  will be taught by recent WSU Hilberry graduate Brandy Joe Plambeck, co-founder of the Ringwald Theatre Company.
Students will select, perform, and rehearse monologues and scenes, culminating in a showcase. The workshop will also cover audition techniques, headshots and resumes, ensemble building, improvisation, voice, and movement.
The middle school program, "Team Theatre," will focus on devised theater and improvisation. Students will create a short performance based on a story or script using improvisation, transformation mime, ensemble work and creative writing.
WSU Hilberrry graduate and actress Dani Cochrane, who teaches theater to students at the Enrichment Hub in Troy, will lead the middle school workshop.
"The Play's the Thing," taught by retired teacher and actor Brian Calahan, will give upper elementary children a chance to work with Lois Burdett's "Shakespeare for Kids Midsummer Night's Dream." Fun games and student exercises will make the learning and rehearsal process fun.
"Let's Put on a Show," a one-week lower elementary program, taught by actress and company founder Krista Schafer Ewbank, will introduce youngsters to basic theater skills as they create a play through games and fun acting exercises.
PUPPETART PRESENTS 'KOLOBOK'
The PuppetArt Theatre Company presents "Kolobok," a Russian folktale that follows the adventures of Little Butterball, who was baked by an elderly childless couple, through June 27 at the Detroit Puppet Theater, 25 E. Grand Blvd., in Detroit.
The story is similar to the American "Gingerbread Man" and the Scandinavian "Pancake Man."
Show times are 2 p.m. June 13, 21, and 27, and 10 a.m. June 18.
Tickets are $5 for children an $10 for adults, with an $8 workshop available after performances. To order, call 313-961-7777 or go to puppetart.org.
The adventures of Kolobok are told through the eyes of two forest creatures, performed by live actors who bring the floor puppets – animals in traditional Russian costumes – to life.
The scenery is bright and cheerful, creating an atmosphere of a magic forest.
SUMMER SHAKESPEARE ON MULTIPLE STAGES
The best of the Bard will take to local stages this summer as Shakespeare in Detroit presents "Macbeth," and the Water Works Theatre Company presents "All's Well That Ends Well," "As You Like It," and a high school workshop production of "Romeo and Juliet."
Shakespeare in the Detroit's "Macbeth" runs at 8 p.m. July 16 to 18, and 2 p.m. July 19 at New Center Park in Detroit. For more information, go to shakespeareindetroit.com.
Waterworks Theatre Company of Royal Oak presents a fundraiser, "Ale's Well," Shakespeare in the Brewery, at 6:30 p.m. June 19 at MIP Brewery, 4847 Delemere in Royal Oak.
For more information, go to shakespeareroyaloak.com/support-2.
"All's Well That Ends Well" runs July 30 to Aug. 9, with "As You Like It" running Aug. 1 to 9 at Starr Jaycee Park, 1301 W. 13 Mile Road in Royal Oak.
Waterworks Academy and KidsAct runs July 27 to Aug. 8, with July 8 and 9 performances of "Romeo and Juliet."
For more information, go to shakespeareroyaloak.com.
'PIPPIN' ARRIVES AT THE FISHER THEATER
The 2013 Tony Award-winning best revival of a musical "Pippin" performs at the Fisher Theater June 9 to 21 with Tony Award-nominated Adrienne Barbeau in the role of Berthe.
The show runs 8 p.m. Tuesday through Saturday, 7:30 p.m. Sunday, and 2 p.m. Saturday and Sunday.
Tickets range from $39 to $95. For tickets or more information, call 313-872-1000, Ext. 0, or go to BroadwayInDetroit.com.
With a score by Stephen Schwartz, "Pippin" follows a young prince on a quest to find the meaning in his life.
The show is directed by Diane Paulus, with choreography Chet Walker in the style of Bob Fosse, with acrobatics by Gypsy Snider.
Songs from the show include "Corner of the Sky," Magic to Do," "Glory," "No Time at All," "Morning Glow," and "Love Song."