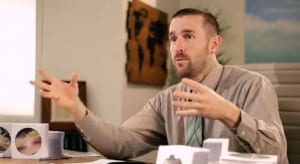 By ZEINAB NAJM
Times-Herald Newspapers
DEARBORN — The Rev. Steven Anderson, pastor of Faithful Word Baptist Church in Tempe, AZ, is planning a march to Dearborn to win people to Christ door-to-door.
Anderson posted a video on his YouTube page June 9 explaining his mission when he and his supporters arrive in Dearborn.
The pastor has planned a "soul-winning marathon" on June 26 to win souls and hand out DVD copies of the Arabic dubbed version of "Marching To Zion."
"We are going to bring about 1,000 of these DVDs to get them into the hands of these Arabs in Dearborn, Michigan," Anderson said. "We're also trying to have a screening at a local theater there."
In the video, Anderson asks anyone who lives in Michigan or surrounding areas to join him in the march.
"You might think, 'Why are you going to Dearborn, Michigan?'" he said. "Well, Dearborn, Michigan, has the greatest Arab population in the United States. There are about 40,000 Arabs living in Dearborn."
Also in the video, Anderson states that "Muslims are going to Hell in a hand basket and are not saved. They don't believe that Jesus is the son of God.
Anderson also is selling "Free Palestine" shirts for supports to wear to "protect them in Dearborn" as a uniform.
Anderson and his supporters are scheduled to meet at 9 a.m. at Panera Bread, 3112 Fairlane Drive in Allen Park, for breakfast and fellowship before heading to Dearborn for soul-winning.
Anderson said his goal is to speak the truth in love and win people to Christ door-to-door. He also said their goal will not be to cause anger or controversy among Muslims by being obnoxious like other Christian groups who have visited the city.
"This is going to be a really cool opportunity to give the Gospel to Muslims and reach out to the Arabs," Anderson said. "We don't hate them, but let's face it, they're not saved."
(Zeinab Najm can be reached at [email protected].)
Watch the full video