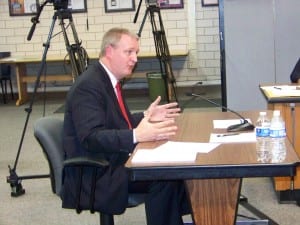 By ZEINAB NAJM
Times-Herald Newspapers
DEARBORN — The Dearborn Public Schools Board of Education conducted its final meetings last week in its search for the district's new superintendent.
The two finalists, DPS Executive Director of Human Resources Glenn Maleyko and Associate Superintendent for General Education at Shiawassee RESD John VanWagoner spent June 18 answering questions from trustees and the public in attendance.
Maleyko spent June 17 in the district participating in meetings with administrators, staff members and PTA.
John VanWagoner had his chance to meet with community stakeholders June 18.
Both Maleyko and VanWagoner also spent a half hour meeting with the public during their day in the district.
During the final interview board members took turns asking each candidate multiple questions to help determine who would earn the job.
VanWagoner was first up to answer questions.
During his interview, VanWagoner said if he were to get the job, first on his agenda would be to get a better understanding of the budget, evaluate the renovations completed through the SMART bond and examine data from all schools in the district.
VanWagoner was asked about what challenges he sees within the district and how he would deal with them if he were superintendent.
"We have to look at how we can meet the needs of students who come from poverty," he said. "Budget is also an issue and advocating for more resources to provide more opportunities to the students."
VanWagoner gave his thoughts about what a DPS graduate should have accomplished when he or she graduates.
"I think we can implement an individual student plan for each student," he said. "Throughout their education we can help students set goals and meet those goals."
VanWagoner also said the plan will help high school students prepare for whatever plans they have after graduating.
"The plan can give post secondary direction to students, whether they are thinking to attend a two-year college or four-year college," he said.
The board also asked VanWagoner what made him qualified for the position of DPS superintendent.
"My resume proves I am prepared," he said. "I have four degrees, completed workshops with the Michigan Learning Institute and already meet with eight superintendents twice a month in my current position."
Maleyko was up next and had his wife, children, parents and grandmother all in attendance supporting him.
He began by explaining why he is qualified to be the district's next superintendent.
"I have worked within the district for 20 years at various positions," he said. "I started subbing in 1995, completed the leadership program with the MLI and have spent time with current Supt. Brian Whiston as my mentor."
Maleyko was asked what ideas to improve learning within the district.
"I believe we need to implement a co-teaching model in classrooms, improve (English Language Learners) teaching strategies and place more emphasis on technology."
Maleyko told the board that students need more control over their education with the guidance from administrators.
"We need to allow students to make more decisions when it comes to their future," he said. "At the same time, we need to assure students are not wasting classes if they participate in dual enrollment."
The board also asked Maleyko how he would deal with the needs of elementary school teachers.
"I taught as an elementary school teacher and principal within the district for over 10 years so I know the issues they deal with," he said. "When I go into an elementary school classroom, I want teachers to know I am there to support and help."
With interviews and meetings completed, the board hoped to name the next superintendent June 22 (results unavailable at press time).
"We've been busy with attending high school graduations and still have to check references for each candidate," Board President Aimee Schoelles said. "We have a lot of information to go through to determine who will earn the position."
(Zeinab Najm can be reached at [email protected].)