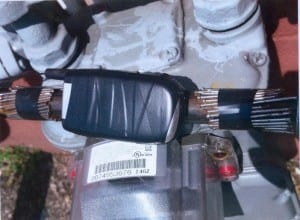 By CHARITY B. SMITH
Sunday Times Newspapers
MELVINDALE — A cash reward of up to $1,000 has officially been offered by Crime Stoppers of Michigan for any information that leads police to a suspect in the May 30 BP/Kelly's Mini Mart pipe bomb case.
An active pipe bomb was found behind the market at 18060 Allen Road at 11:20 am May 30 by an employee who was cleaning the alley. Melvindale police contacted the Michigan State Police and used its bomb squad to deactivate the device.
The bomb was constructed from a metal pipe with orange, blue and white wires sticking out of both ends and connected at the center of the pipe to a cellular phone with black electrical tape holding it in place. The pipe contained gun powder and BBs.
Anyone with information about the case is asked to contact Crime Stoppers of Michigan at 1-800-Speak-UP.
(Charity B. Smith can be reached at [email protected])