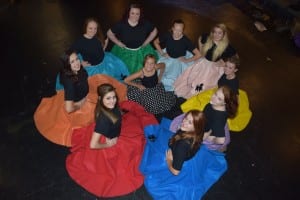 By SUE SUCHYTA
A musical dream season, with classics like "Camelot" and "Beauty and the Beast," and relative newcomers like "The Addams Family" offer enticing upcoming entertainment at the Downriver Actors Guild's Catherine A. Daly Theatre on the Avenue, 2656 Biddle in Wyandotte.
The theater will be busy, with a five-show season, featuring four musicals and a comedic stage play, as well as two youth theater productions, two fundraiser concerts, an edgy adult musical, and a dinner theater at Biddle Hall.
DAG vice president and marketing director Stephanie Primeau said the season has shows that will appeal to everyone.
"This season is exciting," Primeau said. "We have shows that are classic, shows that are edgy, shows that can be enjoyed by family, or serve as a girls or friends night out."
She said DAG continues to strategically choose shows to appeal to different audiences and auditioning talent, and last season the board was pleased to see new faces onstage and in the audience.
"One of my biggest rewards is seeing how we impact people, through the enjoyment of watching a show or being on stage," Primeau said. "The feeling is beyond words."
DAG president Joel Bias said that while the members who run the group are close-knit and work together well as a team, they welcome newcomers.
"We continue to bring in new directors and staff to keep that fresh and ready to go," Bias said. "I believe in the group. I believe in what we are doing, and I believe that it is a family, and we've made a lot of close bonds through this."
The five-show pass-holder season, with four musicals and a comedy, is $68 for adults, and $52 for seniors and students. Individual shows are $16 for adults, and $13 for seniors and students for musicals, and $13 for adults and $11 for seniors and students for non-musicals.
Shows run 7:30 p.m. Friday and Saturday, and 3 p.m. Sunday. To order, call 734-407-7020, or go to downriveractorsguild.net.
"The Addams Family" musical, with auditions Aug. 17 and 18, runs Oct. 16 to 18 and 23 to 25.
Directed by Valerie Haas, the show follows Wednesday Addams when she falls in love with a "normal" young man and must introduce his family to hers. When her love life seems doomed, Fester and the ancestral ghosts step in to help out.
The show features David Waggoner as musical director, Debbie Schlehuber as vocal director, and Ivy Tarnoski as choreographer.
Auditions for the Disney musical "Beauty and the Beast" will be Aug. 23 and 24 in the evening at the playhouse, with performances Dec. 4 to 6 and 11 to 13.
Directed by Debbie Aue, the story of Belle and the spell-cursed Beast is a classic love story of learning the meaning of love and sacrifice.
Wendy Fichter is the music and vocal director, with Jane Beier as choreographer.
The musical "Dr. Dolittle" will warm audiences Feb. 12 to 14 and 19 to 21 with the story of a kind but eccentric man from a small English village who can talk to animals.
The comedic farce "Love, Sex and the I.R.S." ushers in the tax season under the direction of Lucinda Chavez. The show runs March 11, 12, 18, 19 and 20.
Set in the 1970s before same-sex marriages, two out-of-work male musicians, Jon and Leslie, roommates in New York City, having been filing their taxes as a married couple to save money. However, when the IRS targets them for an audit, Leslie, with the help of Jon's financee, Kate, must masquerade as a wife.
Complications ensue when Leslie and Kate have an affair, Jon's mother wants to meet his financee, and Leslie's ex-girlfriend wants to know why he won't see her anymore.
The Lerner and Lowe musical "Camelot" closes the regular season, with performances May 6 to 8 and 13 to 15.
Directed by Peter Sonnberg Schmidt, the story follows King Arthur, Guinevere, and the Knights of the Round Table amid the pageantry and idealism of Camelot, set to a lush score.
In addition to the regular season shows, DAG has seven additional shows, billed as fundraisers, on the calendar.
"Always Patsy Cline," starring Debbie Aue, runs Sept. 11 to 13, and 18 to 20, and features 27 of her beloved songs. Tickets are $20.
The a cappella singing group Three Men and a Tenor present "Ho! Ho! Holidays" at 7:30 p.m. Nov. 21, and 3 p.m. Nov. 21 to 23, with a selection of holiday songs and classic oldies. Tickets are $20.
The adult musical "The Full Monty," directed by Denny Connors, runs Jan. 15, 16, and 22 to 24. Tickets are $16 for adults, and $13 for seniors and students.
When six laid-off steelworkers try to raise some much-needed money by taking it all off, they restore their self-esteem and build lasting friendships.
"The Great American Trailer Park Musical" will be served up as DAG's dinner theater offering April 15, 16, 22 and 23 at Biddle Hall in Wyandotte. Dining is at 6:30 p.m., followed by a 7:30 p.m. performance.
The dinner and show package is $28, with a cash bar. The show contains adult content.
The country rock musical covers adultery, spray cheese, road kill, '80s nostalgia, strippers, disco and much more.
The youth theater productions, performed by children for audiences of all ages, presents "School House Rock Live Jr." Nov. 13 to 15, and Disney's "Sleeping Beauty Kids" June 3 to 5 and 10 to 12.
Nathan Vasquez will direct "School House Rock," with vocal direction by Jamie Krause, and choreography by Kayla Chavez. Debbie Aue will direct "Sleeping Beauty."
The DAG 2016 summer musical, "Leader of the Pack," celebrating the music of Ellie Greenwich, runs July 29 to 31 and Aug. 5 to 7.
Hit songs include "Chapel of Love," "Da Do Ron Ron," "Be My Baby," "Hanky Panky," "Do Wah Diddy," and "Leader of the Pack."
Directed by Lucinda Chavez, tickets are $16 for adults, and $13 for seniors and students.