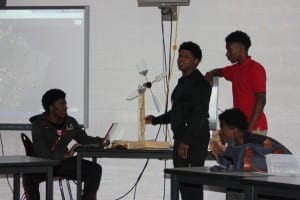 By SUE SUCHYTA
Times-Herald Newspapers
HEIGHTS – Robichaud High School students in Susan Ransom's science classes recently learned that when it comes to bringing power to the people, the answer may literally be blowing in the wind.
By studying wind turbines, or windmills, which convert the kinetic energy of the wind and turn it into electrical power, and using an online Geographic Information System to find wind speed and consistency data, as well as the geography for a given region, students were able to visualize, analyze and interpret data to determine the best wind turbine locations.
Unlike fossil fuels or nuclear energy, wind energy is renewable, like solar, biomass (biological material), geothermal, and hydro (water) power.
"I hope the students take away that wind turbines are an energy resource of the future to get us off fossil fuels," Ransom said. "I also hope they took away that it is not just in parts of the world that can harness its benefits, but worldwide."
As students used the online GIS data, they mapped wind data for different geographic regions – like mountains, coasts and plains – to understand relationships, patterns and trends that helped them choose wind turbine location and type.
Ransom said using the GIS gives students a grasp of spatial and analytic thinking skills that will help them develop critical thinking skills as they move through different learning modules.
"The students have had both negative and positive reactions to the GIS," Ransom said. "When it is real time data, they don't like that their data moves – it's not fixed.
"They also don't like the fact that sometimes things don't work the first time, and you have to change things around, (which is) real world training."
Students liked creating layered maps of data online, which helped them decide which data was actionable, Ransom said.
When each team of students presented their wind turbine results, they used projected story maps to show where they were in the world, and where they would put a wind turbine in that country.
"We looked at topography, we looked at wind speeds, we zoomed in and looked at the region itself, so we were not on top of a building or something," Ransom said.
Ransom said the students were amazed by the real-time global data they could access.
"I think the fact that they can be in this classroom, and they are looking at Russia, they are looking at Ireland, all these different world places, and they're saying, 'Things just changed again,'" Ransom said.
Principal James Konrad said students are learning how other parts of the world can benefit from tapping into a renewable energy source like wind energy, which could lessen dependence on imported fossil fuel.
"Being very conscious about (renewable energy) is part of what the project is," Konrad said. "The science teacher has been working with the students, having them analyze the data, the wind outputs, and seeing how it actually impacts renewable energy sources."
Dianicio Nalls, 17, of Detroit said he was surprised how different wind turbine blade designs could impact how much kinetic energy could be converted into power. He said they discovered that long, thin blades worked better than shorter, wide ones.
"We learned how wind farms work, and how the natural wind blows the big, thick blades that they have on them," Nalls said.
Phynikquar Holland, 16, of Inkster, said she didn't understand how wind energy worked before starting the project, but she understands it now.
Holland's group studied Michigan, and found the best wind conditions on the west side of the Lower Peninsula, off Lake Michigan.
Wind turbines should be computer controlled to rotate to a position to best catch incoming wind at a given time, Holland said.
Valerie Glaze, 17, of Inkster, said windmills are not a part of her daily life, so it was interesting to learn about something different.
Her team found that blade stability, and reducing wind turbine axis friction was more important to a successful design than blade surface area.
"You really have to know what you are doing to make a windmill, or you're not going to get the output you need," Glaze said. "We did research way before we even started doing the windmill."
She said even though it was difficult in the beginning of the build, when they had to figure out what materials to use, she still prefers hands-on projects to just reading about a topic.
Ransom hopes students will develop critical thinking skills they can apply to other aspects of their curriculum.
"I know they are looking forward to the next project on natural disasters, and locating the data and researching where these occur," Ranson said.