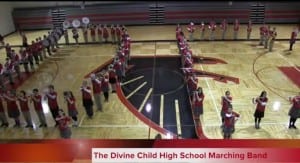 By ZEINAB NAJM
Times-Herald Newspapers
Two area high school marching bands are finalists for the Comerica Bank March the Park national anthem contest.
The Dearborn Divine Child marching band and the Wyandotte Roosevelt Marching Chiefs are two of 10 vying for the chance to perform the national anthem at Comerica Park before the Detroit Tigers game on April 9.
The winning school also receives 130 tickets to the game against the New York Yankees and a $5,000 grant for the school's band program.
Several metropolitan Detroit schools applied for the opportunity, and judges from the Tigers and Comerica Bank chose the 10 finalists.
The other eight schools are Bloomfield Hills High School Marching Band, Brighton High School Marching Band, Holly High School Broncho Marching Band, Lincoln High School Marching Band, Oak Park High School Marching Legion, Plymouth-Canton Educational Park Marching Band, Stoney Creek High School Cougar Marching Band and Woodhaven High School Warrior Marching Band.
All schools were required to send in a video as their application for the contest by Feb. 26 to be considered.
"We saw the competition as a great opportunity for the students, which we love to provide them," Divine Child Band Director Robert Bush said. "We're excited about the contest and the grant that could help the band program in the future."
Voting is open until March 20, when the school band with the most votes will be announced as the winner of the contest.
"The students were really excited to enter the contest," Bush said. "I've told them to share and get the word out about the voting."
To vote go to http://www.facebook.com/ComericaCares.
(Zeinab Najm can be reached at [email protected])