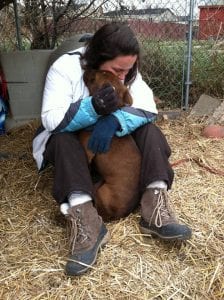 By ANGELA NIMS
Special to the Sunday Times
RIVERVIEW — Registered nurse Gina Freemon was working in community care in southwest Detroit when she first saw a chained dog. The short chain was compounded by a dilapidated dog house and weather so terrible that Freemon was inching her vehicle down the road while searching to spot her client's address.
"I was so mad!" Freemon said. "But I had to get to work right then, so I called my husband and said, 'Write down this address,' so I could come back to it afterwards."
Freemon then explained the sight of the helpless, chained dog to her husband. He gave a dumbfounded laugh when he realized she'd never seen a chained dog before.
He gently broke the news: This wasn't a rare phenomenon. There are chained dogs everywhere.
Regardless of normalcy, Freemon returned to the house, husband in tow, and offered to help with the dog. Once she noticed a single chained dog, however, they continued to snag her attention. Continue Helping Animals in Need & Educating Dog Owners Inc. — C.H.A.I.N.E.D. — an initiative to improve the lives of chained dogs, was born.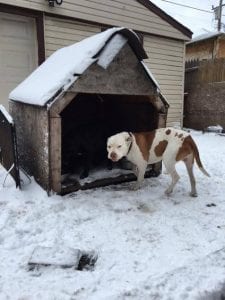 What Freemon and her husband began is now a non-profit directed by her and two other female professionals. Their focus is the Downriver area and into Detroit's east side.
"A chained dog is the most miserable," Freemon said. "They need to be able to exercise, sniff the grass, run a bit. Being chained is a prison sentence for a crime they didn't commit.
"But a lot of people really don't know any better. Most of the time, the owners we visit are surprised. They never really considered how the dog felt. 'They have fur, and we thought they were OK.'"
She said, by far, the owners want the dogs to have a happy life.
Working to achieve that end, Freemon and her co-directors coordinate with volunteers to deliver warmer housing, straw bedding, food, veterinary care and more to chained dogs in need. This is accomplished through initial and re-visits, as checks-ins are performed on the dogs frequently, and massive outreach campaigns which take place monthly during winter, and every couple of months during the warmer seasons.
East Side Supervisor Wendy Stroup recalled her best experience so far with C.H.A.I.N.E.D.
"Three or four years ago, we had just started doing the mass outreaches, when I got a call from a woman's co-worker," Stroup said. "The woman's 9- or 10-year-old son and his friend had found a German shepherd and hid the dog in the garage for a year.
"I met with them — it was November — and I told them they really couldn't have the dog out in the winter. They'd have to come out a lot to check on her, walk her. Or, I could bring a cage and they could start cage training. They were happy to try the training."
Stroup warms at the happy ending.
"She's part of their family now," Stroup said. "She's spayed, on heartworm preventative and they have her trained now, hand commands, rolling over. It's fantastic.
"Early on, the mother had said, 'That dog could get cut loose and I couldn't care less.' Yet, after the dog was spayed, she was so concerned the dog didn't feel well, the mother called off work to stay home and be with her.
"We build trust and explore the dog's life first off, then work on the rest and the education. It's a process, and it's wonderful to see it work."
Another huge process for C.H.A.I.N.E.D. is the fundraising, a battle that is waged yearly. Going into its seventh year, it has amassed some impressive numbers: 1,634 dogs helped, to date. There have been 602 dogs spayed or neutered and 233 dogs rescued, as removal and rehoming is sometimes the only solution.
"I lost count of how many litters of puppies we've rescued," Freemon said.
"At C.H.A.I.N.E.D. we always say, 'Don't let perfect get in the way of better.' Ideally, all of the dogs would be off the chain and in the home, truly becoming part of the family," Freemon said. "But sometimes there are a lot of obstacles, such as behavioral issues — the dog is unruly, too hyper or destructive. Between the dog being on a chain and in the home, there's a lot of room for improvement of the dog's life."
She recalled the evolution of pouring over any online videos she could find detailing the best keep-warm methods for outside dogs, and with a laugh sums it up.
"We've surpassed all the information that was out there when we began," she said. "Our group has gotten it down to a science."
In the lab or in the world, science can be costly. At least 754 igloo dog houses have been purchased and put to use by C.H.A.I.N.E.D. at about $150 each. The ratio of dog size to house size is important as a dog house that's too big for the dog won't sustain heat. The houses also allow for a heating pad to be installed that, when laid upon, will gently warm and costs only pennies a day to operate.
In summer, owners who meet certain criteria — own the house, have spayed or neutered the dog, maintain heartworm preventative — have a possibility of C.H.A.I.N.E.D. installing a kennel for them.
"We'll put up to three kennel kits into one yard, however much we can fit," Freemon said. "It's dug in 9 inches down, with the door entrenched with wire and cement. The thing is Fort Knox. The dogs won't be digging out."
Tarps are added to block the winds of winter and for shade during summer. The kennels belong to C.H.A.I.N.E.D. but are welcomed to be used for the rest of the dog's life.
The taste of freedom the kennel affords a dog is a Godsend to many, Freemon said. Belinda Ramirez received help from C.H.A.I.N.E.D with her two blue nose pit bulls.
"A neighbor where I used to live gave me their number," Ramirez said. "Calling them was the best decision. My dogs are like my babies. They're part of the family. They couldn't be inside, but during summer it was too hot outside, not enough shade.
"We finally moved and now own a home. C.H.A.I.N.E.D. installed a kennel. It takes up half the yard and I love it. I can't thank them enough. Having them off the chain is just wonderful. My dogs love their new life. It has really made a difference."
Stroup said the success largely can be attributed to the method.
"Educating the owners is key," Stroup said. "Approaching with non-judgement, and building trust, then demonstrating better ways to care for the dogs. We can start to make the dog's life better. Simple things, such as a sturdy, durable but lightweight chain makes a huge difference."
Stroup is careful to consider how their efforts might look to those unfamiliar with the plight of chained dogs.
"If we were just handing things out, giving away houses and such, I think that would be enabling," she said. "We try to educate. We offer to get the dogs shots, and a spay/neuter. We can do more for every step that is taken. We do monthly check-ins, to make sure the straw is in the house, that the education is being utilized."
But the best feeling for a C.H.A.I.N.E.D. volunteer?
"The best feeling is doing a re-visit, but you don't see the dog outside, then you knock and hear it bark from inside the house," Stroup said.
She recalled seeing a heart-wrenching video online pertaining to an animal.
"I was so upset. Cried for a week," she said. "It just broke my heart. But I started looking around online and social media to see how I could get involved. I told myself, 'You can't just cry. You have to do something, get involved.' There is so much help needed out there, that truly, there's something for everyone.
"Being on your knees, in the snow, putting straw in a house and dealing with the dogs isn't for everyone. But we — and any animal group — needs the number crunchers, people to donate time to drive dogs to the vet. Even the dogs at the shelters need to be walked. Fundraisers are an enormous need. Organizing a fundraiser doesn't involve getting dirty, but makes it all possible."
C.H.A.I.N.E.D. welcomes volunteers and owners of outside dogs to their Volunteers Freezin' for a Reason Straw for Dogs Winter Outreach Jan. 8 at the parking lot next to Charlie's Bar, 1503 Springwells in Detroit. Volunteer start time is 9 a.m., with straw pickup beginning at 11 a.m.
More than 300 dogs will be seen in a single day, and 350 bales of straw dispersed. The Winter Outreach occurs again Feb. 5.
For more information on C.H.A.I.N.E.D., go to www.chained2011.org.
(Contact Angela Nims at [email protected])