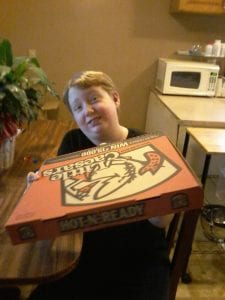 By TEREASA NIMS
Sunday Times Newspaper
TAYLOR – Each day Tom Orman calls Little Caesars on Goddard to order a special pizza for his autistic son, Sean T. He gets a special pie done the way his son likes it.
"I purchase at least one pizza every day," said Orman, who orders from the Little Caesars at 22359 Goddard. "All I have to do is call and they answer, 'Hi Tom. How many do you need?'"
Orman boasts about the staff at the pizzeria. He said it doesn't matter when he calls, the staff answers the same and they always get his 14-year-old son's special order right.
He said that like most austistic children, his son has selective eating patterns. Sean T. likes his pizza lightly baked, meaning it is pulled from the oven between three and five minutes earlier than normal.
"My son is literally hooked on the Hot N Ready light baked pizzas," Orman said. "The order is always perfect."
Orman said that with autistic people, everything is about routine with them.
"Especially food, if not pizza, maybe chicken nuggets, etc.," Orman said. "We have been going to this location since August 2013.
Orman said the staff is great and they go the extra mile to make the pizza special.
"Half the time, they will write a message on the box from one of his favorite characters," Orman said.
(Tereasa Nims can be reached at [email protected])