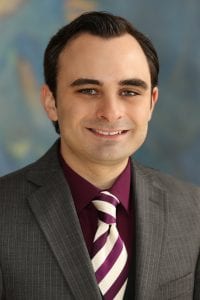 Hincirchs comes from Dearborn Area Chamber
TAYLOR — The Southern Wayne County Regional Chamber of Commerce announced Ronald J. Hinrichs as its new president.
Hinrichs, currently the events and media relations director for the Dearborn Area Chamber of Commerce, starts in his new position Feb. 6.
"We are thrilled to have Ron join our team," said David Goodwin, chairman of the SWCRCC Board of Directors. "Ron brings a level of enthusiasm and experience that will strengthen and enhance the resources available to our membership and the community."
Hinrichs joins the Chamber with knowledge in nonprofit management and administration, having worked in managerial roles with various organizations. At the DACC, he was a component in enhancing marketing, networking and promotional opportunities for the members of the chamber and various partners in the community. He significantly increased value and attendance for the DACC's signature community and business events.
"The Southern Wayne County Regional Chamber has made a wonderful decision in choosing Ron as their next president," DACC President Jackie Lovejoy said. "His administrative expertise, political acumen, and general 'can-do' attitude will fill the role perfectly. His focus on member engagement and inclusion is phenomenal, and congratulations are in order all around."
He also led the national award winning Metro Detroit Young Entrepreneurs Academy, which provides middle and high school students the tools needed to build their own, real business.
"I am honored to have the opportunity to serve the community and members of the Southern Wayne County Regional Chamber," Hinrichs said. "The chamber is the key resource in our region providing businesses, organizations and community partners with the tools necessary to realize their dreams. I am eager to start working with our talented staff and members to grow and enhance our region for our future generations."
Hinrichs is an alumnus of Dearborn High School, and the Henry Ford College Honors Program. He holds a bachelor's degree in Political Science from Wayne State University.
Hinrichs lives in Riverview with his wife, Leah; daughter, Natalie; and son, Ronald.