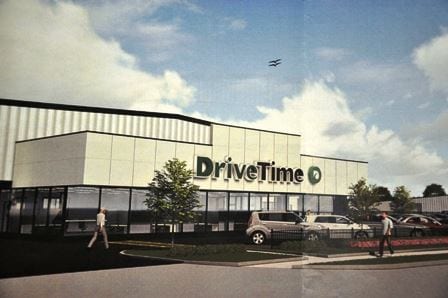 TAYLOR — DriveTime Automotive Group Inc. will be renovating the former Taylor Ford location on Telegraph Road, north of Goddard, in the next few weeks. DriveTime plans a June opening.
Not only will the new business fill a void on Telegraph and employ about 80 workers, but it plans approximately $600,000 in renovations which will vastly improve the property, Mayor Rick Sollars said.
"DriveTime was a challenging new business to bring into the city," Sollars said. "We essentially have an ordinance against new used car lots, but DriveTime appeals and the Zoning Board granted a variance.
"This is going to be more than your typical used car lot. DriveTime plans to renovate the facility consistent with our new Goddard Road guidelines, which includes decorative fencing, new trees, landscaping and sidewalks."
Sollars said the DriveTime model is competitive on the national stage with businesses like CarMax and AutoNation. This will be one of only two sites for DriveTime in Michigan.
The former Taylor Ford site has been empty for about three years. The dealership moved to southbound Telegraph, south of Northline Road, during an $8 million consolidation, expansion and modernization project. The old site was owned by the Whitfield family, another auto dealer.
DriveTime is a private company based in Tempe, Ariz., with a business model focused on selling used vehicles to car-buyers with poor credit. It uses a proprietary credit scoring model to finance car purchases at its dealerships in-house, and also leases vehicles.
DriveTime buys 150,000 cars annually at various auctions,  puts them through a 14-day inspection at one of 24 centers and makes necessary repairs before sending the vehicles to its dealerships.
The company is owned by its chairman, Ernest Garcia II, who bought the company then known as Ugly Duckling in 1991, and Ray Fidel, who is its president and CEO. It has approximately 143 locations in 24 states, with a heavy concentration in the South. As of 2015, it employed more than 3,800 workers.
Sister companies spun off from the company include GO Financial, Carvana and SilverRock Group.
DriveTime ranked 3,793 on the Inc. 5000 list of fastest growing companies after posting $2 billion in revenue and adding 1,192 jobs in 2014. DriveTime ranked No. 15 on Computerworld's 100 Best Places to Work in IT list in 2015.
(This story originally appeared at http://www.cityoftaylor.com/CivicAlerts.aspx?AID=250.)