By NICK TALLIDIS
For Bewick Publications
Even on the most relaxing vacation, it can be difficult to ignore that little voice in our heads telling us we forgot to lock the back door or wondering if the stove was left on.
Residents at the Henry Ford Village in Dearborn, however, enjoy the luxury of traveling with the peace of mind that comes with living in a tight-knit community.
"The fact that we can just close the door behind us and feel confident that everything will be just as we left it when we return is very comforting," said Connie Dompier, who is nearing her 10th year as a village resident.
Dompier and her husband were just beginning their retirement and looking forward to seeing the world before moving into the village. However, a few household mishaps while they were away encouraged them to seek a living situation more accommodating to their travel plans.
"The little worries can take you out of the moment," Dompier said.
Life at the Henry Ford Village allowed the couple to travel with ease, and while she now travels solo or with her grandchildren, Dompier continues to canvas the globe absorbing new cultures and landscapes. From the Peruvian rainforests to the Southeast Asian villages of Cambodia and Vietnam, throughout Europe and Africa, she is constantly adding new checkmarks to her map.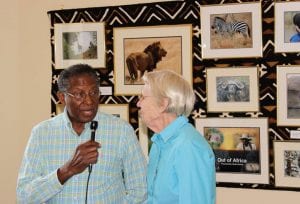 "It is hard to put a price on the ability to travel," said 14-year village resident Bob Cosey. "The security and conveniences we're given offers us the freedom to move around."
During his time at the village, Cosey achieved his lifelong goal of stepping foot on all seven continents when he travelled the Antarctic region — including the South Pole — by ship. He describes this rarely traveled continent as one of the most beautiful places in the universe and was further inspired to follow that trip with a visit to the North Pole, despite thinking Antarctica may be his last big adventure.
Cosey, a hobbyist photographer, shares his experiences with his fellow residents through his photographs, which are often displayed around the village, as well as regular travelogue presentations he hosts following his journeys. In addition to the North and South Pole, he has explored such locations as Tanzania, Serengeti, and, most recently, Cuba.
"Sharing my experiences makes them all the more meaningful," Cosey said. "It is great to share everything I've seen and learned with my friends and neighbors here. And for those that enjoy travel like I do, they can find some inspiration and start planning their next trip."
This is helpful to a resident like Jim Martin, who avoids going to the same place twice.
"There's just too much to see out there," said Martin.
The retired city of Detroit employee did not travel much prior to his retirement, but now it is difficult to keep him in the around for too long. One of Martin's claims to fame is a photograph of him holding a baby Panda at the Chengdu Research Base of Giant Panda Breeding in China, one of the few places in the world where humans can interact with the pandas.
That trip, along with his travels to the Galapagos Islands and Machu Picchu, have created priceless memories for Martin.
"It is important to me to keep learning and showing my appreciation for other cultures," Martin said. "I actually wore out both my knees walking around Italy, but I've since had them replaced and have no plans of slowing down."
Dompier and Cosey expressed similar sentiments. They hope to continue exploring the world as long as they are physically able. They are already planning their next trips.
"Traveling has become an important part of my life and I hope to see many, many more places while I still have time," Dompier said. "My lifestyle at Henry Ford Village allows me to head out and not look back until it is time to head home."