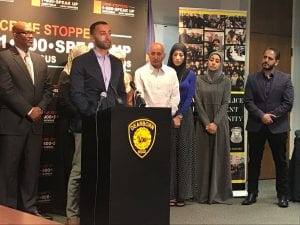 By ZEINAB NAJM
Times-Herald Newspapers
DEARBORN — The Police Department and family of Aniseh Eljahmi are seeking answers and public assistance to solve an unsolved 2006 homicide.
During a press conference on April 17,  Dearborn Police Cmdr. Ron Beggs announced that the case is being re-examined by investigators.
He cited advancements and new methods made within the last 11 years along with previous evidence could lead to cracking the case.
"Since the death of Eljahmi there has been a lot of advances in technology and evidence analysis," he said. "The investigation is ongoing so not many details can be given, but all involved parties will be looked at. No stone will remain unturned."
Eman Eljahmi, 17, Aniseh's daughter did not speak much during the press conference but said she was grateful for the Dearborn Police Department.
"The amount of pain we have gone through is immeasurable," she said. "I'm glad that officers and everyone involved are working to get the case solved."
Aniseh Eljahmi's brother Jabrey Eljahmi spoke on the behalf of the family fighting tears as he described his sister as a good mother, daughter and asset to the community.
"She always gave back and never wanted anything in return," he said. "It's still hard to imagine that something like this can happen in front of a home in Dearborn because this is a great community."
Jabrey Eljahmi said he is hoping for justice and that the killer comes forward to give the family peace of mind.
"We have hope," he said. "We just want this to be over and whoever committed the murder to face the consequences of the crime."
Just after 11 p.m. April 13, 2006, Aniseh Eljahmi was shot and killed as she exited her vehicle in the 3400 block of Houston.
When police arrived on the scene they discovered that Aniseh Eljahmi was lying the street near the driver's side door of her vehicle.
The vehicle was parked in front of her house and Aniseh Eljahmi's 6-year-old daughter, Eman Eljahmi, witnessed the murder from the back seat.
At the time of the murder, Dearborn detectives conducted a thorough investigation and were able develop multiple leads, but no arrests were made.
"Investigators did a great job gathering evidence and information but did not have enough for charges or arrests," Beggs said. "Anyone with information about the case is asked to come forward, any small piece of information can be beneficial to our detectives."
Anyone with information regarding the murder can call Dearborn police at 313-943-2241, or Crime Stoppers at 800-773-2587 and can remain anonymous.
"Any evidence or information no matter how small should be reported," Dearborn Police Cpl. Gary Cerroni said. "This has always remained an open case for the city and we just want the case solved."
Crime Stoppers is offering $2,500 reward for information leading to the arrest and conviction of the suspect or suspects of this crime.
"Ms. Eljahmi's homicide is a tragedy that has devastated her family and has remained among one of the most pressing cold cases for the Dearborn Police Department," Police Chief Ronald Haddad said. "The Dearborn Police Department remains committed to finding and prosecuting the person or persons responsible for this senseless crime."
(Zeinab Najm can be reached at [email protected].)