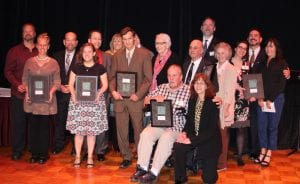 By SUE SUCHYTA
For the Times-Herald
DEARBORN – Honorees and guests celebrated local artists and patrons April 26 at the 29th annual Mayor's Arts Awards, held in Studio A at the Ford Community & Performing Arts Center.
Sponsored by the Dearborn Community Arts Council, the event annually honors artists, educators, volunteers and patrons.
Mayor John O'Reilly Jr. said it is more important than ever to recognize the role of art on a local level in the lives of residents.
"The arts are good for our spirits and minds," O'Reilly said. "They help us make sense of the world and the conditions around us, and they can inform our perspective on social developments. They are also a source of entertainment, sometimes a happy distraction and sometimes a way to process complicated experiences."
He said Dearborn is fortunate to have so many generous people and organizations who share their time and vision with the community.
This year's honorees include: Chris Nordin and Michelle Plucinsky of the Glass Academy, recipients of the Mayor's Award; Jessica Carreras, DCAC Bravo Award; Su Doman, Dearborn Public Schools, Arts Educator Award; Bruce Harkness, award-winning photographer, Arts Volunteer Award; Robert Curtis, Special Recognition Award; Dave Gorden, Artist/Performer Award; John Sczomak, president, Players Guild of Dearborn, Art Organization Award; and Dan and Katie Merritt, Green Brain Comics, Art Patron Award.
Jay Korinek of Henry Ford College served as the master of ceremonies, with Jake LaValley on piano providing musical interludes.
The musical entertainment included the United States Air Force Band Freedom Wind Ensemble, and Dearborn High School students and Players Guild of Dearborn members performing a selection from DHS's spring musical "West Side Story," with Emma Scott singing "Somewhere" as Madelyn Kaplan, as Maria, and Graham Dallas, as Tony, danced.
A reception in the Padzieski Gallery followed the awards ceremony.
Nominees for the 2018 awards will be accepted through Dec. 29.
For more information, contact DCAC director Ralph Valdez at [email protected].
For more information about the DCAC, go to dcacarts.org.