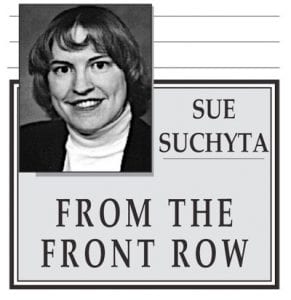 The Fisher Theater's one non-musical show this season, the Tony Award-winner "The Curious Incident of the Dog in Night-Time" at the Fisher Theater through May 14 is a moving and mesmerizing production, and a fascinating glimpse into the world of a brilliant teen struggling with a sensory disorder. It is also the story of innocence loss and a family separated.
Based on the novel by Mark Haddon, the play is written by Simon Stephens and directed by Marianne Elliott.
Adam Langdon is amazing as Christopher, a 15-year-old boy with a sensory-disorder who is highly intelligent. He brilliantly portrays a character who is a jumble of contradictions: a math prodigy who can't navigate a subway station; a scientific savant who can't read human emotion or understand metaphors. His character tells us repeatedly that he cannot lie.
When the show begins, Christopher discovers that a neighbor's dog has been murdered, and while he is the initial suspect, he is quickly exonerated, and he decides to apply logic to solve the enigma.
This requires courage on his part, though – he doesn't like to talk to people, and he is terrified of being touched. His father, his sole parent, is also insistent he drop
his investigation.
Christopher's search for answers, however, outweighs his urge to obey, and he uncovers some secrets that can never be taken back. His world is turned upside down, and he has to go way out of his comfort zone to find closure.
The special effects give the audience an idea what it is like to be in the mind of a sensory-sensitive genius. The throbbing noise, flashing lights and rapidly changing visuals give one an idea of the terrifying ordeal it is for Christopher to try to find a train station and catch a train.
The people in the cast are portrayed as kinder than most people are with the special needs population, but it displays the frustration experienced on both sides.
Maria Elena Ramirez is superb as Siobhan, his teacher, and in some sense, the story's narrator.
Gene Gillette as his father is a fascinating mixture of a roughhewn man who has learned to be very nurturing and patient with his son.
Amelia White is a standout as a neighbor, Mrs. Alexander, who tries to connect with Christopher. She is the kindly eccentric aunt everyone wishes to have.
The ensemble is brilliant in its ability to move fluidly between numerous roles, and to move Christopher around the set, allowing him to defy gravity as he walks on walls in the manner in which his thoughts and emotions are bouncing off the confines of the stage. Their movement and fluidity makes the show possible.
The story grabs at you, drawing you in emotionally as you feel the boy's anxiety and sensory overload. There is a scene where he tries to rescue his pet rat from the subway tracks that will have you on the edge of your seat.
The set, which looks like a giant grid box, is a canvas for the amazing light show and constantly changing backdrop of colors and lights. The special effects are not the show, but without them we would not inhabit the world in which the lead character struggles.
The story is about a vulnerable, imperfect person overcoming daunting odds to find truth, and then dealing with the sadness and pain of that truth. One cannot see the show without leaving with a more compassionate understanding of people with sensory disorders.
The critics agree. The show won five Tonys, including Best Play, six Drama Desk Awards, including Outstanding Play, five Outer Critics Circle Awards, including Outstanding New Broadway Play and a Drama League Award for Outstanding Production of a Broadway or Off-Broadway Play.
Showtimes are 8 p.m. May 9 to 13, 7:30 p.m. May 7 and 14, and 2 p.m. May 7, 13 and 14. For more information go to broadwayindetroit.com or CuriousOnBroadway.com.
Tickets start at $35, and are available by phone at 800-982-2787 or at ticketmaster.com.