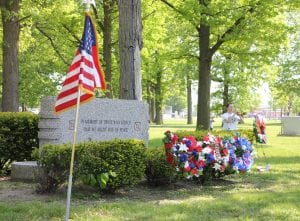 By SUE SUCHYTA
Sunday Times Newspapers
ALLEN PARK – The City Council approved VFW Post 5572's request to relocate the Cpl. Lambert A. Pfeiffer Jr. Memorial Plaque to the city's Veterans Memorial May 21 following its building sale.
The motion by Councilman Harry Sisko, seconded by Councilwoman Tina Gaworecki, passed unanimously at the May 9 council meeting.
The post, which sold its building and property at 16736 Ecorse Road, wants to place the plaque honoring the late Allen Park veteran for whom the post was named with the city monument.
Parks and Recreation Director Pat Hawkins said the post was hoping to relocate the plaque on Memorial Day.
"They may have the plaque done but not ready for install," Hawkins said. "There is a little garden in the front that has a VFW sign in it that is the most likely spot that they would be putting it."
Mayor William Matakas said the Memorial Day Parade starts at 2 p.m. May 21 at White and Park streets, follows Champaign, then proceeds to Champaign Park at Pelham.
He said the program at the park will last about a half hour, following by hot dogs, beverages and chips.
"If you can join us, we would appreciate your coming out and paying your respects to our veterans," Matakas said.
(Sue Suchyta can be reached at [email protected].)