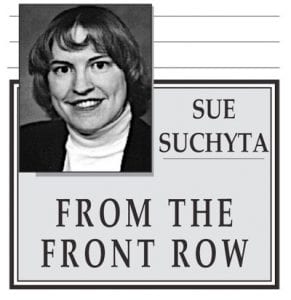 From the stage to the screen — computer screen that is — the Downriver Actors Guild is on a roll, winning an office makeover contest, wowing audiences with the family-friendly musical "Oliver!" preparing for upcoming auditions and announcing its 2017-18 season.
Michigan Office Solutions, a Xerox Co., is awarding three office makeovers – worth $10,000, $15,000 and $20,000 – and DAG will find out at 1:30 p.m. May 17 at the Catherine A. Daly Theatre on the Avenue, 2656 Biddle, Wyandotte, which prize it won. Finalists were determined by online voting counts.
'OLIVER!' PROVIDES FAMILY-FRIENDLY FUN
Both audiences and the cast of the musical "Oliver!" are experiencing family-friendly fun. The show, with humor for children and adults, gives new meaning to a refrain from one of the show's songs, "Consider yourself part of family," with five family pairings in the show.
Husband and wife team Kurt and Tracy Bowen of Monroe play leads Bill Sykes and Nancy, respectively, and their daughter Victoria is in the adult ensemble.
Other family pairings include Taylor siblings Keagan Rodden as Oliver Twist and Kai as a workhouse orphan and thief; Jema McCardell of Trenton as Widow Corney, her son Duncan as Noah Claypole and her daughter Fiona as a workhouse orphan and thief; Grosse Ile Township twins Dresden and Brayden Keding as workhouse orphans and thieves; and Lincoln Park sisters Ella Ray as a workhouse orphan and thief and Grace in the adult ensemble.
Others in the cast include Ryan Boos of Allen Park as the Artful Dodger, Howard Jay of Dearborn as Fagin, Ashley Gatesy of Westland as Bet, Tom Downey of Livonia as Mr. Bumble, Jay Carter of Taylor as Mr. Sowerberry, Adrienne Blow of Westland as Mrs. Sowerberry, Pat McElligott of Monroe as Mr. Brownlow, Heather Hall of Lincoln Park as Mrs. Bedwin and David MacDonald of Taylor as Dr. Grimwig.
Additional workhouse orphans and thieves are played by Nathan Blaszczak of Brownstown Township, Andrew Dmitruchina of Wyandotte, Antonella Menna of Newport, and Molly Pelky of Riverview.
Others in the adult ensemble include Charlene Bauer of Woodhaven, Chuck Bollman of Wyandotte, Dee Morrison of Canton Township, Colleen Stanley of Trenton and Autumn-Raye Usher of Lincoln Park.
Lucinda Chavez directed the show with Vocal Director Melanie Aue.
Set in Victorian London, the show features many familiar songs, including "Food, Glorious Food," "Where is Love," "Consider Yourself," "As Long as He Needs Me," "I'd Do Anything," and "Who Will Buy."
Tracey Bowen said the show has many classic songs.
"It's just a great story," she said. "There are a lot of songs that people will be very familiar with."
Kurt Bowen, who is playing opposite his wife for the first time on stage, said he was thrilled when she was cast as Nancy. He said his role, Bill Sykes, has been on his "bucket list" for many years, and he loves playing villains.
"There's nothing more fun than being bad," he said. "I've played Dr. Jekyll and Mr. Hyde, Thénardier in "Les Misérables" and Frollo in "The Hunchback of Notre Dame" – that was a very villainous part."
Kurt Bowen said "Oliver!" is a brilliant show.
"I like dark shows, and it's a wonderful story," he said. "Of course, Bill Sykes is not a wonderful person, but Nancy is a wonderful person and Fagin has a heart of gold. It's just a classic musical that nobody should miss."
The musical continues its runs 7:30 p.m. May 13, 19 and 20, and 3 p.m. May 21 at the Catherine A. Daly Theatre on the Avenue, 2656 Biddle, Wyandotte.
Tickets are $16, with a $3 discount for students and seniors. To order, call 734-407-7020 or go to downriveractorsguild.net.
AUDITIONS ANNOUNCED FOR 'PRINCESS DIANA, THE MUSICAL'
DAG will hold auditions for "Princess Diana, the Musical" at 2 p.m. June 4 and 7 p.m. June 5 at the theater, 2656 Biddle, Wyandotte.
The show is told from Diana's perspective, and is based on her autobiography. The role of Diana has already been cast, but all other roles are open.
The recently released musical will play at only eight U.S. theaters. Directed by Valerie Haas, DAG's production will run 7:30 p.m. Sept. 8, 9, 15 and 16, and 3 p.m. Sept. 10 and 17.
Those auditioning should come prepared to sing a contemporary music selection, learn a short dance and do a cold reading from the script. Bring your own sheet music, or a music track on a CD or downloaded to an electronic device. Wifi access in the theater is not always available.
Direct questions to [email protected] For detailed audition information, go to facebook.com/events/457425451258120.
DAG ANNOUNCES 2017-18 SEASON
DAG's 2017-18 seven-show main stage season opens with "Princess Diana – the Musical" Sept. 8 to 17, followed by "Sister Act" Oct. 20 to 29, and the 40th anniversary of "Annie" Dec. 2 to 17. The new year opens with "Honky Tonk Angels" Jan. 26 to Feb. 4, and "One Flew Over the Cuckoo's Nest" March 16 to 25. The season concludes with the edgy adult musical "Heathers" May 11 to 20, and the family friendly "Wizard of Oz" July 27 to Aug. 5.
The dinner theater "Tony and Tina's wedding" will run April 27 and 28, with venue and cost to be determined. A tribute to Frank Sinatra will woo audiences Sept. 30 and Aug 1, 2017.
The teen and youth theater productions include "Willy Wonka" Feb. 16 to 25 and "Godspell" June 1 to 10. Beginner theater productions for children ages 3 to 10 include "Toys" Nov. 17 to 19, "Disney's Jungle Book Kids" April 13 to 22 and "Squirm" June 22 to 24. The beginner shows are not part of the season pass.
For more information, go to the Downriver Actors Guild Facebook page or downriveractorsguild.net.