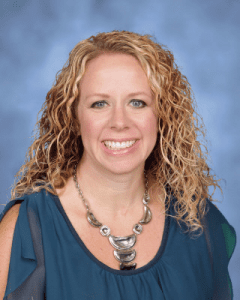 By ZEINAB NAJM
Times-Herald Newspapers
HEIGHTS — Dearborn Heights District 7 has a new superintendent, and she's one who is familiar with the district and its community members.
The board of education passed a resolution May 2 to make Interim Supt. Jennifer Mast the district's permanent superintendent.
Initially a meeting was scheduled for May 9 to select the district's next superintendent between Mast and Galesburg-Augusta Community Schools Supt. Dania Bazzi, but was cancelled.
During the May 2 meeting, the board announced that Bazzi submitted a letter pulling out of the race. The board then made a motion to vote Mast as the new superintendent but it failed to pass with a 4-3 vote against.
Next, the board decided to work with the Michigan Leadership Institute to conduct a target search for a new superintendent.
The audience participation portion of the meeting was next which lasted two hours because D7 staff, students and parents shared their support for Mast.
"I was shocked by the support," Mast said. "The entire process and meeting was emotional, especially because of the original vote."
After the audience participation, Trustee Phil Kubitz made a motion again to revote Mast as superintendent which passed 4-3 after he changed his vote.
"People were happy and clapping after the vote was passed the second time," Mast said. "I was touched by the support and result."
The superintendent position became available after former Supt. John Frazer resigned in September. Jeffery Bartold was brought in by the district to serve as interim superintendent until Mast was hired.
She served as the district's interim superintendent since April 1 after she was unanimously selected by the board of education during a meeting March 7.
Mast worked as a teacher and assistant principal at O.W. Best Middle School. She also spent four years as principal at Bedford Elementary School.
"It's nice to have background knowledge and being familiar with the district," Mast said. "I also have to deal with the decisions made before me which includes keeping the good things going and not repeating the bad things in the future."
A resident of Trenton, Mast earned her bachelor's and master's degrees from University of Michigan-Dearborn in education and administration.
Mast cited two areas in the district as her main concern which included improving the overall morale in the district and adding new literacy initiative.
"There has been really low and unstable leadership in central office which trickles down to all levels of staffing," she said. "We will build staff back up by talking to them and letting them know they are important.
As for the literacy initiative, Mast said she is working with Bedford Elementary School reading specialist Kerri Moccio on summer programs and third-graders' reading levels to ensure they are where they need to be.
(Zeinab Najm can be reached at [email protected].)