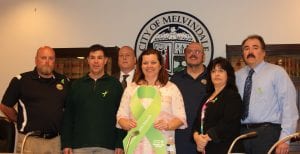 By SUE SUCHYTA
Sunday Times Newspapers
MELVINDALE – The mayor and City Council wore green ribbons at the May 3 council meeting to recognize May as Mental Health Awareness Month.
Mayor Stacy Bazman said it is important to increase awareness of mental illness and promote treatment and recovery.
She read a proclamation that begins by recognizing that serious depression, bipolar disorder, schizophrenia, obsessive-compulsive disorder, severe anxiety disorder, borderline personality disorder and post-traumatic stress disorders affect one in every five people annually.
It also emphasizes that serious mental illness is a highly treatable medical illness of the brain, and poses the same concern as cancer, heart disease, diabetes and other illnesses.
The proclamation further recognizes that scientific research is producing tremendous breakthroughs in the understanding of mental illness, resulting in more effective treatments to allow people to reclaim full and productive lives.
It further recognizes that the misunderstandings that exist about mental illness in social culture often wrongly impose a stigma on those with mental illness.
For more information about Mental Health Awareness Month go to mentalhealthamerica.net/may.
(Sue Suchyta can be reached at [email protected].)