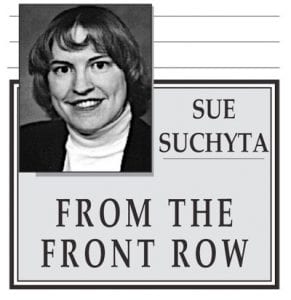 Wyandotte's Downriver Actors Guild closes its "Year of the Villain" with Captain Hook of Peter Pan, winning booty that would make any pirate proud in Michigan Office Solutions' "make my non-profit run better" online voting competition.
The prize, $20,000 in Xerox office equipment, will let DAG upgrade printing and computer equipment. Board members hope it will improve everything from improved speed at the box office, printing savings and a better patron database.
'DEARLY DEPARTED' PUTS THE FUN IN A FUNERAL
Set in the Bible Belt backwoods, "Dearly Departed" by Jesse Woods and David Bottrell shows the hilarious side of a dysfunctional family funeral amid chaos and a community of misfits, prompting one character to tell his wife "When I die, don't tell nobody. Just bury me in the backyard and tell everyone I left you."
Directed by Glen Reynolds, the cast includes Jeanne Edwards as Raynelle, Lonnie Curri as Marguerite, Nathan Vasquez as Royce, Carrie O'Connor as Suzanne, Denny Connors as Junior, Kori Bielaniec as Lucille and Chuck Ingram as Raybud.
Chelsea Gerring plays Delightful, with Dinah Tutein as Rev. Hooker, Kelly Lomas as Juanita, Rick Town as Clyde, Lucinda Chavez as Veda, Kevin Bencik as Norval and Debbie Aue as Nadine.
The show runs 7:30 p.m. June 2, 3, 9 and 10, and 3 p.m. June 11 at the Catherine A. Daly Theatre on the Avenue, 2656 Biddle, Wyandotte.
Tickets are $13, with a $2 discount for students and seniors. For tickets, call 734-407-7020 or go to downriveractorsguild.net.
'E-I-E-I OOPS' YOUTH PRODUCTION SOMETHING TO CROW ABOUT
DAG's youth production of "E-I-E-I Oops" is something to crow about – and cheep and bray. When a farmer, Old MacDonald, has a cow who can't moo, the farm animals, played by actors age 3 to 10, do their part to help the Madame Cow find her moos. The 20-minute show features five upbeat songs in a variety of styles.
The show runs 7:30 p.m. June 23 and 24, and 3 p.m. June 25, at DAG.  For tickets or more information, call 734-407-7020 or go to downriveractorsguild.net.
'PETER PAN' FLIES INTO TOWN WITH A SONG
The Tony Award-winning musical version of J.M. Barrie's "Peter Pan" flies in from Neverland July 28 and 29 and Aug. 4 to 5, with music by Mark "Moose" Charlap, with additional music by Jule Styne, lyrics by Carolyn Leigh and additional lyrics by Betty Comden and Adolph Green.
Directed by Deborah Aue, with assistant direction by Lucinda Chavez, it features the choreography of Kayla Aue and the vocal direction of Kyle Harwood.
The cast includes Allen Park residents Emily Braun as a featured dancer, Chris Chavez as Captain Hook, Kayla Chavez as Tiger Lily, Paige McElmury as Peter Pan and Brendan Siddall as Slightly.
Also Brownstown Township residents Calleigh Butler as Michael and Brianne Rainey as an Indian; Dearborn residents Gavin Deckert as Nibs, Nate Hermen as John, Audrey Hernandez as a Lost Boy and Howard Jay as Smee; and Dearborn Height residents Madison Ganzak as an Indian and Jamie Paschke as Tootles.
Khalia Mims of Detroit plays Curly, with Lincoln Park residents Alex Rosen as Starky, Lily Steele as a Lost Boy and Maria Vespa as Pirate #1; and Rachel Ogger of Livonia as Mrs. Darling, older Wendy and a pirate.
Lost Boys are played by Antonella Menna of Newport and Riverview residents Jason Kolbusz, Cassidy McFarland and Isabella Owens.
Taylor cast members include Steve Bagget as Bill Jukes and a pirate, Steven Bagget as Mr. Darling, David McDonald and Jessah Price as Indians and Jessalyn Sturm as a featured dancer.
Trenton residents Joanna and Madalyn Bailey play Indians, with Emily Bruce as a croc and Nana.
New Boston cast members include Haley Clark as Liza, Daniel Kessler as Cecco, and Emma and Lane Straub as the Twins.
Ashley Gatesy of Westland plays an Indian, with Wyandotte residents Grace Harper as a Lost Boy, Megan Harper as an Indian, Sean Harper as Noodler, Marissa Manville as an Indian, Emily Noble as Wendy and Iyla Nordstrom as Jane.
McElmury said the show is magical.
"It's silly, it's fun, it's a nice escape from reality," she said. "Children will love the magic and adventure. Adults will appreciate the classic movie brought to life."
She said the cast is filled with talent.
"Everyone really brings something special to the characters." McElmury said. "The energy of the show really makes you want to be a kid again."
Paschke said she loves the timeless classic. She said the cast is filled with "triple threats" – cast members who are strong singers, dancers and actors.
"The choreography is amazing, we have such strong dancers, the vocals are great, and the acting is phenomenal," Paschke said. "The show breaks the fourth wall in a subtle way and transports you to Neverland with the characters."
She said the cast's energy is infectious.
"The themes are about having fun, letting loose, not caring about what other people think, and never growing up," Paschke said. "I think never growing up is an appealing topic because we never do grow up on the inside, do we? I think the audience will really enjoy it."
For tickets or more information call 734-407-7020 or go to downriveractorsguild.net.