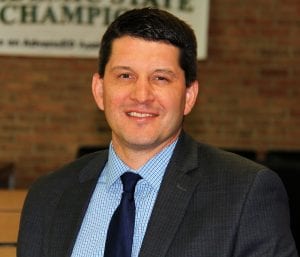 DEARBORN — The Dearborn Public Schools Board of Education gave second-year Supt. Glenn Maleyko a "highly effective" evaluation after a review of his work over the past year.
The evaluation tool used by the board was developed by the Michigan Association of School Boards and is used to evaluate superintendents across the state. The evaluation is not completed by the board as a group or sub-committee; rather each trustee takes part in the process.
The first part is to rank the effectiveness of the superintendent in five different areas or standards: governance and board relations, community relations, staff relationships, business and finance, and instructional leadership. Each standard has several sub-categories and accomplishments must be supported with artifacts provided by the superintendent.
Scores in each standard are tabulated and make up 65 percent of the overall evaluation score.
Just as student growth is part of a teacher and principal's evaluation, it also is factored into the superintendent's rating. Student growth makes up 25 percent of the evaluation with the remaining 10 percent coming from the work being done toward completing district goals.
"The superintendent's leadership has made the Dearborn Public Schools a model district in so many areas and the Board of Education is appreciative of Dr. Maleyko's hard work and dedication to our students, staff, and community," then-Board President Mariam Bazzi said.
"The results of Dr. Maleyko's evaluation are not surprising considering all the success happening in the Dearborn Public Schools such as our record high graduation rates (93 percent district average)."
The superintendent is the only staff member directly hired and supervised by the board.
"When it comes to education, I'm very passionate about the important work we as educators must accomplish and I'm very fortunate to be able to do this work in this great city," Maleyko said.
"My success is the direct result of the support and leadership provided by the Board of Education, all of the hard work, dedication, and professionalism of each and every staff member, along with the partnership and contributions by the parents, community members and students in the Dearborn Public Schools. I'm humbled to be part of such a great team."