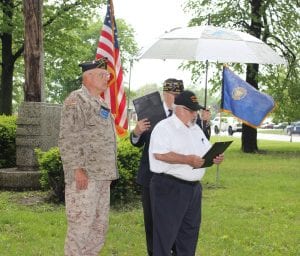 By SUE SUCHYTA
Sunday Times Newspapers
ALLEN PARK – Despite the rain and cancelation of the city's Memorial Parade March 21, residents remembered veterans in a short but respectful ceremony at 3 p.m. in Champaign Park.
A miscommunication following the cancellation of the city's Memorial Parade prevented city employees from setting up sound amplification equipment and may have prevented elected officials from attending.
Former Mayor Tony Lalli stepped in to read during the event, along with local American Legion Commander David Babbage.
Lalli reminded attendees that Memorial Day serves as a tribute to those who died while serving in the country's armed forces.
"Observed on the last Monday of May, (originally) as Decoration Day after the American Civil War," Lalli said.
Babbage thanked those who attended the ceremony at its conclusion and apologized for the weather.
"Remember our veterans," he urged. "They are only 1 percent of our population, but please remember them and help them out any time you can."
Attendees were invited to go to American Legion Post 409 for a hot dog luncheon following the event.
(Sue Suchyta can be reached at [email protected].)