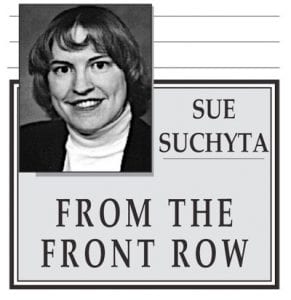 "Dearly Departed" puts the fun in funeral as the Downriver Actors Guild presents the David Bottrell and Jesse Jones comedy that pokes fun at the of Turpins, a Southern backwoods Bible Belt family whose dysfunctions turn their father's funeral into a hilarious string of comedic encounters.
Directed by Glen Reynolds, the show features Allen Park residents Lucinda Chavez as Veda, Denny Connors as Junior and Carrie O'Connor as Suzanne; Nathan Vasquez of Brownstown Township as Royce; Jeanne Edwards of Grosse Ile Township as Raynelle, Rick Town of Huron Township as Clyde; Dinah Tutein of Rockwood as the Rev. Hooker; Chelsea Gerring of Southgate as Delightful; Debbie Aue of Taylor as Nadine; Kelly Lomas of Trenton as Juanita; Kori Bielaniec of Westland as Lucille; and Wyandotte residents Lonnie Curri as Marguerite and Chuck Ingram as Ray-Bud.
Director Reynolds said he enjoys making people laugh, and over the years his greatest success and joy has come from performing in comedies.
"This show is one of those rare shows that are so well written and just so funny, you jump at the chance to have a part in it," Reynolds said. "When I was offered the opportunity to direct it, I pretty much jumped at the chance."
He said every character in the show is amusing.
"It's classic humor that doesn't require vulgarity or crude humor," Reynolds said. "It is smart and relatable. We all know people like the characters in this show. The audience will see their friends and neighbors reflected in them."
He said acting talent is key to bringing each character to life.
"It's all about the character," Reynolds said. "There isn't a set, a lot of props or flashy costumes. It's raw and basic – comedy acting at it's finest. You are relying on your ability to connect to your audience."
Curri said Reynolds has helped them present a story that, while entertaining, reminds us that the clan is united by the deep sense of familial love.
"I hope our audiences will be reminded that sometimes laughing at the weirdness in your own family tree is the best way to deal with it," Curri said. "Every family has colorful characters. Put them into a single nutty family tree, then force them to work together to solve a family crisis, add a heap of backwoods sass and you'll wind up with the boisterous, opinionated Turpin clan."
Curri said her character, Marguerite, has no filter, and blurts what others were thinking but didn't have the nerve to say.
O'Connor said her character, Suzanne, is also vocal, berating her husband and yelling at her kids.
"My character is a nagging wife who is unhappy and regrets that she never became a famous singer," O'Connor said. "She is dramatic and likes attention. I've been having fun finding different ways to emphasize her insults to him."
She hopes audiences are entertained.
"Maybe this dysfunctional display will put their own family drama in perspective," O'Connor said.
Lomas, who plays Juanita, said she has had fun "stretching the obnoxious parts" of her own personality onstage.
"Audiences are going to walk away feeling they had a chance to examine their own lives in a safe environment that eases them into certain situations with a lot of laughter," Lomas said.
Tutein hopes audiences will enjoy the passion and over-the-top humor in her character.
"Comedy always lightens up an otherwise rough day," Tutein said. "Get your laughter Southern style."
Reynolds said the show doesn't have any profound social or political message.
"It isn't out to change the world or make you think," Reynolds said. "It lets you glimpse other people and laugh at how they handle their lives. I hope the audience takes away sore guts from laughing so hard."
The show runs 7:30 p.m. June 2, 3, 9 and 10 and 3 p.m. June 11 at the Catherine A. Daly Theatre on the Avenue, 2656 Biddle, Wyandotte.
Tickets are $13, with a $2 discount for seniors and students. For more information or to order call 734-407-7020 or go to downriveractorsguild.net.