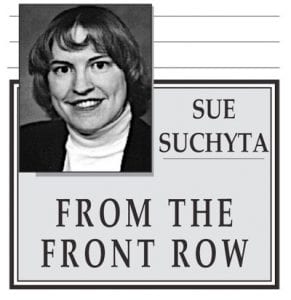 "Almost Maine" is a town described as so far north, it's "almost in Canada," where the the residents never got around to organizing themselves into a town, and where the colorful characters fall in and out of love in a romantic comedy to which ordinary people can relate.
Written by John Cariani, the show has become a staple in amateur productions for it 11 shorts scenes, which the New York Times called "magic realism."
Technical director Gerry Dzuiblinski said the show is done in a black box format, with the audience seated in close proximity to the actors on stage.
"It's a contemporary romantic comedy about this fictional small town's people and their loves, as they discover each other and themselves," Dzuiblinski said.
The four-person ensemble, who play multiple roles, include Zach Ross of Dearborn as Chad, Daniel, East, Lendall and Steve; Amanda Bates of Dearborn Heights as Gayle, Hope, Sandrine and Shelly; Alan Rezzonica of Grosse Ile Township as Dave, Jimmy, Pete, Phil and Randy; and Jenny Popovich of Howell as Ginette, Glory, Rhoda, Deena and a waitress.
Bates said she fell in love with the show when she first read the script because of the characters and its humor.
"I knew I wanted to be a part of it," Bates said. "I think audiences will find connections to their own love stories – the happy memories or sad times that are our learning experiences. I think they will find something in every story that reminds them of themselves."
Rezzonica said the characters' appeal is that they are everyday people going through relatable experiences, finding themselves and discovering each other.
"The audience will enjoy the comedy and the relationships," he said. "They will appreciate how down to earth it is and the situations within the play."
Popovich said audiences connect to the show because it is about both young and old love, and it has warmth and heart.
"The script is so charming and sweet, but at the same time deep and emotional, fun for an actor to sink their teeth into," Popovich said. "The characters are quirky, but are very real at the same time, which makes it so much fun to act."
Ross said he appreciates the subtlety in the dialogue and Cariani's naturalistic writing style.
"The show will entertain anyone who has ever experienced love, no matter what shape or form," he said. "The situations the characters find themselves in are very strange yet wonderfully familiar to the human heart."
Performances are 8 p.m. June 15 to 18, June 29 to 30 and July 1, and 2 p.m. June 18 and July 2 in Adray Auditorium of the MacKenzie Fine Arts Center.
Tickets are $15, with a $3 discount for seniors, students and HFC employees. For more information, call 313-845-9817 or contact [email protected] To order tickets online, go to theatre.hfcc.edu.