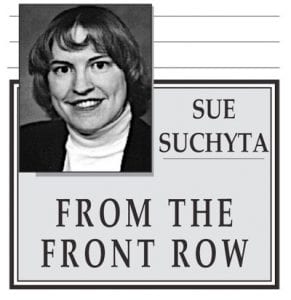 Get ready to be "MOOved" to laughter by the family friendly "EIEI Oops" June 23 to 25 as Old MacDonald, the Farmer-in-the-Dell and some enterprising animals help a cow get her moo back.
The preteen production, directed by Debbie Aue of Taylor, draws on the group's teen talent pool with Allen Park residents Kayla Chavez as choreographer and Emily Braun as vocal director, and student assistants Madalyn Bailey of Trenton, Madison Ganzak of Dearborn Heights, Elaina Primeau of Brownstown Township and Grace Ray of Wyandotte as student assistants.
Aue said the show is great for young audiences because the production is 30 minutes long, and opens with the familiar song "Old MacDonald."
"Kids will enjoy seeing the animals working together to get the cow to moo," Aue said. "The dialogue is rhyming and will keep the kids' attention."
Iyla Nordstrom of Wyandotte, who plays Hi Ho the Pig, said audiences will enjoy the show.
"The music is great, the dances are fun and the cast is really funny," she said. "We will make everybody laugh."
Brayden Keding of Grosse Ile Township, who said he is excited to play Old MacDonald, agrees on the fun factor.
"It's a great family show that will make you laugh until you ache," he said.
Joanna Bailey of Trenton, who plays Piggly, said the pigs are a funny group as their characters attempt to tell jokes.
Antonella Menna of Newport, who also plays a pig, said she draws on her own sense of humor to make her character generate laughter.
Griffin Gardner of Wyandotte, who plays the mule, said he has fun being downstage center delivering his share of the humor.
Others in the cast include Allen Park resident Delanie Eskin as a Cute Chick; and Brownstown Township residents Cameron Abel as a sheep, Sydney Czopek as Mrs. Farmer-in-the-Dell, Joshua Dauzy as Mr. Farmer-in-the-Dell, and Parker Forgach as Curly the Pig.
Grosse Ile Township residents in the cast include Isabella Kalisz as Aimless, a sheep, and Dresden Kedding as a rooster, with Riverview residents Elizabeth Fleming as a Cute Chick, Grace Derio as a pig, and Teagan Taylor and Maya Uy as sheep.
Southgate sisters Carly and Cassie Serpetti play a Cute Chick and Cow, respectively, while Toledo residents Fa'Shawn Belcher and Milan Williams play a Cute Chick and a pig.
Taylor cast members include Aaron and Kayla Aguila, Blake Berringer and Luciana Talerico as pigs, Nora Aue and Kayla Messer as Cute Chicks, Kaitlyn Aguila as Mrs. Old MacDonald and Charlotte Trudeau as a lamb.
Trenton cast members include Riley Cook as a Cute Chick, with Mia Morgan and Jackson Schulte as sheep; and Wyandotte residents Lia Lenihan as a Cute Chick, Alaina Lough as the Cat-with-a-fiddle, Sophia Mercurio as Pointless, a sheep, and Vivian Nordstrom as Bo Peep.
Show times at 7:30 p.m. June 23 and 24 and 3 p.m. June 25 at the Catherine A. Daly Theatre on the Avenue, 2656 Biddle in Wyandotte.
All tickets are $10. To order, call 734-407-7020 or go to downriveractorsguild.net.
RIVERVIEW MAN IN 'ROMEO AND JULIET' AT LITTLE DOOR THEATRE
Riverview native Tim Beson plays Paris in the two-weekend run of Shakespeare's "Romeo and Juliet" at the Little Door Theatre, 21045 Van Dyke in Warren.
Judy Dery directs the production, with Dalton Hahn as Romeo, Shannon Hurst as Juliet, Dan Drobot as Mercutio, David Musselwhite as Benvolio and Rish Mitra as Tybalt.
Jason Garza plays Lord Capulet, with Christi Lawson as Lady Capulet. Todd Minneham plays Lord Montague, with Danielle Peck as Lady Montague and as Rosaline and a friar.
Andrew McMechan plays Friar Lawrence, with Dave Klecha as the Prince, JM Ethridge as the Nurse and Erica Cross as Petra.
The show runs 8 p.m. June 17, 22 to 24, and 2 p.m. June 18 and 25. Tickets are $15, and can be purchased at the door or online at littledoortheatre.com.