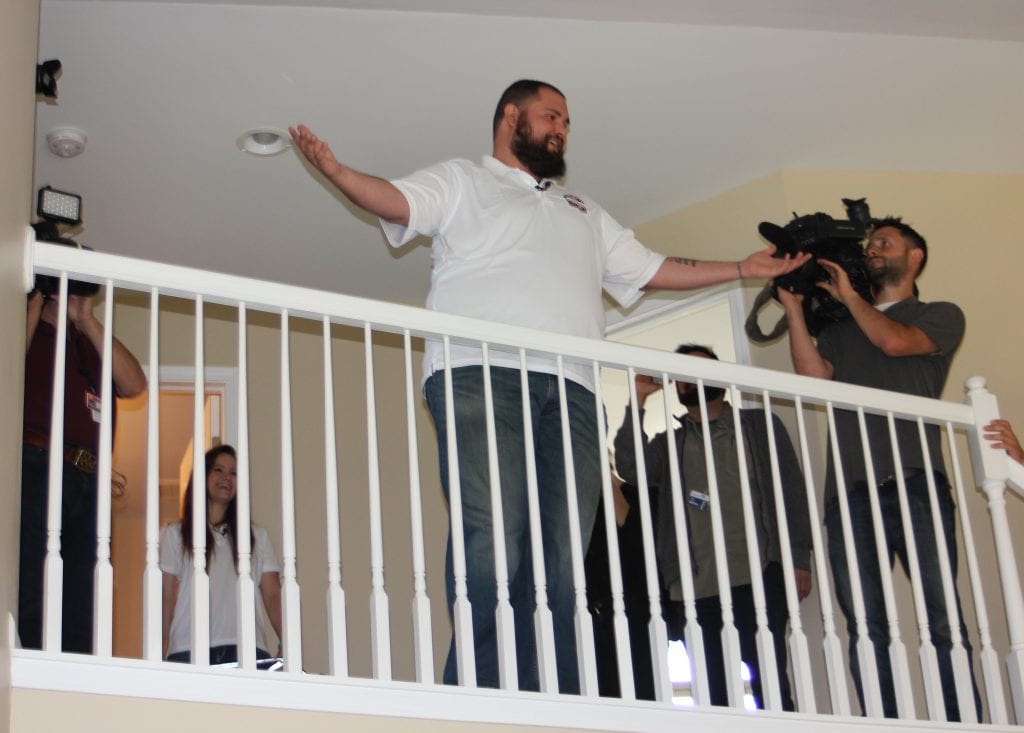 By SUE SUCHYTA
Sunday Times Newspapers
TAYLOR – Life got better June 27 for U.S. Marine veteran Joshua Schroeder and his wife, Briana, when Building Homes for Heroes and Chase Bank presented them with a new mortgage-free home.
For 10 years, Building Homes for Heroes has constructed and gifted more than 100 mortgage-free homes, complete with accessibility modifications, for post-9/11 veterans and their families, as well as other needed services to help them rebuild their lives.
Construction team leader for BHFH Vicki Liu said every time they hand over a house to a veteran it is exciting.
"Every single time has put me in tears when I see a family go into the house," she said.
Chase, a worldwide financial services firm, helps veterans and their families by focusing on employment, small business and strategic initiatives, which helps position them for success in their post-service lives. It has donated 900 homes in the past six years, bringing Chase closer to its goal of 1,000 home donations.
Chase representative Jackie Nabozny said Chase is very proud that the Schroeders are receiving the 901st home Chase has sponsored. She said the effort hits home for her.
"I have a long line of military veterans – my grandfather, father and husband are military veterans — so I am very proud of you and your service to the United States," Nabozny said to Joshua Schroeder, who served four years.
Schroeder is a disabled U.S. Marine Corps E-2 private first class and Purple Heart recipient who survived a life-threatening blast from an Improvised Explosive Device in Afghanistan. He suffered a traumatic brain injury, hearing loss, degenerative disc disease and joint pain in his back, shoulder and hip. He also has chronic migraines and post-traumatic stress disorder.
Schroeder said when he applied to BHFH more than a year ago, he didn't get too excited, feeling that getting a house through them was more a dream than a reality.
He said the application process for BHFH was a lot easier than much of other veteran paperwork he has encountered.
"I had actually started looking to see if we could afford a home, and it is pretty rough trying to find something in our price range that would work," he said. "Then we got a call that we got the house. Just like that, our life changed, and I really appreciate it. It is a huge weight off our shoulders."
Joshua's mother, Cheryl Ray, said the new house has plenty of room for family gatherings, noting that her son is a better cook than she, and echoed his sense of relief.
"I am just very thankful to Homes for Heroes and Chase because we really need to take care of our vets," Ray said. "They have really given their all for this country."
Christian Ray, 13, Joshua's brother, said the house was "snazzy," and plans to hang out with his brother now that he isn't in cramped quarters.
"I am happy for him," Christian said. "This is pretty cool. I can come over and play video games with him. This is super cool for him."
Cheryl Ray said the house allows Joshua to have adaptive devices that can't be installed in an apartment.
"You can't put in shower seats for him to sit down, or anything (in an apartment)," she said. "I think this is going to help a lot with their stress load to where he can start healing in other ways, to move forward."
Briana Schroeder said their rescue dog, Faith, nicknamed Bobo, a pitbull shepherd mix, will have lots of room to run around without bumping into walls like she does in their apartment.
"She loves just to run and go crazy," she said of their dog. "She's going to love the backyard. We won't be able to get her to come back inside."
Briana said the spacious house, with four bedrooms, has her thinking about filling it with children, but said she will fill it with pets first. She is currently going to school to become a veterinary technician while she works for a veterinarian.
She said the morning was emotional, and echoed her husband's gratitude.
"He's disabled, I am working full time, and it takes a big load off what we are having to do," she said. "We are going to be able to have a lot of good, fun family events over here now, so I am very happy about that."
Amid laughter, Joshua Schroeder said he was glad they would have their own washer and dryer again after sharing them with eight other households while living in an apartment.
A financial advisor provided by BHFH will work with the couple for the first two years to help them navigate the challenges and obligations of home ownership. While they will have to pay for their utilities, they likely will be eligible for some of the tax exemptions in Michigan for disabled veterans.
Liu said they wanted to present the Schroeders with their new home — which is the 116th BHFH house, and the second house in Michigan — before Independence Day to remind people that liberty comes at a cost.
"We want people to remember that freedom is not free," Liu said. "For so many veterans, the injury is invisible, like PTSD, TBI, which are mental and psychological and not like a physical injury. So we make sure we take care of all different kinds of injuries."
PTSD is characterized by a person being unable to recover after experiencing or witnessing horrific situations, and may manifest itself through anxiety and flashbacks. Traumatic brain injuries, usually caused by a violent blow to the head, also disrupt its normal function.
Liu said when she sees a family enter their new home, it reminds her how limited groups like Building Homes for Heroes are in meeting the many needs of veterans.
"There is so little that we can do," Liu said. "Giving a house (means) they actually finally get a stable place."
For more information about Building Homes for Heroes, go to buildinghomesforheroes.org.
(Sue Suchyta can be reached at [email protected].)