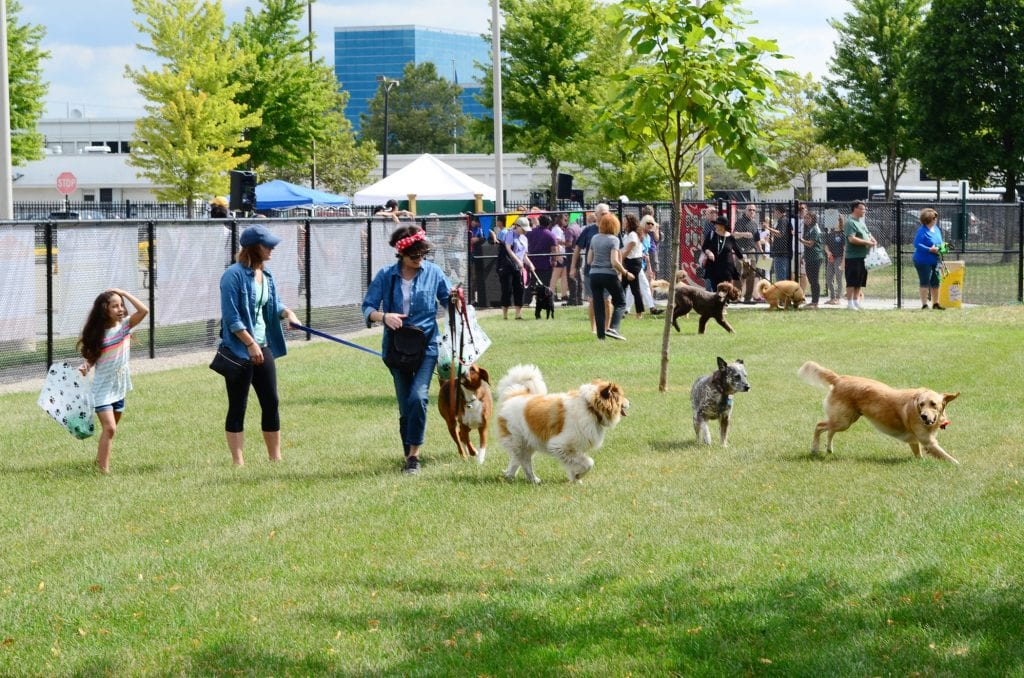 DEARBORN – Mayor John O'Reilly Jr. cut the ribbon and opened the gates at the city's new 2.3-acre Dog Park Aug. 19.
Several dozen energetic dogs and their happy owners enjoyed the first day at the park, which is south of Henry Ford Centennial Library, 16301 Michigan Ave.
O'Reilly championed the creation of the dog park for responsible dog owners, and received support from the City Council.
"We're happy to offer this dog park as another important amenity that enhances our quality of life in Dearborn," O'Reilly said. "We researched all the best practices for creating and operating a dog park, and we're confident we are doing ours in the finest way possible.
"Our responsible dog owners have been looking forward to this park, and I know they are going to find it is an enjoyable and safe experience for their pets, and for themselves.
"It is another way we are looking to the future, and making sure we our community stays competitive by having the features that our residents and prospective residents want."
The park is divided into two areas, one for larger dogs and the other for smaller ones. Each area is enclosed with a fence and accessible only through a gate, which will restrict entry to Dearborn dog owners who have paid a fee for using the facility and have demonstrated that their dogs' shots are up to date, for everyone's safety.
Each area also is equipped with benches, dog waste bags and waste disposal stations, water access and unique "dog agility" equipment.
The dog agility equipment — which includes adjustable jump bars, elevated agility walk platforms, walk ramps, hurdles, teeter totters and barrels — is the result of a $15,000 donation from the Oakwood Group, a Dearborn-based company founded in 1945.
The dog park season will run from April to November each year.
Use of the dog park requires a permit. It costs $30 and is available by visiting the City Clerk's Office at the Dearborn Administrative Center, 16901 Michigan Ave., or going online at www.dearbornrecreationandparks.com.
Owners seeking a permit must supply:
• Proof of Dearborn residency.
• A copy of the dog's license.
• Documentation that the dog has been neutered or spayed.
• Proof of current vaccinations.
• Photo of the dog.
The dog park will be open daily from 8 a.m. to 8 p.m. through Nov. 15. Those purchasing a permit now will receive access for both the remainder of this season and the entire 2018 season, which will be April 15 through Nov 15.
For a complete list of the rules governing the use of the dog park, go to   www.dearbornrecreationandparks.com.
For further information, call 313-943-2355.