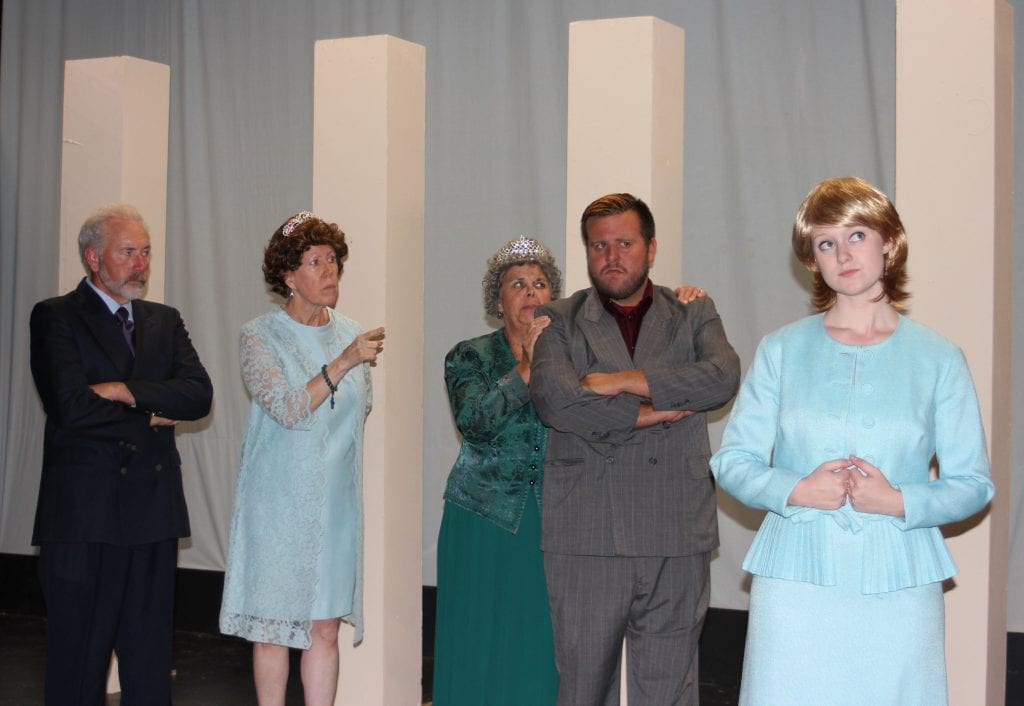 Love and lust spice up the plot on local stages, where stories range from royal intrigue and political sex scandals to the slings and arrows of carnal crushes.
"Princess Diana, the Musical" offers randy royals and life in a fishbowl at the Downriver Actors Guild in Wyandotte, while Dearborn's Henry Ford College presents "Strawberry – What Party?" a look at the late Tamara Greene, the exotic dancer who had a scandalous encounter with former Detroit Mayor Kwame Kilpatrick. Her death from a drive-by shooting continues to raise questions.
"The Great American Trailer Park Musical," at the Dio Dinner Theatre in Pinckney, features a Deaborn actor in an entertaining show that satirizes the lower class actions and affairs of trailer park denizens in a manner both entertaining and endearing.
DAG PRESENTS 'PRINCESS DIANA THE MUSICAL'
The Michigan premiere of "Princess Diana, the Musical" looks beyond the royal mystique and the tabloid fodder into the life of a woman who entered a fairy-tale world that dissolved into a morass of infidelity and constant exposure, a vicious scrutiny that eventually caused her untimely death 20 years ago.
The Downriver Actors Guild, the first theater in Michigan granted the rights to the show, presents "Princess Diana, the Musical" at 7:30 p.m. Sept. 8, 9, 15 and 16 and 3 p.m. Sept. 10 and 17 at the Catherine A. Daly Theatre on the Avenue, 2656 Biddle, Wyandotte.
Directed by Valerie Haas of Inkster, with vocal direction by Gerald Hymer of Wyandotte and choreography by Matt Mayes of Melvindale, the show features Wyandotte residents Paige Wisniewski as Princess Diana and Sam Xavier as Prince Charles, Diane Cliff of Dearborn as Queen Elizabeth, Jeff Powers of New Boston as Prince Phillip, Jeanne Edwards of Grosse Ile Township as the Queen Mum and Dylan Seets of Riverview as Prince William.
Haas said it is both exciting and daunting to direct a newly released show.
"No one can say they've seen a better or worse production," Haas said. "It's daunting in that you can't 'borrow' anyone else's ideas – I'm on my own."
She said whether or not one followed Diana's life, she was an iconic figure in the late 20th century who left a mark on Western society.
"Diana lived her entire adult life in a fishbowl, and she died as a direct result of the fascination people had for her," Haas said. "The show is a tribute to her life and to her legacy of reaching out to the poor and sick and voiceless in the world."
Haas said Diana dealt with her celebrity status while trying to find her own way and love, which resonates with people.
"There is humor, excitement, fun, jealousy, love and much more expressed in the show," Haas said.
Wisniewski said doing the show on the 20th anniversary of Diana's death adds relevance to the production, and she enjoyed researching the princess' life.
"She touched so many lives," Wisniewski said. "She has a great story to tell and I am excited to share my portrayal of Diana with the community."
Xavier said it is challenging to play Charles, a person whom the public recognizes.
"I don't really resemble him," Xavier said, "Because of that, I feel the need to completely make him my own. We really are creating the whole piece from scratch."
Grace Ray of Lincoln Park, who plays Sarah, Diana's younger sister, was born after Diana died, and learned about Diana's successes and struggles as the cast worked through the rehearsal process.
Madison Ganzak, who plays a Shoo Wop Girl and is in the ensemble, also was born in the post-Diana era. She said she appreciates the unique opportunity to present a show that is both new to the public and not from the Disney dynasty.
Others in the cast include ensemble members Leo Heller and Erin Schmidt of Brownstown Township, Dee Morrison of Canton Township as the doctor and ensemble, Cole Haas of Inkster in the ensemble, and Lincoln Park residents Elaine Lukawski and Ella Ray in the ensemble.
Choreographer Mayes of Melvindale also plays Dudley, with Cindy Turgeon of Riverview as a nurse and ensemble; and Southgate residents Don Corbin as Victor, the emcee and ensemble; Sydnee Dombrowski as Fergie and ensemble; Blake Robinson as Prince Harry; Geoffrey Robinson in the ensemble; and Ivy Tarnowski as a featured dancer.
Taylor residents in the cast include Stephani Aguila as Camilla, Jim Aguila in the adult ensemble and Aaron, Emily, Kaitlyn and Kayla Aguila in the children's ensemble.
Ashley Gatesy of Westland plays Carolyn and is in the ensemble, with Woodhaven residents Charlene Bauer in the ensemble and Susy Castle and Cara DeBlois as Shoo Wop Girls and in the ensemble; and Wyandotte residents Andrew Dmitruchina in the children's ensemble, Spencer Genrich as a featured dancer and Andrew Willingham as Michael, a waiter and in the ensemble.
All seats are $10. To order tickets or for more information call 734-407-7020 or go to downriveractorsguild.net.
HFC SPINS KILPATRICK/GREENE SCANDAL IN 'STRAWBERRY – WHAT PARTY?'
Henry Ford College presents the politically charged saga of the exotic dancer who died in a drive-by shooting after she was caught up in a scandal with former Detroit Mayor Kwame Kilpatrick, six years before his resignation and the criminal charges that landed him in jail.
The show runs at 8 p.m. Sept. 8, 9, 15, 16, 22 and 23, and 3 p.m. Sept. 10, 17 and 24 at the Mackenzie Fines Arts Center on the main campus, 5101 Evergreen in Dearborn.
The two-act play is based on former Detroit Free Press reporter and columnist Carol Teegardin's book "Strawberry: How an Exotic Dancer Toppled Detroit's Hip Hop Mayor," and chronicles exotic dancer Tamara Greene, also known as Strawberry, who was killed in an April 23, 2003, drive-by shooting.
It is alleged that in the fall of 2002 Greene was at the Manoogian Mansion, the city-owned mayoral residence, with three other exotic dancers, entertaining then Mayor Kwame Kilpatrick. The mayor's wife, Carlita Kilpatrick, allegedly came home unexpectedly, and after seeing Greene touching the mayor in a provocative manner, attacked her. However, the party and assault have never been proven.
On April 30, 2003, Greene was killed in a drive-by shooting that police said was drug-related. The case went cold, and some theories imply the killing was revenge motivated.
Teegardin said she wrote the book and play because she feels it is an unsolved Detroit mystery.
"People still want answers," she said. "It's still horrific for Strawberry's family, and I personally felt the cover-up of the homicide was cruel.
"Several witnesses attest to a cover-up. Homicide detectives had evidence of a cover-up, but it was swept under a rug because she was a dancer and they wanted to keep Kilpatrick's name free from scandal."
Mary Bremer-Beer directs the play, which features Aleena Mae Brown as Tamara Greene; Marcellus Hogan as Billy, Greene's boyfriend; Niema Barker as a city clerk; and Rosie Johnson as the former mayor.
Teegardin will sign and sell copies of her book at all performances, with the proceeds going to Greene's three children.
Admission is $25, with a $5 discount for students and seniors. To order tickets, go to brownpapertickets.com/event/3010519.
DIO'S 'GREAT AMERICAN TRAILER PARK MUSICAL' SATIRIZES LUSTY LOWER CLASS
It may be a long drive out to Pinckney, but the dinner and show at the Dio make it worth the trek. The humor is adult, though, so make it a night out for the grownups.
"The Great American Trailer Park Musical," an adult comedy, runs weekends through Oct. 8 at Dio Dining and Entertainment, 177 E. Main St., Pinckney.
Dinner for the evening performances is served between 6:15 and 6:45 p.m., with matinee meals served between 12:15 and 12:45 p.m. Seating is limited, and reservations are strongly advised.
Dearborn actor Michael Suchyta, who first played Duke in "Trailer Park" at Biddle Hall in Wyandotte with the Downriver Actors Guild, reprises the role of the possessive, obsessive ex-boyfriend of Pippi, a marker-sniffer with a fixation for roadkill.
Suchyta's steely, crazed gaze evokes the zeal of a single-minded sociopath on the relentless scent of the woman he craves despite her determination to elude him. His character swings between the brilliance of animal instinct to the abject stupidity of an uneducated yahoo who hasn't a clue. The pendulum shifts between Duke being on target and being in the dark generates laughter and humanizes Duke's roadkill-like approach to obstacles.
Under the skillful direction of Steve DeBruyne, the talented cast generates laughter as steadily as the lively pace of the show.
The plot is driven by Pippi, the exotic dancer on the run from Duke. When she lands in Armadillo Acres, a Florida trailer park, Pippi enters a dysfunctional group where everyone has their own problems. Alaina Kerr is brilliant in the role of a bad girl with a weary but good heart.
The story is narrated by a pseudo-Greek chorus of Betty, the trailer park manager, played by Sonja Marquis, whose strength and talent anchors the ensemble; Linoleum, whose husband is on death row, played by Natalie Rose Sevick with comedic timing and finesse; and Pickles, a young woman with a long-term hysterical pregnancy, played with ditzy delight by Tori Rogers, complete with blonde wig and enthusiastic naivety. The three are vocally strong, and deliver the upbeat, entertaining songs while executing the choreography in unison and maintaining the entertaining eccentricities of their characters.
Andrew Gorney humanizes Norbert, the bored, middle-aged toll collector who has an affair with Pippi, whose agoraphobic wife Jeannie, played by Carrie Jay Sayer, hasn't left their trailer in 20 years.
Sayer convincingly portrays agoraphobia without lampooning it for laughs. Her drunken scene with Duke is worth the price of admission alone, as she takes us on a laughter roller-coaster when she realizes, despite her stupor, that he is hunting for the woman with whom her husband is having an affair. The whole sequence, with different types and degrees of laughter, is very funny, and she makes a challenging scene look deceptively easy to pull off.
"Trailer Park" isn't meant to mock "white trash." It gives us flawed but likable people who are down on their luck and make the best of the hand they were dealt, with help from their equally imperfect friends.
Matt Tomich's set design is versatile and makes the most of the limited space, giving it charm with bubble gum pink and other pops of color.
Norma Polk's costumes effectively reinforce the characters' personalities, and provide some fun during a talk show parody and flashback sequences.
You'll leave the show with songs stuck in your head, and when the cast comes out to reset the dining room after the crowd thins, you'll find it hard to believe that these middle-class Michiganders aren't the likable yahoos they portrayed the past two-and-a-half hours.
The dinner menu is tasty, and includes Caesar salad, homemade breadsticks, vegetables served with rice, mashed potatoes, meatloaf and the Dio's signature boneless fried chicken.
Tickets, which includes dinner and the show, are $42, with a $3 discount for students and seniors. To order, call 517-672-6009 or go to diotheatre.com.