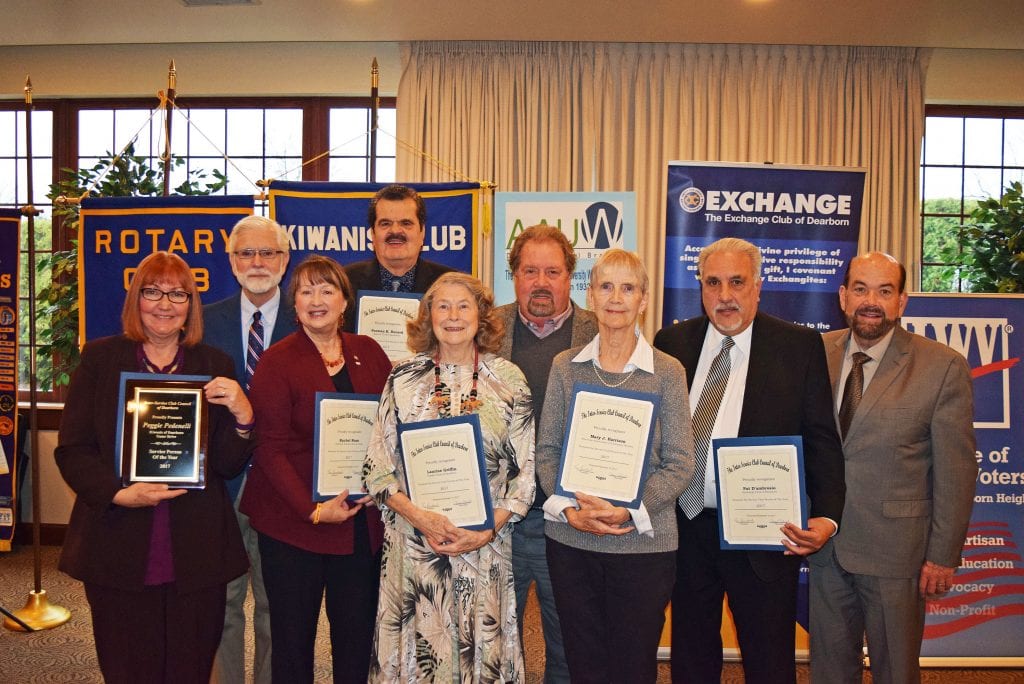 DEARBORN –  The Inter-Service Club Council of Dearborn honored members of their individual organizations who demonstrate exemplary commitment to their group and the community at the Council's 56th annual awards luncheon on Nov. 15.
Many members volunteer an outstanding amount of time and effort, and the Kiwanis Club of Dearborn Outer Drive's Peggie Pedenelli was chosen as the 2017 Service Person of the Year.
Pedenelli has an impressive list of successful projects that she has volunteered for, organized or coordinated. Pedenelli serves as vice president of the Dearborn Outer Drive Club and as newsletter editor, she was president in 2002, and has held many other leadership positions over the years. She has also been the secretary of the ISCC since 2002, and coordinates the awards luncheon every year.
Since joining the club in 1996, Pedenelli has earned a number of awards, including the George F. Hixson Service Award in 2007, the Douglas J. Alexander Hospitalized Children Award in 2010, the Frank O. Staiger Distinguished Kiwanian Award in 2016, and the Kiwanian of the Year in 2016 and 2017.
In 2012, she was honored with a Wayne County Woman of Distinction Award.
As an advisor to the Dearborn High School Key Club, which is Teen Kiwanis, Pedenelli teaches students about the importance of volunteering, building character and developing leadership skills. She leads the students at two different soup kitchens and three food pantries year round. She also coordinates more than 60 teen volunteers for community partners all across Dearborn.
Pedenelli also recruits teen volunteers for elementary schools that need assistance with their events.
She is known to have her camera with her at all times in order to document club participation, especially at events like the Homecoming Turbo Turtle Derby or the Disabled Adult Bowling Tournament.
Other Dearborn service organization members who were nominated for the 2017 Inter-Service Club Council Service Person of the Year were:
• Rachel Ross, Fairlane Sunrise Rotary
• Laurine Griffin, Garden Club of Dearborn
• Mary J. Harrison, American Association of University Women
• Norman K. Record, Dearborn Kiwanis
• Rick Goward, Rotary Club of Dearborn
• Pat D'Ambrosio, Exchange Club
The Inter-Service Club of Dearborn comprises representatives from 10 charitable organizations in Dearborn. The volunteers of the ISCC meet monthly, and work to raise involvement in the community.