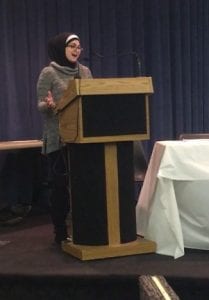 Rules now require signed forms, photo ID for teenagers visiting through Jan. 26
By ZEINAB NAJM
Times-Herald Newspapers
DEARBORN — The Dearborn Library Commission changed its rules to eliminate mandatory parental supervision for students under the age of 16 to visit libraries during finals week.
At the Jan. 12 meeting, the commission approved rules which would require a parent to go in with their child and sign a form with behavior expectations along with providing identification to keep on file.
The rules will be in effect Jan. 16 to 26 at Bryant Branch, Esper Branch and Henry Ford Centennial Library.
The opposed guidelines were:
• All students under the age of 18 are required to have parental supervision.
• For every four students, at least one parent must stay in the building and supervise the group the entire time they are in the library.
• Parents supervising students will have to speak to staff posted at the public entrance doors, sign a form stating that they are responsible for the group and that they will actively monitor the students while they are in the library.
• All students must show school identification or other valid photo ID upon entering the building. The library requires proper identification so that appropriate measures can be taken should any issues arise.
This rule change came after Dearborn High School student Mariam Amin, 16, started a petition drive on Jan. 5 after guidelines were announced by the commission.
After hearing the amended rules suggestion, Amin said that while some students cause a disturbance at the library, students similar to her cannot always have a parent visit the library with them due to work.
"My dad works until 7 p.m. sone nights, but I still need to study and the library is where I go to do so." she said. "The library is a welcoming place to learn and students should have access to it as much as possible.
"The new rules requiring parents and students to take responsibility for the actions that take place in the library seem like a fair resolution for both sides."
During the meeting, Library Director Maryanne Bartles presented the audience with a summary of student behavior, comments from library visitors, staff comments and the attempt to find a solution.
Bartles said that on multiple occasions the behavior of students during the final exam weeks behavior becomes the worst when the library is most busy.
"There is a disregard for directions of the library staff, excessive noise, reckless behavior including running and horseplay," she said. "Other behavior included harassing staff, swearing and using demeaning words and gestures at female staff. Students have even spit and thrown at staff and threatened library staff."
Along with disrespecting the staff, Bartles said damage was done to the building and played videos showing the crowds of students crowding the entrance and riding bicycles inside the lobby.
Library visitors also had their complaints because of the noise levels, student attitude, not being able to get work done and students' use of profanities.
Attempts to find a solution have been years in the making, Bartles said.
"An annual letter is sent to high school principals asking teachers to go over proper library behavior and staff giving gentle reminders to students as they enter the library."
Bartles also said after-hour study nights were created but had low student attendance, and that a conference room reserved for studying was not used often.
A zero-tolerance policy was used asking students to leave when they acted up, and a time-period or one-day ban also was enforced for belligerent behavior.
During the process to find a solution, Bartles said library employees' meetings with Dearborn Public Schools, parents and student organizations did not result in a change in behavior at the library.
For more information, call 313-943-2037.
(Zeinab Najm can be reached at [email protected].)