By SUE SUCHYTA
Sunday Times Newspaper
WYANDOTTE – Whether watching robots whir across the floor or sifting through a generous Lego collection, the family tech night Jan. 12 at Bacon Memorial District Library was a hit with families.
The Wyandotte Wilson Middle School and Southgate Anderson High School robotics teams were on hand to put their robots through their paces, while Lego, Minecraft, electronic and tech take-apart stations captured young imaginations.
Caden Sauve, 12, a member of the Wilson robotics team, said his interest in science and math attracted him to the activity.
"Robotics involves a lot of STEM, so I joined in," Sauve said. "It's really fun, and I've learned a lot of new things."
STEM refers to science, technology, engineering and mathematics, most often in reference to the academic fields of study.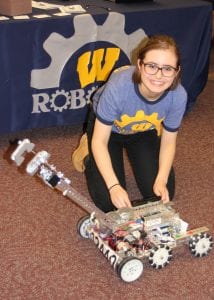 The Wilson robotics team goes to several competitions a year, where they compete against other school teams to program their robots to perform tasks like relic recovery. They are allowed have different features on the robot arm to perform tasks, and they program the robot to move as desired.
Carlos Morales, 12, started with Lego robotics before joining the Wilson robotics team to take part in the For Inspiration and Recognition of Science and Technology Tech Challenge, in which teams in grades 7 to 12 design, build and program their robots to compete against other teams to complete tasks.
"I like programming a lot," Morales said. "For me, that's the fun. We learn by trial and error to make the robot work."
Maria Bora, 12, said she likes learning the process needed to prepare a robot to perform a task as well as building it.
For more information about the Wilson robotics program, go to wyandotterobots.weebly.com.
Chloe Doherty, 15, a sophomore at Anderson, said she joined the robotics team after taking classes in programming, computer science and engineering sciences in middle school.
"I always like building, so I am more of a builder than a programmer, and I was actually elected president for this year, so I am kind of running things," Doherty said. "I like the hands-on stuff. I like to be there, working and building. I have always enjoyed stuff like that."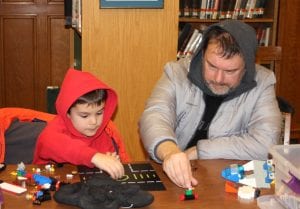 She said she would like to become a mechanical engineer and work with the robots that help assemble automobiles.
She said the robotics team is "weird, fun, and they like to build stuff."
For information about the Anderson robotics team, go to southgatetitans.weebly.com.
Down the hall in the Lego room, Deacon Amolsch, 5, of Southgate was engaged in building with the blocks.
"He is 5 years old, so it is Lego city at my house all the time," his father, Dickey Amolsch, said. "Sometimes it's buildings, sometimes it looks like a fever dream."
To learn about upcoming family friendly programs at Bacon Memorial District Library in Wyandotte, go to baconlibrary.org.
(Sue Suchyta can be reached at [email protected])