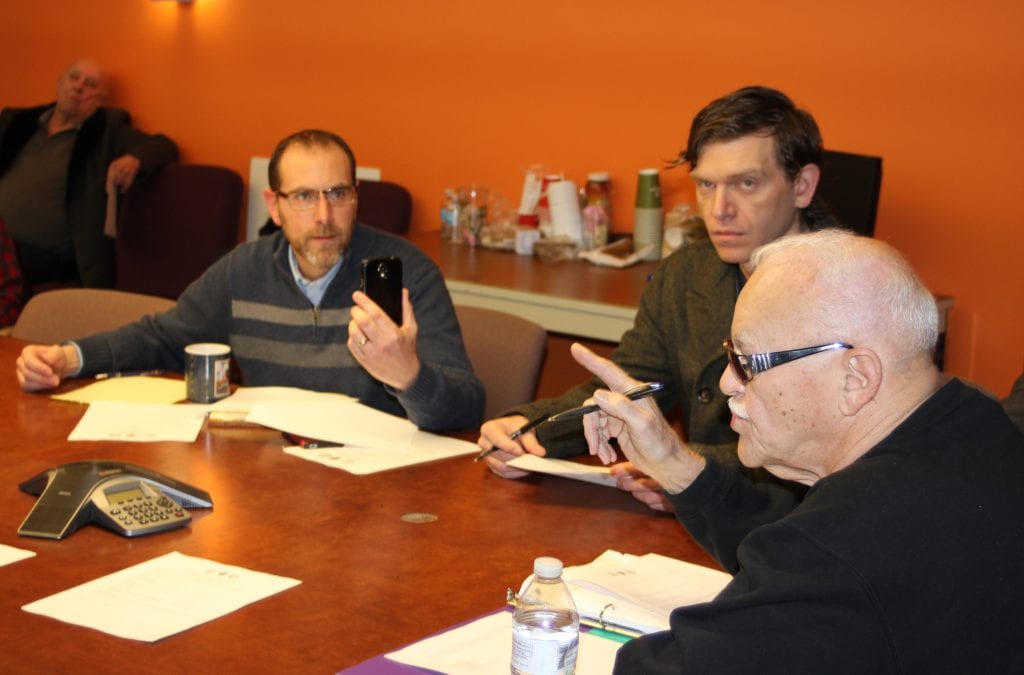 By SUE SUCHYTA
Sunday Times Newspapers
ALLEN PARK – Tension mounted as the two Fire and Police Civil Service commissioners, Malcolm Beaton and Jonathon Young, failed to agree on a third candidate to serve on the board.
Young, who was appointed by the mayor with city council approval, and Beaton, who was chosen by Police and Fire department employees, are tasked with selecting a third commissioner, one they both agree upon.
The commission, established by Act 78 of the 1935 Michigan Legislature, was established to oversee fire and police employees in communities with full-time employees, to oversee promotions, suspensions and other employment fitness decisions.
At the Jan. 19 meeting, Beaton and Young did not reach consensus on the third commissioner, a pattern they repeated at the Jan. 25 meeting.
Beaton, who chaired the meeting, directed repeated contentious remarks to City Clerk Michael Mizzi early in the meeting, who, as required by law, documented the meeting, including Beaton's remarks. Mizzi opted to also video record the meeting with a hand-held device.
Beaton said he was the commission chair when the commission was suspended when the city was under emergency management. He said he would continue as chair until the body had three commissioners. The two commissioners present constitute a quorum.
Beaton also challenged City Attorney Joseph Couvreur's role on the committee, telling him not to provide input unless requested, which Young challenged, citing that Couvreur is required by law to attend the commission meetings.
Beaton then asked Young if the week he was granted to review former City Councilman Tony Lalli's qualifications for the third commissioner role enabled him to make a decision. Young replied that he would not support Lalli as the third commissioner. Beaton asked for his reasons, which Young declined to provide.
Beaton then praised Lalli for his two tours of duty during the Vietnam War and for his volunteer work providing wheelchair ramps for people with disabilities, and for delivering Meals on Wheels to the homebound.
Young said he felt that further discussion about his decision to disapprove Lalli as a commissioner would not be fruitful. Beaton asked Young repeatedly to explain his decision, which Young declined to do.
Beaton then recognized Lalli, who stated how he felt about Young's no vote.
"The way I feel today is the same as when I got back from Vietnam," Lalli said. "Walking through the airport, people yelling at us, spitting at us. And today I feel the same way.
"I don't know what you've got against me, sir, but I want to thank you very much. God bless you, and your lovely family."
Couvreur suggested that the city aggressively solicit additional commission applications.
"There has got to be someone that you two can agree on," Couvreur said.
During citizen comments, Beaton recognized former Councilman Dennis Hayes, who directed his remarks to Mizzi.
"I am kind of surprised at Mr. Mizzi's indignation about the chair exercising his prerogative to control the commentary," Hayes said. "If you go to our city council meeting recently, the mayor did exactly the same thing with Mr. (Angelo) DiGuilio when he tried to interject a thought.
"So I am a little bit concerned that we had this righteous indignation about 'the First Amendment, this is America' when we have our own mayor doing the same thing at our meetings."
Hayes also voiced regret that Young did not come to the conclusion that Lalli was a "capable, decent human being, who could fill the position very ably."
Hayes also encouraged the city council to encourage commission applications at the next city council meeting.
Councilman Angelo DiGuilio asked Mizzi if he received a commission application from his daughter, and Mizzi replied that he received a letter of interest but not an application. DiGuilio asked if her fitness for the commission could be discussed at the meeting, and Mizzi said that would depend on the decision of the commission chairman.
DiGuilio then spoke of his daughter's qualifications.
"Here we have a female, which maybe you don't like females – I don't know. Both you men I am talking to now," DiGuilio said to Beaton and Young. "She is also Italian. Maybe you don't like Italians, too, both of you gentlemen.
"And she's also overweight. That is a protected thing. Maybe you guys don't like women who are on the fat side. So what do you recommend?"
DiGuilio said he didn't understand why three prior candidates had been rejected.
"Do you want to throw my daughter into the mix and vote for or against her, too?" DiGuilio said. "I don't understand where the stance still is over here."
Young said he thinks the best way to get a commission choice both he and Beaton could agree on would be to announce it at a city council meeting, put a notice in a newspaper and post it on the city's website.
"My hope would be to find someone we both can interview, talk to and like, and feel confident in," Young said. "I think we could get a number of names, rather than doing this one person at a time, because then if we both don't agree to that person, we have to start over each time. It seems to prolong things."
DiGuilio then interrupted Young, who noted the the interruption, to which DiGuilio claimed Young interrupted him.
"I wasn't done talking, sir, when you butted in," DiGuilio said.
"I was trying to respond to your question," Young replied.
"Well, I don't know how your answer is to my question," DiGuilio said.
Beaton asked DiGuilio to finish his comment.
Young attempted to restate DiGuilio's question when Beaton, as chair, cut him off and gave the floor to DiGuilio.
"You are done talking," DiGuilio said to Young. "Anybody who wouldn't want to pick Tony Lalli – Tony Lalli's only got one problem with him.
"When you are driving down Allen Road and he's handing out those Tootsie Rolls, you got to be careful you don't run him over. Tony is a good, decent man in this city, and for anybody to not want to pick Tony, something is wrong."
DiGuilio expressed concern that Beaton and Young would never find a candidate acceptable to both of them.
"If you can't agree on Tony, you can't agree on nobody," DiGuilio said. "For anybody not to respect Tony Lalli's two tours in Vietnam – holy cow. That in itself is something. Did you have real bullets flying by you, Tony?"
"Certainly," Lalli replied.
Resident Ted Skrocki said Beaton criticized Young for voting for Mayor William Matakas' recommendation, then suggested that Beaton encouraged Lalli to apply, which Beaton vehemently denied, calling Skrocki a liar and attempting to cut him off.
Young then offered Skrocki a chance to comment further, which angered Beaton. Young asked Beaton on what grounds he could curtail comments he did not like.
Beaton claimed Skrocki was not telling the truth, which Young questioned.
"Who are you to determine who is telling the truth, Malcolm?" Young said. "So you are the truth detector to who is allowed to speak at meetings?"
"Yes," Beaton retorted. "When somebody speaks for me, I am going to speak up."
"You have a right to," Young said.
"You've had enough, and he's had enough," Beaton said.
(Sue Suchyta can be reached at [email protected].)