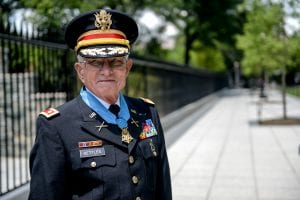 DEARBORN – An extraordinary hero who waited 50 years for full recognition for saving the lives of eight men in Vietnam and assisting in the rescue of 36 others is the grand marshal of Dearborn's Memorial Day Parade May 28.
The parade theme is "Medal of Honor," and for good reason. The grand marshal is retired Lt. Col. Charles "Chuck" Kettles, who received the Medal of Honor for piloting a helicopter during four harrowing flights under enemy fire to reach 44 doomed soldiers in 1967.
Although he received other accolades at the time, it wasn't until 2016 when President Barack Obama presented him with the Medal of Honor, the highest commendation a military veteran can receive.
Kettles, who has Dearborn roots, will lead the city's 94th annual parade, which travels along Michigan Avenue and begins at 10 a.m. on May 28. He will offer the keynote speech at the solemn ceremony that follows at noon at the city's Veterans Park and War Memorial.
His story is a compelling one.
On May 15, 1967, three months after volunteering for duty in Vietnam, Kettles offered not once, but four times, to fly into heavy enemy fire to help reach 160 stranded members of the 101st Airborne.
After twice flying supplies, and then picking up marooned personnel from a river bed, an emergency request to rescue the last 44 troops from the battle site came through to Kettles.
He commandeered the last available UH-1D helicopter — also known as a Huey — and led six other helicopters into the battle zone. During the hectic mission, he was told that everyone was on board, and they all left. Kettles had one man aboard his Huey at this point.
In the middle of the flight, he was informed that eight troops were still stranded on the battlefield.
With no regard for his safety, Kettles turned around immediately, piloting the only helicopter, as others had gone back to base.
Through a curtain of gunfire, with the Huey sustaining a damaged tail boom, impaired main rotor blade, and shattered windshields, Kettles managed to get all of the eight stranded troops, plus the one already in his helicopter, safely back to base.
"It was pretty chaotic," Kettles said.
It's no surprise that his dedication to military service motivated him to rescue the men.
Kettles is the son of a Canadian Royal Air Force World War I pilot and World War II U.S. Army Air Corps Air Transport Command pilot, so flying seemed to be in his blood.
"I thought everyone liked aircraft," he said.
Kettles grew up in Ypsilanti and attended high school at the Edison Institute in Dearborn, where he was enthralled by the Ford Motor Company Flight Department simulator.
Kettles completed basic training and officer school in Kentucky, and then went into Army aviation school in 1953 before completing a tour in Korea. He also served tours in Japan and Thailand.
Upon returning to the United States, Kettles opened a car dealership with his brother in DeWitt, and continued his service in the Army Reserves 4th Battalion, 20th Field Artillery unit.
In 1963 he attended helicopter training in Texas, and served in France, where he learned how to fly the Huey.
When Kettles heard that the Army was short on pilots in Vietnam, he answered the call.
"The Army was screaming for pilots," he said. "They spent several hundred thousand dollars on training me, and at that point, I had six children, and in fairness to the youngsters, I went back on active duty to do my share."
Already a Korean War veteran, Kettles served his first tour in Vietnam from February through November 1967, including performing his act of heroism.
He completed a second tour of Vietnam from October 1969 through October 1970, and then settled in San Antonio, where he worked for the Reserves as an aviation team chief and readiness coordinator.
He retired from the Army in 1978.
Eventually, he went home to Michigan and finished his master's degree at Eastern Michigan University.
He stayed on Eastern's campus as faculty and helped develop the Aviation Management Program at the College of Technology. He also worked at Chrysler Pentastar Aviation until his retirement in 1993.
It wasn't until 2015 that the Veterans History Project alerted U.S. Rep. Debbie Dingell and Sens. Gary Peters and Debbie Stabenow to Kettle's valiant rescue.
Together, they introduced legislation that would bypass the statute of limitations on the short length of time one had to receive the medal, and Kettles was awarded the Medal of Honor almost 50 years after flying into the riverbed in Song Tra Cau.
At the ceremony at the White House in July  2016, President Barack Obama said, "To the dozens of American soldiers that he saved in Vietnam, half a century ago, Chuck is the reason they lived and came home and had children and grandchildren. Entire family trees, made possible by the actions of this one man."
Dearborn Mayor John O'Reilly Jr. is looking forward to Kettles' participation in Memorial Day events.
"We are honored to welcome Lt. Col. Charles Kettles to Dearborn, and we thank him for his service and his heroic efforts," O'Reilly said. "He represents the dignitary, self-sacrifice and patriotism Dearborn believes in and promotes during our Memorial Day Parade and ceremony."
More about Lt. Col. Charles Kettles
Kettles lives in Ypsilanti with his wife, Ann.
He has many other awards and medals, including the Distinguished Service Cross, the Legion of Merit, and the Distinguished Flying Cross.
Kettles says that after becoming a member of the Medal of Honor Society, he has had a "change in life," by being invited to numerous affairs and activities.
He has traveled to the annual Medal of Honor conferences in Maryland and Colorado, and helped lay a wreath at the Tomb of the Unknown Soldier in Washington, D.C.
Dearborn's 94th Annual Memorial Day Parade will step off at 10 a.m. May 28. It travels along Michigan Avenue about 1.5 miles west from Maple Street to Henry Ford Centennial Library, and concludes with a solemn ceremony at noon at the Veterans Park and War Memorial.