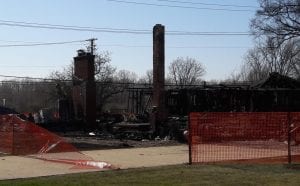 By SUE SUCHYTA
Sunday Times Newspapers

TAYLOR – A fire that destroyed two houses at the northeast corner of Wick and Holland the afternoon of April 30 may have been accidentally caused by children playing in a garage.
While firefighters waited for gas and electrical utilities to be disconnected, they focused on keeping the fire from spreading to other nearby houses.
Basement explosions kept firefighters from getting too close to the two houses, which were a total loss.
Several local fire departments provided mutual aid, and while no firefighters or residents were injured, a pet rabbit died in the blaze.
As of Friday, a Go Fund Me page, gofundme.com/taylor-house-fire, had raise half of the $10,000 sought to help the two families who lost their houses.
Danielle Carmody and Jared Johnson, who lost their home, were able to escape with their two dogs. Carmody, a nursing student at Henry Ford College, who had been preparing for final exams, lost her laptop computer with homework assignments, her textbooks and nursing materials.
The Allen Park Presbyterian Church Board of Deacons gave each family displaced by the fire a $300 gift card to Walmart, and are soliciting gift cards by May 10 to help both families replace essential items. Gift cards may be taken to the church, 7101 Park, Allen Park, during business hours.
(Sue Suchyta can be reached at [email protected].)