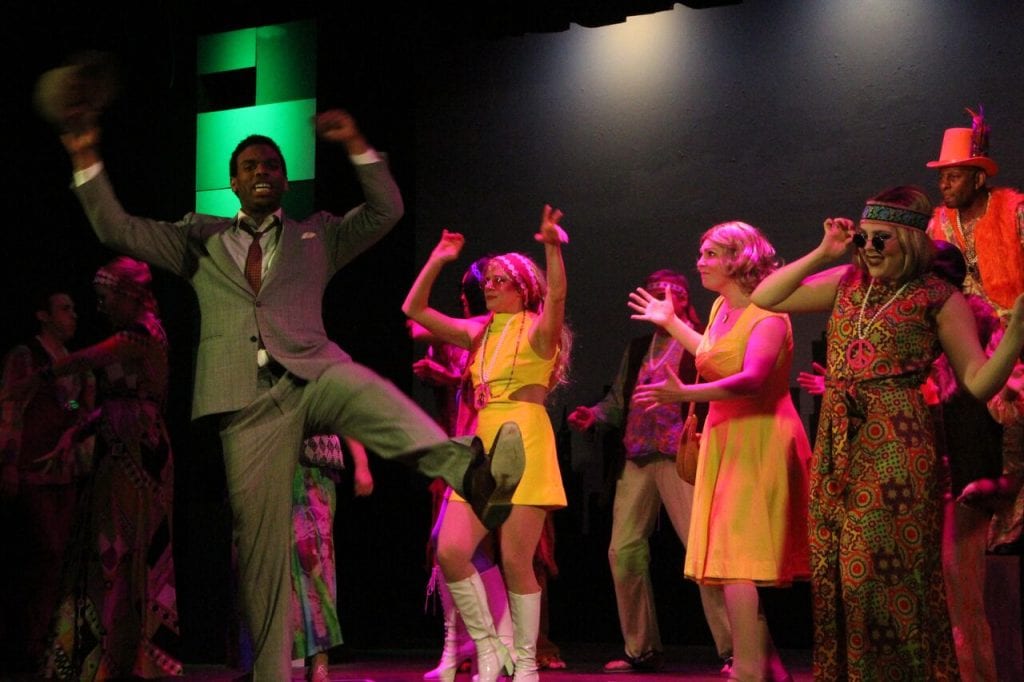 Nostalgia mixed with timeless themes and a talented cast light up the stage in "Sweet Charity" at the Players Guild of Dearborn, which recently announced its teen summer cast for "Grease" and its 2018-19 season.
Opening night of "Sweet Charity" got off to a rough start May 4 at the Guild as the power was knocked out about 45 minutes into the first act.
A few seconds into the blackout, lead actor Kenyada Davis spontaneously declared, "I knew I should have paid that light bill," which earned appreciative laughter from the audience.
An early and prolonged intermission was promptly initiated, but the eventual information that a power pole had been hit in a vehicle, and the blackout was not weather related, prompted producers to cancel the opening night run. Ticket holders were offered the chance to to exchange their seats for one of the remaining 11 performances.
By early Saturday afternoon, power was restored to the theater, and the Saturday night performance pleased a house of returning patrons and first-timers. Hearing Shauna Rae Hazime launch into "If My Friends Could See Me Now," which was minutes away when the theater went dark Friday, made re-watching the first 45 minutes worth it.
Hazime and Kenyada Davis, who plays Charity's three leading men – Charlie, Vittorio Vidal and Oscar Lindquist – are strong, likable leads. Hazime's Charity is the eternal optimist, with her heart on her sleeve and generous to a fault, with a positive energy that resonates from her portrayal.
Davis gives each of his characters distinct traits, from Charlie's self-serving silence, to sophisticated Vittorio's accent and polish, to Oscar's endearing vulnerability. The couple's scene where they are trapped in an elevator together is superb, and would make a great stand-alone scene in a theater showcase.
The ensemble is strong and vital, and give the show its energy and appeal, from the Fandango Ballroom dance hostesses to the carefully-crafted crowd scenes, which range from hippies in the "Rhythm of Life" church scene to the social climbing elite in "Rich Man's Frug."
Kelly White as Nickie and Kaela Green as Helene are wonderful as Charity's fellow Fandango dance hall hostesses and confidants. Michelle Kerr has fun with the role of Ursula, Vittorio's jealous socialite girlfriend, and Rebekah Priess makes the most of her cameo as the bright-eyed neophyte in the closing dance hall scene.
Matt Mayes plays multiple characters with aplomb, including the rough-hewn Herman, who runs the dance hall. Kevin Talanges plays many entertaining cameo roles with ease, as does Walter Middlebrook, who plays Daddy Brubeck, pastor of the hippy-populated Rhythm of Life Church.
Talented tapper Adam Lynch has an opportunity to showcase his amazing footwork in a tap solo in the second act.
The female ensemble shines in the opening Fandango Ballroom number, which effectively captures their jaded attitude and blends it with sales savvy as the women attempt to attract clientele as they deliver "Big Spender." Like "The Cell Block Tango" in "Chicago," which introduces the merry murderesses, the initial Fandango Ballroom scene is key to establishing the tone and tenor of the show.
Valerie Mould's choreography is superb, from the Fandango Ballroom's "Big Spender" to "Rich Man's Frug" and  "I'm A Brass Band."
The mid-'60s costumes are bright, colorful and creative, and are a trip down memory lane for Baby Boomers and the Greatest Generation, and are the work of Michael Gravame, Leah Paige Cooley, Mary Calder, Linda Mosely, Karen Drugaz and Inez Hernandez.
The run continues 8 p.m. May 12, 18, 19, 25 and 26, and 2:30 p.m. May 13, 20 and 27 at the theater, 21730 Madison, Dearborn.
Tickets are $20, with a $2 student discount. For more information or to order tickets, call 313-561-TKTS or go to playersguildofdearborn.org.
'GREASE' CAST ANNOUNCED
The cast of PGD's teen summer production of "Grease" was announced Wednesday, after a strong turnout drew 76 young actors to vie for 29 roles.
The show runs July 12 to 15 at the Players Guild of Dearborn.
Rydell High will come  to life on the Guild stage as the show, set in 1959, follow 10 teenagers finding their way through love and heartbreak, and the stress and peer pressure of high school, amid upbeat music numbers, including "Greased Lightning," "Born to Hand Jive," "Look At Me, I'm Sandra Dee," "Beauty School Drop Out," and "We Go Together."
Grace Bertucci will play Sandy, with Aiden Gabriel as Danny.
The Pink Ladies include Olivia Palise as Rizzo, Lane Straub as Marty, Natalie Duffy as Jan and Molly Boudreau as Frenchy.
The Burger Palace Boys include John Biscaro as Kenickie, Graham Dallas as Doody, Matthew Apostle as Sonny and Parker DeMarco as Roger.
Katie Garber will play Patty Simcox, with Sean Peacock as Eugene, Jewell Redman as Cha-Cha DiGregorio, Case deKoning as Vince Fontaine, Grayson Kennedy as the Teen Angel and Lauren Davidson as Miss Lynch.
The female ensemble features the talents of Christina Bertucci, Zeinab Hamadi, Adriana James, Khalia Mims, Courtney Perttula, Adriana Viscomi and Emily Walker.
The male ensemble includes Andrew Brown, Gavin Deckert, Brendan Hay, Nate Hermen, Nathan Wall and Oscar Vasquez-Torres.
For tickets or more information, call 313-561-TKTS or go to playersguildofdearborn.org.
PGD ANNOUNCES  2018-19 SEASON
From whodunnits to horse races, the upcoming PGD season has shows for every taste, from Agatha Christie's "Go Back for Murder" to the Frank Loesser musical "Guys and Dolls." Ken Ludwig's operatic farce "Lend Me a Tenor" is on the bill, as is Rick Elice's magical story about the beginning of Peter Pan, "Peter and the Starcatcher," with the Barbara Anselmi and Brian Hargrove modern marriage musical comedy "It Shoulda Been You" closing the season.
Season tickets are $75 for five shows, a $21 savings over the individual ticket price. To order, go to playersguildofdearborn.org.