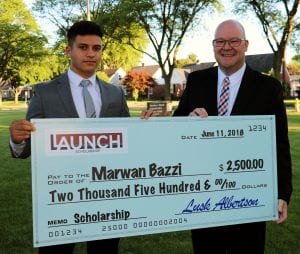 DEARBORN — A recent Dearborn High School graduate received one of four $2,500 college scholarships awarded by the Detroit law firm Lusk Albertson.
Marwan Bazzi will attend the University of Michigan in the fall as a student in the college of Literature, Science and the Arts. He is interested in working on "any research that might play a role in the betterment of society," and dreams of becoming a pediatric oncologist or cardiologist.
Lusk Albertson established the scholarships to recognize high academic achievement, community involvement, and exceptional leadership qualities exemplified by high school seniors within a school district represented by the firm.
Other scholarship winners were from Farmington Hills Harrison, Grosse Pointe North and Birmingham Groves high schools. The firm received more than 300 applications from students throughout Michigan.
In addition to his academic record, Bazzi has built a legacy of community service. As a student at Dearborn High, Bazzi has personally organized American Red Cross blood drives that collected over 100 pints of blood, volunteered at disability dances which provided social opportunities for youth with disabilities, served as a tutor to help students excel on standardized tests, is a member of the Key Club and Anti-Bullying Club, and earned varsity letters in track and football.
"Every year, our team is left speechless by these amazing students," said Kevin Sutton, partner at Lusk Albertson. "They each exemplify excellence in the classroom and within the halls of their high schools. But this year's winners have really set themselves apart with their commitment to their communities.
"The LAunch Scholarship underscores our firm-wide dedication to supporting and celebrating public education; the amazing students, the committed faculty, the dynamic administrators, and the supportive boards of education."