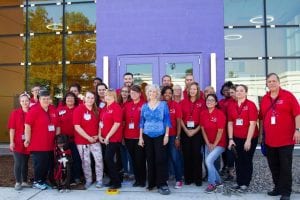 By ZEINAB NAJM
Times-Herald Newspapers
DEARBORN — The Friends for Animals of Metro Detroit celebrated the official opening of the $5.1 million MaryAnn Wright Animal Adoption and Education Center on Sept. 18, a space that will house animals waiting to be adopted.
Dozens of kittens, cats, puppies and dogs moved into the double-compartment housing inside the 10,000-square-foot facility which also includes cageless community space and an acquaintance room inside. The adoption site features eight kitten suites, 12 lapdog and puppy lofts each, 23 doggie drops and 48 cat suites.
The new location, 16121 Reckinger Road, will serve as the adoption site while the 2661 Greenfield Road location will continue to house administrative offices as funding for phase two continues.
A total of $3.5 million is still needed to fund phase two of the 6,000-square-foot project which will have administrative space, animal intake and evaluation space, educational space and medical facilities according to the shelter's website.
During the opening celebration, Dearborn Animal Shelter Executive Director Elaine Greene thanked the donors, staff, volunteers, the city, Phoenix Contractors, Neumann/Smith and Ghafari Associates for their work to make the center a possibility.
"During the 15-plus years we've raised more than $5 million to build phase one of this wonderful facility," Greene said. "I thank all of the generous donors as well as our staff and volunteers who worked so hard to make this a reality. Is this not a specular building?"
The woman for whom the new center was named, MaryAnn Wright, donated $1 million to the facility and has served as board chair for FAMD.
She is a 29-year automotive industry executive with technical, operations and business experience at Ford Motor Co., Collins & Aikman and Johnson Controls, according to a press release from the shelter. Wright operates TechGoddess LLC that focuses on applying her passion for smart automotive technology that moves the industry ahead.
"For those who know me this organization is my life's passion," she said. "For those who understand me — I'm tenacious and I was making sure that we stayed true to our direction until we got this project completed. My inspiration is obviously is my love of animals, but is also Elaine and her fabulous team, they give me my energy and inspiration."
The city donated the former Amtrak train station near the police station as the new location for the shelter. In October 2017, ground was broken and construction was set in motion.
Mayor John O'Reilly Jr. praised FAMD for setting the standard on how a shelter should operate and serve the community.
"Their commitment to the animals, their commitment to the idea that there are so many people who want and could benefit from having a pet in their household, people who are living alone and its a matter of getting those matches and helping people understand what is the right animal for you," he said.
"They're more than just managing the animals, they're also helping people understand how their life could be enriched if they make smart choices about what they choose to have in their homes."
FAMD announced on its Facebook Sept. 18 that Bowser, a kitten, was the first animal to be adopted from the new center. Bowser was adopted by Quadricka Johnson.
Two days later, FAMD also announced that the first dog, Benji, was adopted from the center by Paige Mcuicker and Jacob Passuth.
Over its 25 years of operation, the shelter has nurtured more than 45,000 animals. To donate to the shelter go to www.metrodetroitanimals.org.
(Zeinab Najm can be reached at [email protected])