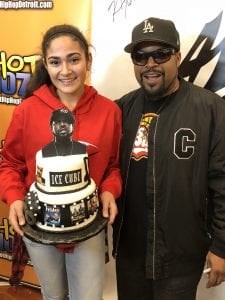 By ZEINAB NAJM
Times-Herald Newspapers

DEARBORN — Dearborn resident Aya Islim, 14, waited in line with the hopes of meeting her favorite rapper and actor Ice Cube and present him with a personalized cake she baked.
After seeing an Instagram post announcing that Ice Cube was coming to Dearborn, Islim knew she wanted to surprise him with the cake. The meet-and-greet took place at Al-Wissam, 13354 Michigan Ave. and hosted by WGPR-FM Hot 107.5 and DJ Waxtax-N Dre on Sept. 28.
Islim relived the moment where she was able to meet Ice Cube.
"I was so nervous to meet him," she said. "I waited three hours and finally when we came closer to meet him his bodyguard seen me holding the cake and pulled me out of line and took me to the front."
She put six hours of work into baking and decorating the cake and enjoyed seeing Ice Cube's reaction.
"His reaction was priceless!" Islim said. "He was so excited and happy and he kept thanking me. He even gave Ellen DeGeneres a shout out for me. Ellen is a big inspiration to me and I wish to one day meet her and be on her show."
For the cake design, Islim wanted to incorporate both of Ice Cube's talents, acting and rapping.
She included edible images of his albums on the top tier and edible images of a few of his movies on the bottom tier.
Islim attends Fordson High School and hopes to open her own bakery, but also complete a degree in the medical field.
"I enjoy baking because I get to be part of people's special days and I love seeing their reaction when they see my cakes," she said. 'I also enjoy helping others and love volunteering at shelters and nursing homes."
Her love for baking started at the age of 9 as a hobby and by the age of 13 her friends and family encouraged her to start a business.
"When I was 9 years old I visited my cousin in Chicago for New Year's and I seen her working on a cake," Islim said. "At that time she was 12 years old and she was making unbelievable cakes that you wouldn't think someone her age can make. I figured if she can do it, then so can I."
For cake inquiries email Islim at [email protected].
(Zeinab Najm can be reached at [email protected].)