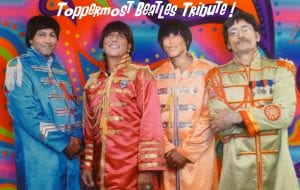 A former airport executive who was a founder of The Information Center, Michael Conway, will be the master of ceremonies for the center's annual fundraising gala Oct. 11 at Crystal Gardens Banquet Center, 16703 Fort St. in Southgate.
The event will begin 6:15 p.m. with a VIP reception and be followed by dinner, an open bar and a silent auction. The highlight of the evening will be a performance by the popular Beatles tribute band Toppermost.
Conway, whose 30-year airport career included serving as the principal spokesperson for Detroit Metropolitan and Willow Run airports, held the position of public-affairs director.
He wrote thousands of columns, speeches and talking points for airport directors until he retired in 2016. The speaker was a long-time member of the American Association of Airport Executives and held a leadership position in Airports Council International-North American. Conway helped lay the groundwork for The Information Center.
Toppermost, which was formed in 1999, has appeared on stages throughout Michigan and is well known for performing such Beatles hits as "She Loves You," "A Hard Day's Night" and "I Wanna Hold Your Hand." The group has entertained at the Michigan Governor's Service Awards program and has opened for the Woodward Dream Cruise.
After a dinner that will include roasted chicken, prime rib flambé, pasta Alfredo and apple pie a la mode, guests will compete for scores of auction items. Among the prizes will be a Thunder Over Michigan Family Pack Flight with lunch and beverages for four people.
Among many other prizes are swim lessons, beauty and grooming services, dental care, gift baskets, art works, merchandise gift cards, admission tickets to tourist and theatre performances, gift certificates to restaurants, and golf packages.
The Information Center is an accredited nonprofit information and referral agency that connects people with services. It has provided help to those in the Downriver and surrounding areas for 43 years Information about gala tickets, $125, is available by calling 734-282-7171, emailing [email protected] or going to www.theinfocenter.org.
Oktoberfest Buffet slated
Favorite German specialties will be on the buffet menu for an Oktoberfest celebration Oct. 10 at the Fifty-One O One student-run restaurant of Henry Ford College.
Seating will be from 11 a.m. to 1 p.m. and 6 to 8 p.m. Craft beers and wine will be available for purchase at both seatings.
The menu will feature Frankenmuth-style chicken, carved-to-order sauerbraten, and bratwurst and knackwurst with sauerkraut.
Accompaniments will include Bavarian potato soup, marinated beet salad, cucumbers with dill and sour cream, braised red cabbage, spaetzle and German potato salad.
Among the dessert specialties will be Black Forest Torte, apple strudel, stollen and pretzel rolls.
The cost is $13.95 per person. Reservations are being accepted at 313-206-5101. The college is located at 5101 Evergreen Road in Dearborn.
 Save the Date . . .
Oct. 20 — John Denver Musical Tribute starring Ted Virgil; 7:30 p.m. at the Heinz C. Prechter Educational and Performing Arts Center of Wayne County Community College District Downriver Campus, 21000 Northline Road; tickets, $25, are available by calling the campus box office at 734-374-3200.
Nov. 10 — Cheryl Zemke Fashion Show, with proceeds to benefit the Downriver Council for the Arts; 11 a.m. at the James R. DeSana Center for Arts & Culture, 81 Chestnut, Wyandotte; featuring C. Creations designs by Cheryl Zemke, Petoskey Bling Jewelry, shopping, light food and snacks; for tickets, $35, VIP, and $25, limited general admission, call 734-740-1292.