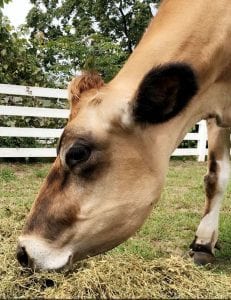 TAYLOR — Gracie, the largest member of the Heritage Park Petting Farm, was humanely euthanized by a visiting veterinarian this morning after a long battle with illnesses related to age. The Jersey cow was 11 years old.
Gracie had been losing weight over the past year, and her care was stepped up significantly. Field tests were performed on the cow in October, and all came back negative. Eventually, the city of Taylor transported the cow to Michigan State University for further testing, which also came back inclusive.
Throughout the process, medical experts admitted that Gracie could have been suffering from some form of intestinal cancer, or an ulcer, all of which would involve invasive testing and are not treatable. The cow, despite a good appetite, continually lost weight and was down to about 700 pounds earlier this fall.
While Gracie remained active and ate well, she constantly suffered from diarrhea, and her condition worsened despite the constant care. Over the past week, the Petting Farm staff noticed a marked deterioration in her, despite Cortisone shots and added electrolytes in her diet.
Melanie Shihadeh, manager of the Petting Farm, discussed Gracie earlier in the year when her health problems first surfaced.
"Gracie is the face of the farm and is adored by everyone," she said. "The farm staff worked tirelessly to manage her symptoms, and is dedicated to giving her and all the animals at the farm the best life possible."
Shihadeh and other staff members were at Gracie's side, petting her, when she passed away.
Soon after birth, the petting farm purchased Gracie from a dairy farmer in Carleton. The farmer didn't have much use for Gracie because she was born a freemartin, meaning she's infertile and can't produce milk.
Though the petting farm purchased Gracie, the majority of its animals are  donations. People drop off everything from rabbits to goats to squirrels. Shihadeh and staff work with the Michigan Department of Natural Resources to find them homes.
Shihadeh started at the petting farm when Gracie was 2 years old. She looked into sanctuaries and other options during Gracie's illness, but there really weren't other avenues than to give her the best care possible before the inevitable decision had to be made.
"We pride ourselves in the commitment it takes to care for an animal for its entire life," she said. "We believe we our setting a good example in the community by staying committed to the animals in all stages."
Source: City of Taylor