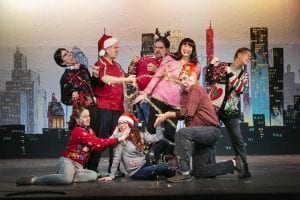 Get ready for reindeer games and non-stop laughter as the Players Guild of Dearborn improv troupe takes to the stage with "Guild-Y by Association – The Ugly Holiday Sweater Special."
The show runs one night only, at 8 p.m. Dec. 8 at the theater, 21730 Madison, Dearborn.
Attendees are encouraged to wear an outrageous holiday sweater and stay for an afterglow with refreshments after the show.
The troupe features Madeleine Bien of Royal Oak, Phil Booth of Dearborn, Larry Danaj of Livonia, Meredith Gorden of Dearborn, Stanley Guarnelo of Melvindale, Diane Manko-Cliff of Dearborn, Michael Micheletti of Livonia, Scott Ryan of Southgate, and Sarah Zakaria of Northville.
The show, a fundraiser for the Players Guild of Dearborn, a volunteer-run community theater, features original improvisation.
Ryan said each improv show is unique and entertaining.
"We'll make you laugh, and every show is different – no reruns," he said. "There are times when we all see the same joke coming, but it is great when something goes in a different direction and still makes it work."
Micheletti said the show challenges troupe members to think on their feet.
"It is a great way to see performers put to the test," he said. "The show pokes fun at everything about the holiday season."
Bien said in addition to being a laughter-filled fundraiser, the show is a way to escape and relieve one's own stress.
"There is nothing better than a night of watching a group of people make fools of themselves, followed by a dessert afterglow," she said.
The show is a series of different exercises, or "reindeer games."
Ryan said his favorites games are the ones that depend on interaction.
"Any game that gives performers a chance to play off one another – or the audience – like 'Let's Make A Date,' 'Superheroes' and 'Party Quirks' is usually clever and unexpected," he said. "I'm creative, and improv makes me feel alive."
Guarnelo said he has so much fun playing the games that it is hard for him to pick a personal favorite, but he knows what generates laughter in the house.
"'Scenes From A Hat,' 'Questions Only' 'The Dating Game' and 'Party Quirks' are always crowd favorites," he said. "The diverse sense of humor our cast has makes me laugh during our practice."
Micheletti said his favorite game is "Entrances and Exits."
"It's extremely fast-paced and gets the whole cast working together," he said. "There are all types of humor at play and it is fun watching the performers run back and forth across the stage."
Ryan said it is an affordable night out for a good cause.
"It is clever and unexpected," he said. "Laughter keeps you young, and we have Christmas cookies."
Micheletti said it is an entertaining way to poke fun at the holiday stress many people encounter.
"This will be a wonderfully cathartic experience to help everyone get through the 'most wonderful time of the year,'" he said. "There are a wide variety of games and a diverse group of talented performers."
Bien said the show offers a night of laughter.
"This troupe has a way of distracting you from whatever drama or stress may be happening in your life," she said. "The creativity everyone brings to the table sometimes has me in stitches."
Guarnelo said a ticket provides attendees with a funny show and a chance to hang out and eat with the cast afterward.
"If you've never been to the Players Guild of Dearborn, this is a great opportunity to learn more about us," he said.
Tickets are $10, and are available at the door, by calling 313-561-TKTS and at playersguildofdearborn.org.
'THE BOOK OF MORMON' RETURNS TO FISHER
As a nine-time Tony Award-winner, including Best Musical, "The Book of Mormon" pokes fun at Mormon beliefs and practices while praising the positive sides of service and love.
The show runs 8 p.m. Dec. 4 to 8, 2 p.m. Dec. 8 and 9, and 2:30 p.m. at the Fisher Theater, 3022 W. Grand Blvd., Detroit.
Written by the Emmy Award-winning team behind "South Park," Trey Parker, Robert Lopez and Matt Stone, the show follows two Mormon missionaries working in a remote Ugandan village. The missionaries are frustrated by their lack of converts, while the locals are more worried about AIDS, famine and the threats from local warlords.
For more information about the show, go to BookofMormonTheMusical.com.
Tickets start at $39 and are available by phone, at 800-982-2787 or online, at BroadwayInDetroit.com and Ticketmaster.com.