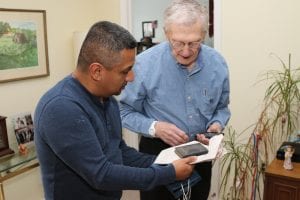 Until Javier Anaya ventured into the attic of his Allen Park house a few weeks ago, he never anticipated a renewed connection to the previous homeowners of the house that he and Verlin Edwards purchased in 2015.
"I had never been in the attic until we decided it was time to do some insulation," Anaya said. "It was empty except for a small pocket Bible I found that had been issued by the White House during World War II and stamped with the signature of President Franklin D. Roosevelt."
Upon discovering the Bible, Anaya realized it belonged to Eugene Milotz, the home's original owner he had met at closing three years ago.
Milotz and his wife, Beverly, had purchased the Allen Park residence with a VA loan in 1950. It was the couple's home for 65 years and where they raised three children.
Not knowing where Milotz and his wife had moved, Anaya started checking Google and making phone calls.
"I was sad to learn that Mrs. Milotz had died, but happy to learn that Mr. Milotz lived nearby in Dearborn at Beaumont Commons," said Anaya.
"I was so surprised to learn about Javier finding the Bible, and that he would be so thoughtful to return it," said Milotz, who vaguely remembered receiving it during his service in the Navy.
"I was a Navy boatswain's mate," said Milotz, who served in the Atlantic off the coast of North Africa and Europe and later in the Pacific. "I was on one of 12 ships, under Admiral (Chester) Nimitz's command, that were loaded with rocket launchers and helped prepare for the invasion of Okinawa. Four of the 12 ships sank, and fortunately, mine didn't."
Donna Brandt, sales manager for Beaumont Commons, helped arrange a visit for Anaya and Edwards to return the Bible to Milotz a few days before Thanksgiving.
In addition to presenting the Bible to Milotz, Anaya gave him recent photos of the house with changes they had made.
"They really hadn't changed that much, including the garden, which was my wife's pride and joy," said Milotz, who at the closing had given Anaya photos of the house as it looked in 1950. Anaya and Edwards enlarged and framed the photos that now hang over the fireplace mantle.
During their visit, more surprising connections were revealed. Milotz, who was born in Detroit, returned to Michigan after the war and met his wife, Beverly, through his sister, both of whom were nurses. Before retiring, Milotz enjoyed a 35-year career with Ford Motor Co. where he worked at Ford World Headquarters in traffic and supply chain management.
Anaya and Edwards, also Detroit natives, are longtime Ford employees. Anaya currently works in the same area of traffic and supply chain management for Ford as Milotz did years ago. At the same time, Anaya is completing a nursing degree from the University of Michigan with plans to work as a hospice nurse upon his retirement from Ford.
Milotz shared that his wife, Beverly, had worked as a nurse for 20 years before she attended Wayne State University to earn a teaching certificate, and taught for 22 years.
What began as an attic discovery turned into a warm reunion and renewed connections between two generations of homeowners.
"It was so special of them to make that effort to find me and return the Bible," Milotz said. "I'll never forget it."
Beaumont Commons, Dearborn, formerly Oakwood Common, offers one and two bedroom apartments within a 29-acre retirement community that includes landscaping, nature trails and scenic views along the historic Rouge River Gateway in Dearborn.
Located at 16351 Rotunda Drive, the community includes exceptional amenities for independent living as well as assisted living. Beaumont Rehabilitation and Continuing Care is also available for those with additional needs.
For more information and to arrange tours, call 800-642-4663 or go to www.BeaumontCommonsDearborn.org.
Source: Beaumont Commons