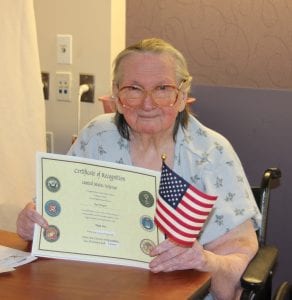 By SUE SUCHYTA
Sunday Times Newspapers

RIVERVIEW – Elsie Midget, 94, of Riverview, a World War II veteran, who served from 1944 to 1946, was also the first member of her family to serve in the Marine Corps.
"I had a good time," she said with a laugh.
Midget left Trenton, where she was raised, and did her basic training in New River, N.C., then she was was sent to Quantico, Va., where she served in the women's reserve stateside as a butcher.
Midget said she was 20 years old when she enlisted, so her parents had to sign a notarized document to allow her to join the military.
"My three brothers were in the service, in the Navy, and I just wanted to be a Marine because there had never been any Marines in the family," she said. "They all made it home, thank God."
She had two sisters who remained civilians.
"I have a younger sister that is still living," she said. "She's 90 years old."
She said she would like to live to be a 100 if she still has her faculties, otherwise she said she "wouldn't know the difference."
She was living in Trenton, and said she had never been very far from home before.
"It was funny – I used to go around singing, 'I'm leaving on that New River train,' and here I go to New River, North Carolina," she said with a chuckle. "I made a lot of memories, and I still wonder whether any of the others are still living or not, but I'll never know because I don't see them."
Midgett said she is not sure if being a Marine changed her life. She said her offspring – two sons, a daughter, six grandchildren, and two great-grandchildren – have never asked her about her time in the Marines. She said one of her grandsons served in the military, and was in Afghanistan.
She may have joined up because her brothers were all gone, but she said she was proud to be a Marine, and she has a music box Marine statue that plays the "Marine Hymn."
Her other musical figure is less serious, though. It plays "Grandma Got Run Over by a Reindeer," which she finds funny.
She said she's not sure of the reasons she entered the service.
"Everybody was gone," she said. "All the men and that, and I thought, well, I am going to enlist, too."
(Sue Suchyta can be reached at [email protected].)