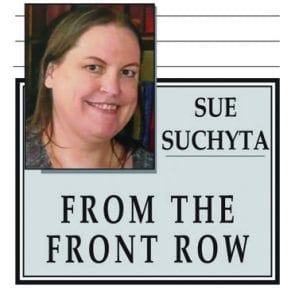 The Ringwald takes a break from "SantaLand Diaries" to parody Joan Crawford in the holiday comic romp, "Merry Christmas to Everyone! (Except Christina)."
Proving that parody has no season, the Ringwald offers to "stuff your stockings" with a "Mommie Dearest" satirical romp to ring in the holiday season.
The show runs 8 p.m. Dec. 17, 20, 21 and 22 at the Ringwald, 22742 Woodward, Ferndale.
Set just before Christmas, with Joan Crawford at the end of her tinseled rope, her career floundering, her children annoying her and a live Christmas broadcast scheduled for her home, she contemplates ending it all. She is then visited by three ghosts, including Bette Davis, who try to change her outlook on life. But do they help or hilariously hinder?
The spoof also weaves in elements of "Whatever Happened to Baby Jane?," "A Christmas Carol" and "A Charlie Brown Christmas" as the Ringwald ensemble dons its gay apparel for some belly laughs and holiday cheer.
Directed by Diane Bailey, the cast includes Joe Bailey as Joan Crawford, Richard Payton as the Ghosts, Brandy Joe Plambeck as Christina and Kevin Kaminski as Christopher.
Tickets are $10 Dec. 17 and 20, and $20 Dec. 21 and 22.  For more information or to order tickets, call 248-545-5545 or go to TheRingwald.com.
PLAYERS GUILD SEEKS DIRECTORS FOR SEASON OF AWARD-WINNING PLAYS
From Tony Award-winning musicals to a Pulitzer Prize-winning drama, the Players Guild of Dearborn announced its 2019-20 season last week, and is accepting applications for directors, music directors and choreographers.
Applications should be sent to Denise Tucker-Kowaleski at [email protected]. For more information, call her at 734-673-8857.
The Guildling 2019 summer shows are "School House Rock Live Jr." for the preteen set, and "Heathers the Musical" (high school edition) for the teens.
"School House Rock Live, Jr." auditions May 6 and 7, with performances June 27 to 30.
"Heathers the Musical" (high school edition) auditions May 13 and 14, with performances July 18 to 21, with two shows July 20.
The high school version eliminates profanity, onstage smoking and drinking and R-rated sexual scenes, while retaining some of the PG-13 sexual scenes. The song "Blue" is replaced with a new song, "You're Welcome," that portrays Veronica's perspective. "Big Fun" lyrics and stage directions have been changed to take out underage drinking and drug use, and "Dead Girl Walking" has been changed to remove overt sexual references.
The main season begins with the Pulitzer Prize-winning play by Moss Hart and George Kaufman, "You Can't Take It With You." Auditions are July 15 and 16, with performances Sept. 13 to 15, 20 to 22, and 27 to 29.
The first musical of the season is the four-time Tony Award-winner, including Best Musical, "A Gentleman's Guide to Love and Murder," with book and lyrics by Robert Freedman, and music and lyrics by Steven Lutvak. Auditions are Sept. 16 and 17, with performances Nov. 8 to 10, 15 to 17, 22 to 24 and Nov. 29 to Dec. 1.
"Laughing Stock," a backstage farce by Charles Morey, auditions Nov. 11 and 12, and runs Jan. 10 to 12, 17 to 19, and 24 to 26, 2020.
Tenessee Williams' "The Glass Menagerie," the New York Drama Critics' Circle 1945 winner for Best American Play, auditions Jan. 13 and 14, 2020, and runs March 6 to 8, 13 to 15 and 20 to 22, 2020.
The Tony Award-winning musical, "Anything Goes," with music and lyrics by Cole Porter, auditions March 9 and 10, 2020, and runs May 1 to 3, 8 to 10, 15 to 17 and 22 to 24, 2020.
For additional information, go to playersguildofdearborn.org/calling-all-directors.