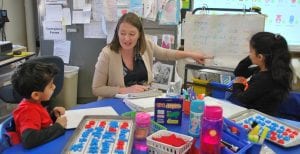 DEARBORN — Maples Elementary Schools received a national award recognizing the success of its students despite difficult circumstances.
The National Association of Elementary and Secondary Education Act State Program Administrators named Maples a 2018 Distinguished School. Only 100 schools, two from each state, receive the award each year for exceptional student achievement.
All the schools recognized qualify for funding under the federal Title 1 program, which supports low-income and other at-risk students. ESEA created Title 1.
"Maples' mission is to provide an exceptional learning environment that empowers every student to succeed in life, today and in the future," Maples Principal Donna Jakubik said. "But first the Maples staff always assures the family is supported in any way needed, and we build a partnership with the family so we can then academically support the learning of their children."
Support for the family includes such things as finding community resources for new immigrants to recently assisting after a family suffered a fire in their home, she said.
Maples qualified in two of three categories eligible for the award. The school ranked the best in Michigan for closing the achievement gap between the lowest and highest performing students, and it showed excellence in serving special student populations, Jakubik said. The other category is exceptional performance for two consecutive years.
The Distinguished School award is based on the last two years of data. About 79 percent of Maples students are still learning English, and 98 percent are from low-income families. Even with those demographics, the number of Maples students scoring proficient on Michigan standardized tests was above the state passing rate and far above – more than double — the average of schools with similar demographics for the last three years, according to the state's MISchoolData.org.
Maples has received other recognition over the years for its students' success. Last year, "Bridge" magazine honored the school for Outstanding Achievement based on growth and its success with at-risk students.
"Maples has a history of high student achievement and staff that works hard to meet the needs of all students. We look forward to putting our students first and continuing to do that." Jakubik said.
The Distinguished School award will be presented at the 2019 National ESEA Conference on Jan. 30 to Feb. 2 in Kansas City, Mo. Four of the eight Michigan finalists for the 2018 award were from Dearborn Schools. The other nominees included McDonald, Stout and Salina Intermediate.
"We are proud of Maples Elementary for receiving this national honor, but even more proud of the student success it represents," Dearborn Public Schools Supt. Glenn Maleyko said. "Thank you to all the staff and community at Maples, and across the district, for working together to help every student reach their potential. Dearborn Public Schools will always be a place where we put students first."