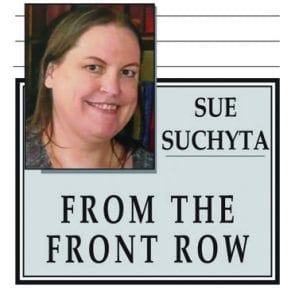 The new year offers tempting attractions on local stages, with comedies and dramas, musicals and straight shows.
The Players Guild of Dearborn presents the farcical "Lend Me A Tenor," while the Ringwald offers the contemporary comedy "Significant Other." Two Pulitzer Prize-winning plays also open in January, with a Broadway touring company of "Rent" at the Fisher and Edward Albee's "Three Tall Women" at the Slipstream.
'LEND ME A TENOR' ENTERTAINS AT PLAYERS GUILD
A laughter-inspiring farce of mistaken identities sets the tone for the new year as the comedy "Lend Me A Tenor" opens a three-week run at the Players Guild of Dearborn.
The show runs 8 p.m. Jan. 11, 12, 18, 19, 25 and 26, and 2:30 p.m. Jan. 13, 20 and 27 at the theater, 21730 Madison in Dearborn.
Directed by Karen Pritchard of Garden City, the cast includes Julie Ballantyne Brown of Dearborn as Maggie, Kori Bielaniec of Westland as Maria, Sue DeLosier of Lincoln Park as Julia, Chris Martin of Redford Township as the Bellhop, William McCloskey of Monroe as Saunders, Jazzmin Sharara of Dearborn as Diana, Greg Viscomi of Dearborn Heights as Tito Merelli and Damon Williams of Detroit as Max.
Playright Ken Ludwig's "Lend Me A Tenor" is a comedy of errors, with mistaken identity, door-slamming, ladies in lingerie – farce at its finest.
Set in 1934, a famous tenor is scheduled to appear at the Cleveland Opera House to sing the title role in "Otello." However, he arrives late, and through a series of mistakes, is overdosed with tranquilizers. He passes out, and a local singer decides to put on the costume and pretend to be the star. However, when the actual star comes to, no one knows who is who.
Pritchard said she is pleased to have a talented cast with which to work.
"They are experienced, hard-working, creative people whose sense of humor keep us laughing," she said. "This play is thought to be one of the best farces ever written. Each of my actors comes to their role with a sense of adventure and willingness to 'break type' and find a refreshing take for this classic."
Prichard said people need an escape from the gray days of January.
"Leave your troubles at the door, and for two hours you might laugh, shed a sentimental tear, and appreciate the magic of live theater," she said.
McCloskey said "Lend Me A Tenor" is a very funny show, and the cast adds to the hilarity.
"These actors understand the importance of timing, physical action and line delivery, important in a farce like this," he said. "I have never seen so many working doors on a set in my life."
Brown seconded the funny factor, and said the show's pace is quick.
"We've been laughing at each other since the first rehearsal, so I know audiences will love it," she said.
DeLosier agreed that the pace of the show will surprise the audience.
"Characters are in and out of doors, falling over furniture, and identities are confused," she said. "It's a 'buckle your seat belts, it's going to be a bumpy ride' show."
Martin said his character, the Bellhop, adds to the comedic chaos.
"He exists solely to pop in at the most inopportune moments, ratchet up the crazy a notch or two, and pop back out," he said. "It allows me to put all the hours I spent watching Looney Tunes and the Marx Brothers as a kid to good use."
Martin said the rehearsal process has been entertaining.
"When the material is this funny and my castmates are this good, it's hard not to have fun," he said. "The director has given us the green light to be as over-the-top as we want, so the wacky factor is through the roof."
Martin said the show is a great escape from everyday cares.
"Be prepared to check your stressful life at the door and laugh at someone else's even more stressful life," he said.
Tickets are $18, and available by calling 313-561-TKTS or at playersguildofdearborn.org.
20TH ANNIVERSARY BROADWAY TOUR OF 'RENT' AT FISHER
The rock musical "Rent," which impacted musical theater, and won a Pulitizer Prize and multiple Tony Awards, including Best Musical and Best Score, comes to the Fisher Theater Jan. 8 with the 20th anniversary Broadway touring company.
The show runs 8 p.m. Jan. 8 to 12 and 16 to 19; 7:30 p.m. Jan. 13 and 20; 2 p.m. Jan. 12, 13, 19 and 20; and 1 p.m. Jan. 17 at the Fisher Theater, 3011 W. Grand Blvd., Detroit.
The musical, which follows seven artists for a year as they try to follow their dreams without selling out, is a retelling of Puccini's "La Boheme," and is one of six musicals to win a Pulitzer Prize for Drama and a Tony Award for Best Musical. The other five are "South Pacific," "Fiorello!," "How to Succeed," "A Chorus Line" and "Hamilton."
Among the memorable songs are "One Song Glory," "Rent," "Take Me or Leave Me," "I Should Tell You," "La Vie Boheme," "Without You," "Light My Candle," "Tango Maureen," "Today 4 U," and "Seasons of Love."
Tickets start at $39, and are available by calling Ticketmaster at 800-982-2787, or by going online to Ticketmaster.com or BroadwayInDetroit.com.
'SIGNIFICANT OTHER' BRINGS LAUGHTER TO THE RINGWALD
From playwright Joshua Harmon comes the touching and humorous comedy, "Significant Others" at the Ringwald, which takes on the stereotypes of the "gay best friend" and the lives of young adults in modern day New York City.
The show runs 8 p.m. Jan. 4, 5, 7, 11, 12, 14, 18, 19, 21, 25, 26 and 28, and 5 p.m. Jan. 20 and 27 at the Ringwald, 22742 Woodward in Ferndale.
Jordan, a single gay man, has a close circle of women as his best friends. He finds that looking for love is just as challenging as supporting those he loves, who are dealing with their own problems. The plays looks at whether the changes one must make to achieve a dream are within or outside one's control. The play mixes humor with sadness, a "Friends" for the stage, with an emotional countdown as the women wed and Jordan remains the only one waiting for Mr. Right.
Directed by Brandy Joe Plambeck, the cast includes Andrew Barikmo, Meredith Deighton, Annie Dilworth, Jean Garringer, Jaye Stellini, Matt Wallace and Allen Wiseman.
Friday, Saturday and Sunday tickets are $20, with $10 Monday tickets. Call 248-545-5545 for information about the show. To order tickets online, go to TheRingwald.com.
ALBEE'S PULITZER PRIZE-WINNING 'THREE TALL WOMEN' AT SLIPSTREAM
Renowned and controversial playright Edward Albee's third Pulitzer Prize-winning drama, "Three Tall Women," which poses whether we would recognize ourselves if given the chance to travel back in time to change things, opens the new year for the Slipstream Theatre Initiative.
The show runs 8 p.m. Jan. 4, 5, 11, 12, 18, 19, 25 and 26, and 7 p.m. Jan. 6, 13, 20 and 27 at the Slipstream Theatre, 460 Hilton Road in Ferndale.
Directed by Bailey Boudreau, the show features Maggie Alger, Jeannine Thompson and Maggie Gilkes.
As the story begins, an older woman is on her deathbed, while two other women, her caretaker and lawyer, are also in the room. Each believes they are unique, yet as the story unfolds, each discovers startling similarities, while the audience is challenged to ponder the power of change, the consequences of actions and what it means to be present in the moment.
Albee is said to have written the play to better understand his adoptive mother, with whom he had a challenging relationship.
"Writers have this schizophrenic ability to both participate in their lives and, at the same time, observe themselves participating in their lives," Albee said of "Three Tall Women."
Tickets are $12, and available at slipstreamti.com.