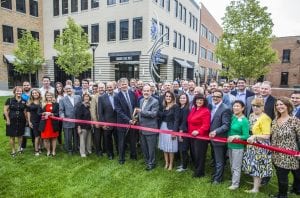 By ZEINAB NAJM
Times-Herald Newspapers

Here's a look back at the second half of 2018 and the news that shaped Dearborn and Dearborn Heights:
July
Russell Kavalhuna officially became Henry Ford College's new president July 1 after he was appointed by the HFC Board of Trustees during a March 28 special meeting. Kavalhuna previously worked at the Western Michigan University College of Aviation as the executive director. The entire president search process began after former HFC President Stanley Jensen announced his resignation in November.
Dearborn resident Rabih Othman, 42, died after drowning in Silver Lake in Golden Township just after 3:30 p.m. July 1. According to the Oceana County Sherif's Office, Othman got on a tube in the water when the group on the boat lost control and he fell off. Othman struggled to stay afloat in the lake as the group was unsuccessful in reaching him, then a second group of people on a boat nearby were able to get him out of the water. A jet ski took Othman to shore where revival efforts were continue before he was transported to Mercy Health Lakeshore Hospital and pronounced dead.
A single-vehicle crash on the Southfield Freeway resulted in the death of the driver after his vehicle became engulfed in flames. Dearborn police responded to the southbound Southfield Freeway ramp at Michigan Avenue just after 2:30 p.m. July 7 when the Kia was already on fire. Sgt. Edward Doulette said the Kia possibly crashed into a tree and the man driving the vehicle was not able to make it out before the fire started.
Members of the Lecturers' Employee Organization Local 6244 AFT Michigan voted to ratify the new lecturer contract with the University of Michigan after an electronic ballot on July 11. The agreement became official after 98 percent of the union members voted in favor of the contract ratification, according to a LEO Union press release. Under the contract, by Sept. 1, 2020, the minimum salary for a newly hired entry level faculty member with a Lecturer I appointment will increase to $41,000 from the current $28,300 in Dearborn. In Ann Arbor the same salary will increase to $51,000 from the current $34,500, and to $41,000 from the current $27,300 in Flint.
Dearborn native Ibraheem Musaibli pleaded not guilty in federal court July 27 to providing and attempting to provide material support to the Islamic State of Iraq and al-Sham. The U.S. Attorney's Office of the Eastern District of Michigan made the announcement on July 24, detailing Musaibli's involvement with the designated foreign terrorist organization. According to a press release issued by the U.S. Department of Justice, Musaibli is a natural-born U.S. citizen who was detained overseas by Syrian Democratic Forces and transferred into U.S. custody earlier this month.
Dearborn resident Badri Hashim died on July 29 as a passenger in a vehicle that crashed into a pole on Telegraph and Laskey in Toledo. According to The Blade, police said the driver of the small pickup truck ran into a traffic light pole at 3 a.m. at the intersection. Hashim, 24, died at the scene and the driver was take to the hospital with unspecified injuries. The Lucas Country Coroner James Patrick said Hashim died from head and chest injuries at Laskey Road and Detroit Avenue.
The Dearborn City Council opposed a ballot proposal for a Dearborn Historical Museum millage with a 5-1 vote and garnered no support on a second ballot proposal about the potential sale of 40 acres at Camp Dearborn during a special meeting on July 31. Dearborn Historical Museum Chief Curator Jack Tate represented the museum when asking the council to approve a ballot proposal for a .0375 millage to generate $6 million over the next five years. The money generated was planned for renovations on the Commandant's Quarters, McFadden-Ross House, museum office building and also operation costs.
Sears in Fairlane Town Center closed its doors in late July along with 72 other stores across the country. The Sears stores in Sterling Heights, Flint and Traverse City were scheduled to close in late July, late June and late June, respectively. On May 31, Sears Holdings announced the news of the closings to not only Sears stores, but also Kmart stores from June to September.
August
Off-price apparel retailer Forman Mills opened its newest store in Dearborn Aug. 3. The department-style store, in the Fairlane North Plaza, is in the space previously occupied by Sports Authority. According to a Forman Mills press release, the new store features more than 42,000-square-feet of designer fashions sold at significant discounts on high-profile brand name apparel. More than 100 new jobs have been created as a result of the store opening.
After spending 17 years separated from his Dearborn family, Yemen native Ali Ahmad reunited with his family for the first time in the United States on Aug. 8. At the beginning of August, Ahmad was given a waiver and allowed entry into the country. His journey to Detroit was delayed in Chicago when he couldn't find a translator and was questioned by TSA employees resulting in him missing his final flight. Almasmari said he plans to open a small business and contribute to the community.
Beaumont Hospital, Dearborn, nurse Teoka Williams filed a lawsuit Aug. 14 for alleged discrimination after the hospital honored a patient's request to remove her from their care in 2017. The alleged incident took place in October 2017 while Williams was working the night shift on the eighth floor the hospital. She entered an assigned room that had two patients and assessed them before leaving. As she left the room, Williams overheard one of the patients say she didn't want a "black explicit" taking care of her according to the lawsuit. Williams reported the comment made to her clinical manager and was denied entrance back into the room. She was still required to provide reports on her patients after her shift even through Williams was not allowed into the room. Human resources was notified about the incident and told Williams that patients requests are honored by the hospital all the time. They also said that next time, Williams would be taken off the assignment completely.
Wayne County Prosecutor Kym Worthy announced charges against Detroit residents Nafez Mohammad, 59; Victoria Henderson, 33; Valencia Davey, 24; and Deon Davey, 19, for their alleged involvement in organized retail crime on Aug. 12. According to the prosecutor's office, the items, recovered from raids in Dearborn and Detroit, were valued at more than $500,000. The merchandise was stolen from retail stores between March 16 and July 27. Allegedly, Henderson, and the Daveys would steal the items from the stores and transport them to Mohammad who would then take them to a vacant warehouse on Chase Road in Dearborn to remove stickers and security stickers. According to Canton Township police, Mohammad would then sell the stolen items on the Internet.
Hadi Cherri, 18, of Dearborn was sentenced to three years probation Aug. 22 for threatening a 13-year-old girl into sending him nude photos on the social media app Snapchat. The terms of his probation are to remain on house arrest for the first six months unless Cherri has work or appointments, he must work or attend school at least 30 hours per week and must allow his computer and phone to be searched at any time by a probation official without a warrant, the Macomb Daily reported. Cherri allegedly threatened the girl, stating he would expose nude photos of her if she didn't send him additional photos. The girl eventually complied with Cherri's request and sent him photos.
The Dearborn Heights City Council signed a contract Aug. 29 to redevelop the vacant Canfield Arena, 2100 Kinloch, after an agreement was reached with Elite Sports Training. Councilwoman Lisa Hicks-Clayton posted the news on her Facebook page saying, "very pleased to announce the contract between the city of Dearborn Heights and Elite Sports Training has been signed." The city council unanimously approved a 15-year lease agreement with Elite Sports Training.
Eunkyung Kim, 43, the owner of Silver Spa, 24200 Michigan Ave., was arrested and charged with allegedly operating a prostitution ring. The business was closed a result of the Dearborn Police Department's investigation. She was charged for operating a prostitution house, a five-year felony, and accepting earnings from a prostitute, a 20-year felony, during her arraignment in 19th District Court.
The Dearborn Public Schools immediately placed a staff member on paid administrate leave after videos of the employee circulated on social media at the end of August. It is unclear when the videos were taken but the employee talks about women, his personal life, sexual content, alcohol and also mentions the names of high school football coaches. According to social media, the employee in the two videos is 2017-18 Fordson High School varsity football assistant coach Mohamed Bazzi, but the district did not identify him in a statement.
September
Jo Click reported her son's wheelchair ramp stolen from their house in the 5900 block of Culver Sept. 2. Andy Click, 21, who has cerebral palsy and epilepsy, used the ramp to get in and out of his house alone. The aluminum fold-up ramp was given to the Click family from the Christopher & Dana Reeve Foundation 10 years ago after a nurse at Children's Hospital of Michigan applied for it.
Former Dearborn Heights Councilman Joseph Kosinski died on Sept. 3 following a short illness. Kosinski's public service career began in 1973 on the Dearborn Heights Zoning Board of Appeals and continued in 1978 when he was elected to the city council where he served until 1999. In 2012 he returned to the city council for five more years before retiring in 2017. He was a member of the Dearborn Heights General Government Pension Board since 1984 and chairman of the General Government Pension Committee from 2000 to 2018 when he retired.
The Dearborn City Council unanimously approved the request to put the new CSO millage of .22 mills on winter property tax bills during a public meeting Sept. 7. Through the bond, $60 million will be generated for additional sewer system improvements after residents approved the proposal Aug. 7. In the Aug. 7 primary election, 11,068 voters chose the option to raise taxes to pay the remaining $60 million due on the Combined Sewer Overflow project, while 4,286 voted against the plan, which would have raised water rates to pay the $60 million had the proposal failed. The city planned to issue $23 million of the $60 million in September to fund three CSO projects scheduled for spring 2019 and spring 2020.
Big Fish Seafood Bistro, 700 Town Center Drive in Dearborn, closed on Sept. 6 after serving the Dearborn community for more than two decades. Landry's Chief Operating Officer Howard Cole said the location was permanently closed. "We have decided to sell the location for another potential development," Cole said in a statement to The Detroit News. "We are grateful for the support of the local community and loyal patrons. We value our employees, their dedication to our company and are working to relocate them."
Dr. Lawrence Young, 70, was sentenced to 28 months in federal prison Sept. 11 after receiving $340,000 from a Medicare billing scheme. Young is a Bloomfield Hills podiatrist who also worked at clinics in Dearborn and Sterling Heights when he participated in the "$1 million scheme podiatry services that were billed to Medicare but were never rendered," according to the U.S. Department of Justice." Young will have to serve one year of supervised release following his 28-month prison sentence. In January, he pleaded guilty to the one count of health care fraud.
The Friends for Animals of Metro Detroit celebrated the official opening of the $5.1 million MaryAnn Wright Animal Adoption and Education Center on Sept. 18. The new location, 16121 Reckinger Road, will serve as the adoption site while the 2661 Greenfield Road location will continue to house administrative offices as funding as phase two continues. Dozens of cats and dogs moved into the double-compartment housing inside the 10,000-square-foot facility which also includes cageless community space and an acquaintance room inside.
Former U.S. Rep. John Dingell, 92, was released from Henry Ford Hospital in Detroit Sept. 25 after treatment for a mild heart attack. Dingell suffered the heart attack Sept. 17 and was recovering at the hospital since then. Doctors monitored his enzymes by drawing blood every few hours and conducted other tests and possibly a heart cauterization, according to a Sept. 17 Facebook post by his wife, U.S. Rep. Debbie Dingell (D-Dearborn), on her personal page.
Ford Motor Co. celebrated 100 years of the Rouge Complex, 3001 Miller Road, Sept. 27 where 7,500 employees work three shifts to manufacture F-150 pickup trucks. A new truck rolls off the end of the assembly line every 53 seconds. The complex was first used to produce Eagle Boats for the U.S. Navy during Word War I in 1918, and by the 1930s more than 100,000 workers would enter the complex to complete their shift at the $5 a-day wage Henry Ford offered.
A 74-year-old Dearborn man died in a vehicle crash at the intersection of Hickory Ridge and Clyde roads in Highland Township Sept. 29. About 1:45 p.m. the Oakland County Sheriff's police officers responded to the scene where they determined the Fusion stopped at the stop sign at the intersection before continuing west on Clyde Road. As the Fusion continued driving, it collided with a 2011 Chevrolet Silverado which was traveling north on Hickory Ridge Road. The Silverado did not have a stop sign at the intersection. The Dearborn man was transported to Genesys Regional Medical Center in Grand Blanc via helicopter and pronounced dead.
October
The Wayne County Prosecutor's Office on Oct. 3 charged Aaron Xavier King-Hudson and Andashawn Williams of Detroit, and Jacob Feagin and Samreena Syed of Ferndale for an armed robbery at T-Mobile on Wyoming. The suspects, one armed with a handgun, entered the store and stole several iPhones valued at over $13,000 from the safe on Aug. 10. According to a Dearborn Police Department press release, a thorough investigation ultimately led to the arrest and determination that the suspects were also responsible for a similar robbery at a T-Mobile in Detroit on Aug. 16.
Stout Middle School volunteer track and football coach Patrick Gatt died the week of Oct. 8, Stout teacher and track coach Maria Rancilio said. Gatt spent the last eight years volunteering his time at Stout with the track and football teams before falling ill.
The red ribbon was cut Oct. 10 on Ford Motor Co's. latest development, the mixed-use Wagner Place in downtown west Dearborn. Part of the $60 million project includes restaurants, retail and green space along with offices for Ford employees, and restoring the 120-year-old Wagner Hotel. The 150,000-square-foot project will feature restaurants, a cafe, fitness gym, brewery, plans for retail business as well as 600 employees from Ford's global data insights and analytics division.
Jason Glenn Sherman, 35, of Dearborn Heights was charged Oct. 9 with ethnic intimidation and malicious destruction of property after he urinated on a neighbor's house and ripped up their bushes on Sept. 16. The actions Sherman is accused of took place at 12:30 a.m. at a house in the 5600 block of Hubbell Street in Dearborn Heights. Residents living at the house called police after Sherman was caught on security system camera videos. Security video shows two men approaching and urinating, then Sherman walks away from the house and looks at the camera saying "I'm buttoning up my pants, can you see my penis." Also, Sherman continued to talk about running the paint on the neighbor's vehicle and that the shrubs are dying because he had been urinating on them.
The abrupt closing of Professional Educational Services Group was announced Oct. 22 in a letter was sent via email only addressing Michigan employees. "You will no longer be able to obtain substitute teaching jobs or any other work from Professional Educational Services Group going forward," PESG President and CEO Henry Bledsoe wrote. On Oct. 23, about 120 former PESG employees responded to the district's Administrative Service Center, 18700 Audette, where they were processed and signed into temporary contracts with Dearborn Public Schools.
Salina School celebrated its 100th anniversary with a special event on Oct. 2 organized by the Salina PTSA. Speeches were made by alumni, Salina gear and cups were sold to those in attendance and guests toured the 100-year-old building. The first Salina School opened in 1918 as a two-room school house, but the growing community quickly needed a larger facility. The current Salina Intermediate was built in 1920 on the location of that first school.
Dearborn High School senior Basel Al-Muraisi, 18, died after a car crash in Detroit on Sept. 30. Al-Muraisi was in his third year at DHS after moving to Michigan from Yemen. On Oct. 1, there was a school wide moment of silence at the end of sixth hour to recognize the loss of Al-Muraisi, DHS Principal Adam Martin wrote in a message to parents on the DHS's website.
November
Beaumont Health announced plans to build a $40 million mental health hospital in Dearborn in conjunction with Universal Health Services Nov. 5. Construction of the 100,000-square-foot, 150-bed free-standing hospital is expected to begin in early 2019 across the street from Beaumont, Dearborn, on eight acres of vacant land near the Southfield Freeway. The facility, which will be managed by UHS, is expected to open in early to mid-2021.
Robert Raymond Patrick III, 49, of Redford Township was charged with with second degree arson, second degree home invasion and receiving and concealing stolen property with a value of over $1,000 Nov. 5 in connection to the fire he allegedly started at a house in the 6900 block of Mayburn. Firefighters responded to the call of a garage on fire at 8:15 p.m. Oct. 29, but when they arrived on the scene, the second story of the house was engulfed in flames. Dearborn Fire Chief David Brogan said the cause of the fire may have been from clothing being spread around the house and set on fire along with clothing placed on the stove top which was turned on. He added that some of the clothing was spread on the stairs causing the staircase to burn down quicker than normal,
Dan Voltattorni was sworn in as the Dearborn Heights Police Department's new police chief during a ceremony outside the Dearborn Heights Justice Center, 25637 Michigan Ave., Nov. 7. Voltattorni moved up in the ranks after former Police Chief Lee Gavin announced his retirement after 10 years as chief and 38 years with the city. According a Police Department press release, Voltattorni began his career in law enforcement as a police cadet in 1987, served in multiple capacities since then and earned the title of deputy chief in 2017.
The Wayne County Prosecutor's Office charged Emanuel Vaughn, 33, and Jasmine Moore, 28, of Detroit, for assault with intent to murder in relation to the Oct. 10 stabbing of psychiatrist Dr. Melfin Hoberman. Vaughn was charged with assault with intent to murder, armed robbery causing serious injury, assault with intent to do great bodily harm less than murder or by strangulation and assault with a dangerous weapon. Moore also faces charges of assault with intent to murder, armed robbery causing serious injury, assault with intent to do great bodily harm less than murder or by strangulation, assault with a dangerous weapon and conspiracy to commit armed robbery. The 75-year-old Hoberman was found beaten and unconscious on the floor of his office following a call to police by the doctor's wife about a wellness check when he did not return home that night.
Edsel Ford High School student Hasanain Alkhaleeli, 18, died in a single vehicle crash the early afternoon of Nov. 20 in Dearborn. Neither police nor the school released details of the crash; however, security video revealed that Alkhaleeli's vehicle was traveling east on Rotunda at a high rate of speed. Witnesses said the driver's side of the vehicle hit a pole near Commerce Drive South. The cause of the crash was not known.
After serving the Dearborn community for 40 years, Ace Diamond Jewelers, 13840 Michigan Ave., announced it was going out of business as soon as all its inventory is sold. A going-out-of-business sale began in late November with 70 percent off of items in the store. Co-owners and brothers Carl Marusak, 60, and Richard Marusak, 61, opened the store in 1978 providing engagement rings, wedding bands, watches, silver, sterling silver, and scrap gold to more than 40,000 customers.
Sara Al-Mestony of Dearborn was sentenced to five years probation Nov. 28 for the August 2017 drowning death of her eight-month-old son, Mosatafa Galdi Jr. Al-Mestony, 28, cannot be with any other children unless their parent or guardian is present, as part of the sentencing. The parent and guardian terms include Al-Mestony's second son, whom she is not allowed to be around unless her mother or husband are present. On Aug. 24, 2017,  Mosatafa was found unresponsive inside a bathtub at Al-Mestony's house in the Warren Manor Apartments in Warren, and later died that same day at a hospital. According to evidence, Al-Mestony was speaking on the phone with a car dealership at the time of the drowning but told police her son choked on cookies and milk before changing her story on what happened.
Longtime Fordson High School basketball and golf coach Guy DelGiudice was honored during halftime of a FHS varsity boys game on Nov. 29 with the naming of the school's gym court in his honor. At 71 years old, he is currently the varsity boys basketball assistant coach and is also the boys and girls golf coach at FHS. Guy DelGiudice began his coaching career in 1981 at Fordson, and during those 37 years, he has coached basketball, tennis for both girls and boys along with girls' soccer.
Police announced the arrests of three New Boston residents, Cas Bar owner Beverly Jo Sassin, 70; Amanda Mosed, 38; and Christopher Bucannion, 45; and Jodie Welbes, 49, from Lincoln Park linked to a $1 million retail fraud ring. Each of the four suspects were charged with eight felonies each on Nov. 29 and Nov. 30. During a Dec. 3 press conference, Haddad said the items stolen were resold from Cas Bar, 7800 Michigan Ave. in Detroit less than a mile from Dearborn. Items sold were stolen from Kroger, Home Depot, Meijer, Target and other grocery stores or big retailers in Wayne County.
December
The Dearborn and Dearborn Heights communities donated over $80,000 for the Goodfellows' annual "No Child Without a Christmas" campaigns. Of the money collected on Nov. 30 and Dec. 1, Dearborn collected just under $50,000 and Dearborn Heights collected $29,529. Various gifts and gift cards are purchased and given to children between the ages of 2 and 11 who live in Dearborn and Dearborn Heights. Gifts in Dearborn are packaged by volunteers and delivered to children and families just before Christmas.
The Wayne County Prosecutor's Office charged Blair Langston with physically abused and badly injured his girlfriend's cat. Police responded to a house in the 2600 block of Bennett Nov. 26 on a report of suspected abuse from the homeowner. Once at the scene, the woman said that her boyfriend was possibly abusing her autistic son so she set up a nanny camera to watch online and woman watched as Langston physically abuse the cat. Footage from the hidden camera was shown to police who arrested Langston for animal cruelty.
Ryan Dwyer, 41, of Dearborn Heights was charged Dec. 4 with homicide for delivery of a controlled substance causing death, involuntary manslaughter, larceny from person and illegal use of a financial transition device in connection to the death of a 24-year-old. Charges against Dwyer were announced by the Wayne County Prosecutor's Office who said the cause of death for Ricky Cox from California was related to drugs laced with fentanyl. Cox was in town from California for work when his body was found Aug. 29 in the passenger side of a gray vehicle after three days in the parking lot of Taco Bell, 4539 S. Telegraph Road.
Javon Dabney, 26, of Dearborn Heights was charged with armed robbery, conspiracy to commit assault with intent to murder, three counts of assault with intent to murder, three counts of assault with intent to commit great bodily harm in connection to an appliance store shooting. The Wayne County Prosector's Office announced the charges on Dec. 10 after Dabney allegedly shot two employees inside Sammy's Appliances, 20101 W. Warren Ave., on Dec. 5. Dabney purchased several appliances from the store before he allegedly shot the 59-year-old appliance store manager of Garden City and a 35-year-old store employee of Detroit several times. After the shooting, Dabney fled on foot and was arrested following an investigation by the Detroit Police Department.
The Dearborn Heights City Council unanimously voted to opt out of allowing marijuana grow dispensaries, facilities and recreational sales in the city during a meeting on Dec. 11. Corporation Counsel Gary Miotke said part of the reason he recommended the ordinance was because it would prohibit the establishments in the city boundaries while more research is done and that the ordinance could be changed later to opt in. Cities that also choose to opt out of the retail marijuana sales will not receive the tax proceeds collected from the sales nor collect the maximum annual fee of $5,000 per marijuana establishment.
The Edward Hotel & Convention Center, 600 Town Center Drive, was abruptly closed at noon Dec. 14 by the city of Dearborn for safety violations. A notice of violation from the city's property maintenance and development services department said the hotel does not have a valid certificate of occupancy or valid license to operate. Dearborn Director of Public Information Mary Laundroche told Crain's that the city has been working with the owner since May 2016 to renew the note's certificate of occupancy. She also said the hotel ownership owes $1.1 million in outstanding taxes, but that was not the reason for the closure.
Javier Trent, 29, of Newport was allegedly stabbed and killed by a 21-year-old Dearborn Heights resident following an altercation during a video gaming system sale Dec. 17. The 21-year-old man and his 19-year-old girlfriend from Livonia agreed to meet with Trent just before 8 p.m. at the Elizabeth Woods Manufactured Home Community in Newport for the video game console sale. Trent allegedly revealed a handgun and then pistol-whipped the Heights man on the back of his head. The Heights man pulled out a knife and stabbed Trent several times, police said. Trent was transported to ProMedica Monroe Regional Hospital where he died as a result of his injuries shortly after. Both the Heights man and Livonia woman were questioned by police and then released.
The Dearborn City Council voted 6-1 to opt out of allowing recreational marijuana businesses in the city Dec. 18. Councilwoman Erin Brynes was the lone vote against the ordinance. With the vote on opting out of allowing recreational marijuana establishments, retail growers, safety compliance facilities, processors, retailers, transporters and micro businesses in the city also are banned.
During a press conference Dec. 18 in Detroit, attorney Nabih Ayad announced three Tim Hortons employees — two recently fired and one relocated — filed a federal discrimination complaint against the store's management for use of racial slurs and for being paid below minimum wage. Ayad said each of the employees — John Munningham, Francis Martin and Sharneisha Martin — filed complaints with Equal Employment Opportunity Commission Detroit Field Office. The Matins — mother and daughter — were fired from the Tim Hortons, 10401 Ford Road, on Oct. 24 and Nov. 14, respectively, while Munningham was removed from the schedule and transferred to Tim Hortons, 24921 Ford Road, a few weeks later.
Former Fordson High School Principal Barbara O'Brien died at the age of 85 on Dec. 23. She became the first woman administrator in Dearborn Public Schools after she was named assistant principal at Lowery in 1979. O'Brien was promoted to assistant principal at Fordson and then served as principal at FHS from 1989 to 1998 before retiring.
Twelve tires on three vehicles parked in the driveway of Dearborn Heights Mayor Daniel Paletko's house weree slashed overnight from Dec. 24 to Dec. 25. His daughter discovered the damages as the family was heading to church service on Christmas morning. The city replaced the tires on the city-owned vehicle and Paletko replaced tires on his daughter's vehicle. His personal Ford Escape was the last to have its tires replaced. Police are investigating the vandalism to determine the motive and who the unknown suspect or suspects are.
The McFarland Foss Funeral Home, 5401 Schaefer Road, closed its doors at the end of 2018 after proving funeral services to the Dearborn for 87 years. McFarland Foss Funeral Home Director Shirley Foss Thompson listed the business for sale with a Relator in July and an identified individual offered to purchase the building, which will not remain a funeral home. The funeral home was founded by Glendola and Alfred McFarland in 1931, and Thompson's father, Donald Foss, bought the business in 1966 after working there for 13 years.