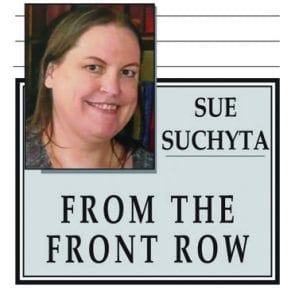 Leave short days and cold weather behind as you warm up to the quirky yet touching character comedy "Wonder of the World," by David Lindsay-Abaire at Trenton's Open Book Theatre Company.
The show continues at 8 p.m. Jan. 19, 25 and 26 and Feb. 1, 2, 7, 8 and 9, and 2 p.m. Jan. 20 and 27 and Feb. 3 at the theater, 1621 West Road, Trenton.
When Cass discovers a secret about her husband that makes her feel like she doesn't really know him, it leaves her questioning her entire life and choices, from the moment she jumped into a pool to rescue him, to the point she is at now.
Cass goes on a long bucket list journey of self-discovery to Niagara Falls to rethink her life and reinvent herself in ways both trivial and monumental. She meets an eccentric collection of characters and tries new adventures while repeatedly returning to her unanswered question: Is life a series of random occurrences, or are certain things part of a destiny from which we are not meant to escape?
Directed by the talented and intuitive Sarah Hawkins, the show features the effervescent Krista Schafer Ewbank in the lead role as Cass, who brings a bit of her own upbeat, optimistic personality to each role she plays. Cass is a quirky character with the type of annoying traits you only embrace in a best friend. As Cass tries to find her new place in a shifting universe, she draws to her a set of flawed but likable characters who are fun and entertaining to watch, from a clown counselor to bumbling senior not-so-private eyes.
Linda Rabin Hammell is delightful as Lois, the prickly new sidekick, whose onion layers continue to reveal new nuances and resurrect long lost stories, while Connie Cowper as Detective Karla and Dan Morrison as Detective Glen, a fun yet dysfunctional couple, add humor to the mix.
Mandy Logsdon is entertaining in multiple ensemble roles, of which the counselor at the end of the second act is surprisingly funny and nearly steals the scene.
Patrick Loos as nice guy Captain Mike is the widowed love interest whom Cass meets and whose reserve she melts. Richard Payton plays Kip, Cass' husband, who has a strange secret and a whiny, self-centered personality, which Payton plays with delightful self-centered aplomb.
Tickets are $25, with a $5 discount for seniors and a $10 discount for students.  For more information, or to order, call 734-288-7753 or go to openbooktc.com.
WEBBER'S 'PHANTOM' COMES TO OPERA HOUSE
No matter how many times one sees "Phantom of the Opera," it never fails to mesmerize, from the opening notes to the crescendos, and through the heartbreaking melodies.
The show runs 8 p.m. Jan. 24 to 26, 29 to 31, and Feb. 1 and 2; 7:30 p.m. Jan. 27 and Feb. 3; 2 p.m. Jan. 26 and 27, and Feb. 1 and 2; and 1 p.m. Jan. 24 at the Detroit Opera House, 1526 Broadway, in Detroit.
Andrew Lloyd Webber's "Phantom" features a larger than life spectacle, with amazing vocals, incredible music, dazzling costumes and special effects guaranteed to draw gasps.
The newest North American tour will be in town for just 11 days, Jan. 24 to Feb. 3, at the Detroit Opera House. The Auto Show will be running, so allow extra time to find parking, and be prepared to pay more than that usual. Leave extra time to pass through a security clearance as you enter the Opera House.
Once you pass the hurdles, sit back and enjoy the Music of the Night, with new staging and scenic design, spectacular costumes, and amazing vocals. There's a reason it's been running on Broadway for 30 years.
For those who saw the sequel, "Love Never Dies" last year, this production will be seen from a very different perspective. Raoul seems less ideal, and the Phantom more human and wronged. It's like seeing "Wicked" after growing up with "The Wizard of Oz" – there's no going back once you've left Kansas.
The show travels with a cast and orchestra of 52 people, which makes it one of the largest shows on tour in North America.
Tickets start at $35. To order, call 800-982-2787 or go to broadwayindetroit.com or ticketmaster.com.