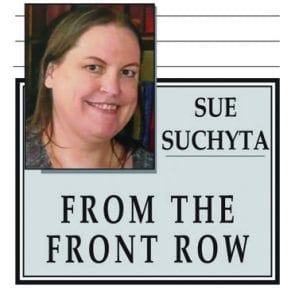 A first kiss between two women triggers a violent attack in Diana Son's "Stop Kiss," starring Kate Martinez of Dearborn as Callie, now through Feb. 9 at Rosedale Community Players.
Remaining performances are 8 p.m.  Feb. 1, 2, 7, 8 and 9, and 2 p.m.  Feb. 3 at Peace Lutheran Church, 17029 W. 13 Mile Road, Southfield.
Directed by Eric Goldstein of Southfield, with Allison Megrot of Pontiac as Sara, the cast also features Daniel Croft of Southfield as Peter, Sara's former boyfriend; Maurizio Dominquez of Lincoln Park as Detective Cole; Robert Hill of Warren as Callie's friend-with-benefits George; Terry Selman of Southfield as Mrs. Winsley, a witness; and Carol Shirley-Brown of Southfield as the nurse.
The story, which is told in scenes that happen before and after the assault, shows the developing attraction between the women, and the aftermath of the attack, which is not shown on stage.
Director Goldstein said the show, written 21 years ago, is a rare and special gem.
"'Stop Kiss' portrays how life is lived in the day-to-day cycle, occasionally interupted by big events, like falling in love and unexpected trauma," he said. "It weaves all three together, seamlessly and believably."
Martinez said the characters are very realistic, both flawed and wonderful, and the topic of hate crimes is timely.
"This is an important play," Martinez said. "It was important when it was written (in 1998), and it's important now, considering the current political climate. I think it is important that people see that we are not quite as far as we would like to believe."
Megrot said the play brings up topics that should be given a voice.
"It deals with a lot of issues that need to be spoken about, that need to be given a voice," Megrot said. "It does it in a very real manner, that is really able to reach people."
Seating at the show is cabaret style, and patrons are welcome to bring food and drink to the show.
Tickets are $15, with a $1 discount for students and seniors. For more information or to order, call 313-532-4010 or go to rosedalecommunityplayers.com.
WSU SPOTLIGHTS NEW PLAYWRIGHTS IN HECK-RABI FESTIVAL
From a dark comedy, to a drama inspired by true events, Wayne State University's annual Louise Heck-Rabi One Act Play Festival features three local and emerging playwrights in a one-weekend debut production.
The plays run 8 p.m. Feb. 1 and 2, and 3 p.m. Feb. 3 at the Hilberry's Studio Theatre, 4743 Cass, Detroit.
Each year, six to seven semi-finalist plays are read and adjudicated in a workshop, with the three finalists produced in front of a live audience.
The playwrights and one-acts include Joe Gaskill's "Unethical," Matthew Smith's "Pettycoats" and Sarah Summerwell's "Woodhull."
"Unethical," a drama inspired by true events, tests the limits of the axiom "first do no harm" when a psychological experiment goes wrong and leaves its subjects traumatized. When the designer of the experiment is accused of unethical behavior, he contends he did nothing wrong. One is left to decide whether he a sociopath, avoiding responsibility or pushing the limits of experimentation.
"Pettycoats," loosely based on "petticoat duelists" or women fencers from the late 18th century, explores the lack of stage combat opportunities for women.
"Woodhull," a dark comedy set in Brooklyn, focuses on two siblings struggling with the consequences of mental illness and addiction, who must decide whether they have faith in an individual's ability to change.
Olivia Johnson directs "Unethical," with Delvin Brazier as Gordon, Angel Montgomery-Kennedy as Bailey, Emma Orr as Heather, Dani Poppe as Emily, Nate Salazar as Adam and Sean Stanisz as Jason.
Rachael Smith directs "Pettycoats," with Gillian Marshall as Ann, Freda Monroe as Beatrice and Kayla Rodriquez as Sir Charles.
Hannah Manela directs "Woodhull," with Kyle Bates as Steven, Medina Baydoun as Jess, Charles Havern as Joe and Rachel Kret as Lisa.
Gaskill said seeing his play produced and performed is inspiring.
"To see that it has all paid off, with so many people supporting it, means a lot to me," Gaskill said.
Tickets are $5, and available by calling 313-577-2972 and online at theatreanddanceatwayne.com/heck-rabi.
'HAMILTON' TICKETS ON SALE AT THE FISHER
Tickets for the long-awaited tour of "Hamilton" went on sale Friday at the Fisher Theater, with verified fan registration used to help deter scalpers and make more tickets available to individual playgoers.
The show runs 8 p.m. March 12 to 17, 19 to 24 and 26 to 31, and April 2 to 7, 9 to 13 and 16 to 20; and 2 p.m. March 16, 17, 23, 24, 30, 31 and April 6, 7, 13, 14, 20 and 21 at the Fisher Theater, 3011 West Grand Blvd., Detroit.
"Hamilton" follows Alexander Hamilton, one of the nation's founding fathers, who worked closely with George Washington during the Revolutionary War, and was the first U.S. Treasury Secretary. The score features hip hop, jazz, blues, rap, rhythm and blues, and Broadway show tunes, telling the tale of America's past with the music of the modern day.
The highly awarded "Hamilton" is the winner of 11 Tony Awards, including 2016 Best Musical; received a Pulitzer Prize for Drama; and won a Grammy for Best Musical Theater Album.
Tickets range from $80 to $185, with a few $485 premium tickets available for each performance.
Forty $10 tickets will be sold by lottery for each performance, with details to be announced at a later date.
For more information about the show, go to HamiltonMusical.com.
FISHER TO AUDITION GIRLS FOR 'WAITRESS'
Pre-scheduled auditions will be held at the Fisher Theatre from noon to 3:30 p.m. Feb. 5 for the role of Lulu in the Tony-nominated musical "Waitress."
"Waitress," which will play at the Fisher May 7 to 19, tells the story of Jenna, a waitress at local diner, who is known for her amazing pies, and is stuck in a loveless marriage. She finds joy in her young daughter, Lulu.
Two local girls will be cast in each city where the tour runs, and each will play the role four times during the two-week engagement.
Lulu is a sweet and carefree 4- to 5-year-old, who appears in the finale.
To be eligible to audition, girls must be shorter than 4 feet, 2 inches tall, and no older than 5 years, 3 months old. Individuals and siblings may apply.
Parents or legal guardians must register their child for a time slot before the audition using Sign Up Genius at www.signupgenius.com/go/luluauditionsdetroit. Only 36 auditions will be granted. No walk-ins will be seen.
Each child will deliver two lines from the show. Parents should bring a current head shot and resume for each child, but prior experience and a professional head shot are not required.
The Fisher is at 3011 W. Grand Blvd., Detroit.